Why the gun debate could end better than immigration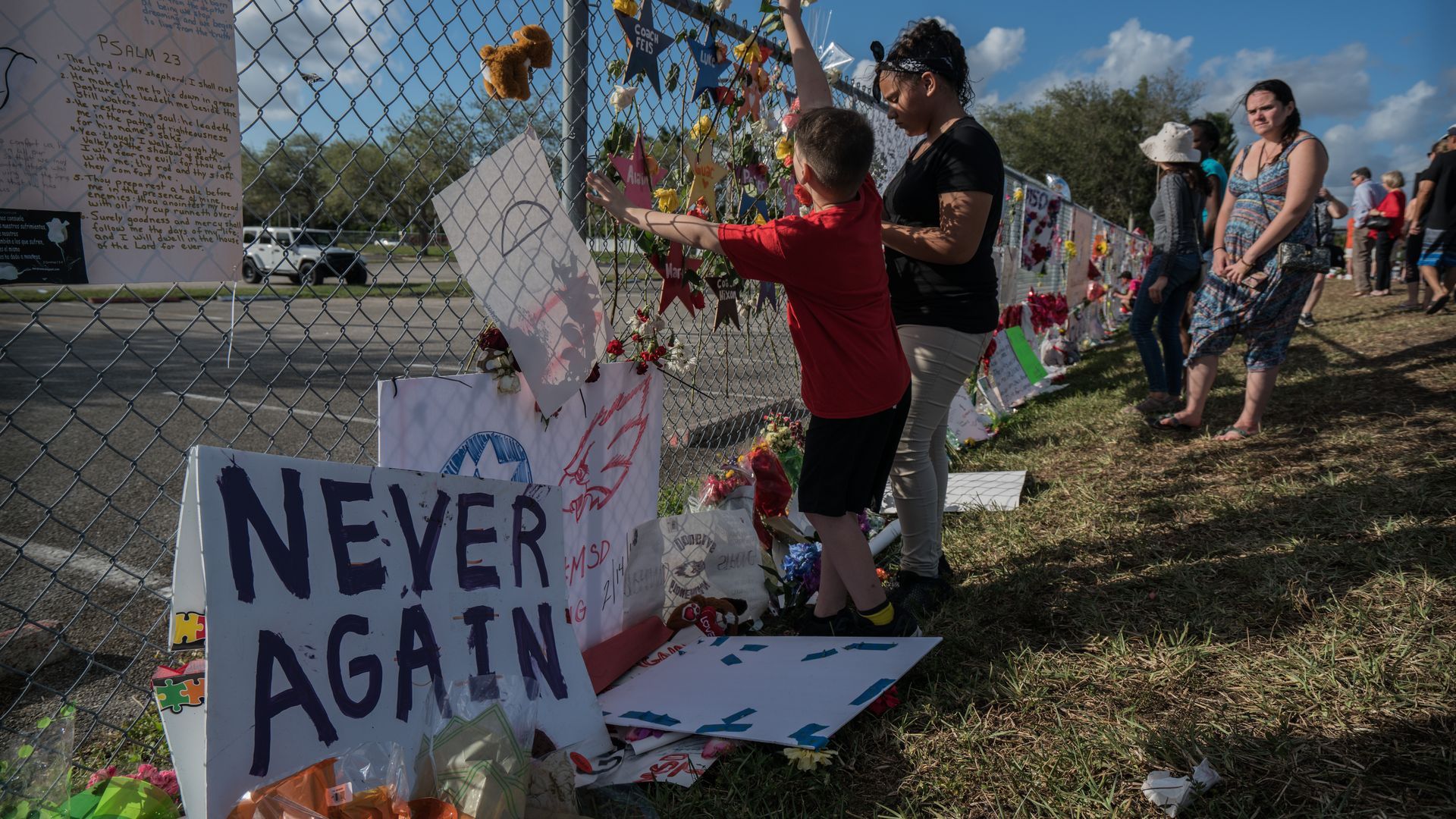 The gun debate is still stalled in the Senate, just like the immigration debate stalled out a few weeks ago. But there's one big difference that could help the gun debate avoid the same fate: This time, there's a base bill that is pretty popular with both parties. The question is whether to have additional votes and, if so, which ones could scuttle the whole thing.
The big picture: There's growing openness to a vote on Majority Whip John Cornyn and Sen. Chris Murphy's bill strengthening background checks with additional amendment votes. But it's an uphill climb towards getting both parties to agree to a set of votes that could damage members on each side.
"I don't want to end up like DACA, where we end up with nothing. I think there has to be something that has broad bipartisan support. The Fix NICS bill fits that definition. But if people need votes on other things in order to agree to that, then I think that would be, perhaps, one solution."
— Cornyn yesterday to reporters
What to watch: One way forward, Cornyn said, would be for senators to reach a "consent agreement" that might allow votes on several measures. But all 100 senators would have to agree to it. Without an agreement, "then you're stuck with a week, maybe two-week long process going through the ordinary Senate rules," Cornyn said.
Still, during the immigration debate, there was no one bill with substantial bipartisan support. Votes were on dueling plans, rather than add-ons to something everyone already agrees to.
The bottom line: No one really thinks there are any gun amendments that could pass, other than the Cornyn-Murphy bill – if it ever comes to the floor.
The best candidate for passage, if offered as an amendment, would probably be something along the lines of Sen. Orrin Hatch's school safety bill, which would offer grants for various resources to help prevent school violence.
Between the lines: Democrats feel like they have to — and should — seize on the moment to do more than shore up the existing gun background check system. Most Republicans genuinely feel like the Cornyn-Murphy bill is the best solution. It also happens to be a bipartisan, NRA-supported gun bill that legitimately could help keep guns out of the wrong hands.
Republicans feel like there's a little bit of a political incentive here, too. "I think it's safe to say [Senate Majority Leader Mitch] McConnell just doesn't feel the countervailing pressures that [Senate Minority Leader Chuck] Schumer does from his conference. At least not to the same degree," a source close to McConnell told me.
But red-state Democrats up for re-election this year don't seem as worried as Republicans say they should be if gun control amendments come up for a vote. "There has to be more that we can do at this point. The country is demanding it. So we'd have to have some amendments, in my opinion," Sen. Claire McCaskill said.
Go deeper