The history of how Trump turned on Sessions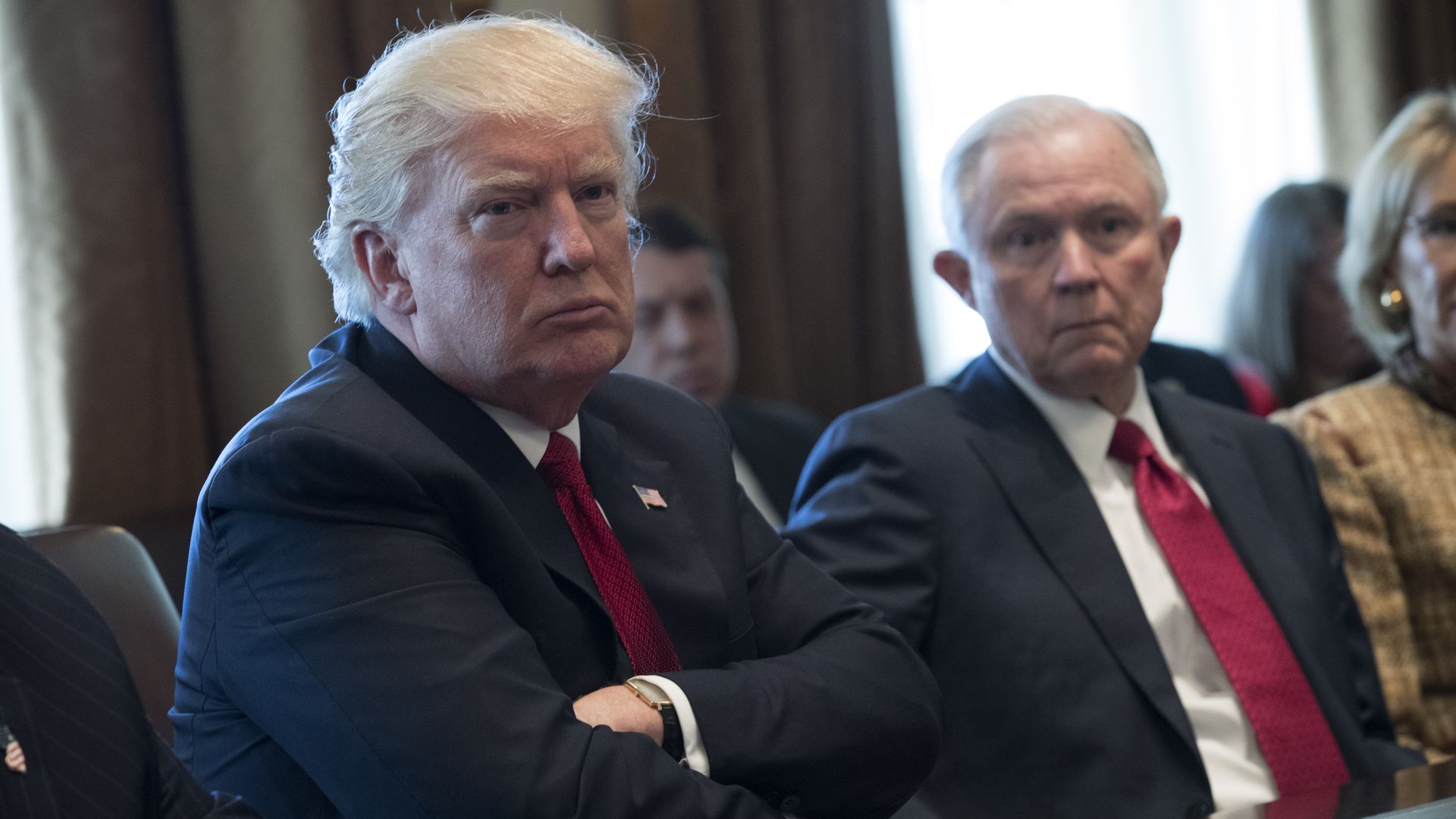 Attorney General Jeff Sessions resigned on Wednesday, the latest in a growing list of prominent administration departures.
Why it matters: Sessions' exit came after months of public criticism from his boss. Such attacks on his own Cabinet members, especially when it was explicitly in reaction to Robert Mueller's Russia probe, was not normal.
Be smart: Trump often talked about replacing current staff members, as Axios' Jonathan Swan has reported, but he didn't always follow through.
Timeline: From February 2016 until June 2017, President Trump praised Sessions as "a world-class legal mind and considered a truly great Attorney General and US Attorney in the state of Alabama."
He even emailed the Washington Post at the start of 2017 saying that Sessions is "a truly fine person" who is "so highly respected by everyone."
And then things changed:
June 5, 2018: "The Russian Witch Hunt Hoax continues, all because Jeff Sessions didn't tell me he was going to recuse himself...I would have quickly picked someone else. So much time and money wasted, so many lives ruined...and Sessions knew better than most that there was No Collusion!"
In August, Trump questioned whether or not the Department of Justice under Sessions was truly just, calling it "A total joke!"
Nov. 7, 2018: Sessions resigned.
Don't forget: Sessions was one of Trump's earliest supporters during the campaign (endorsing him in February 2016). He has stood by Trump's side ever since, often moving forward on many of Trump's most controversial policy proposals, like the travel ban, stricter drug sentencing, immigration, and cracking down on administrative leaks.
Go deeper: See how Mueller's timeline aligns with Trump's evolving mood on Sessions.
Go deeper