Israel concerned by lack of U.S. action to counter Iran in Syria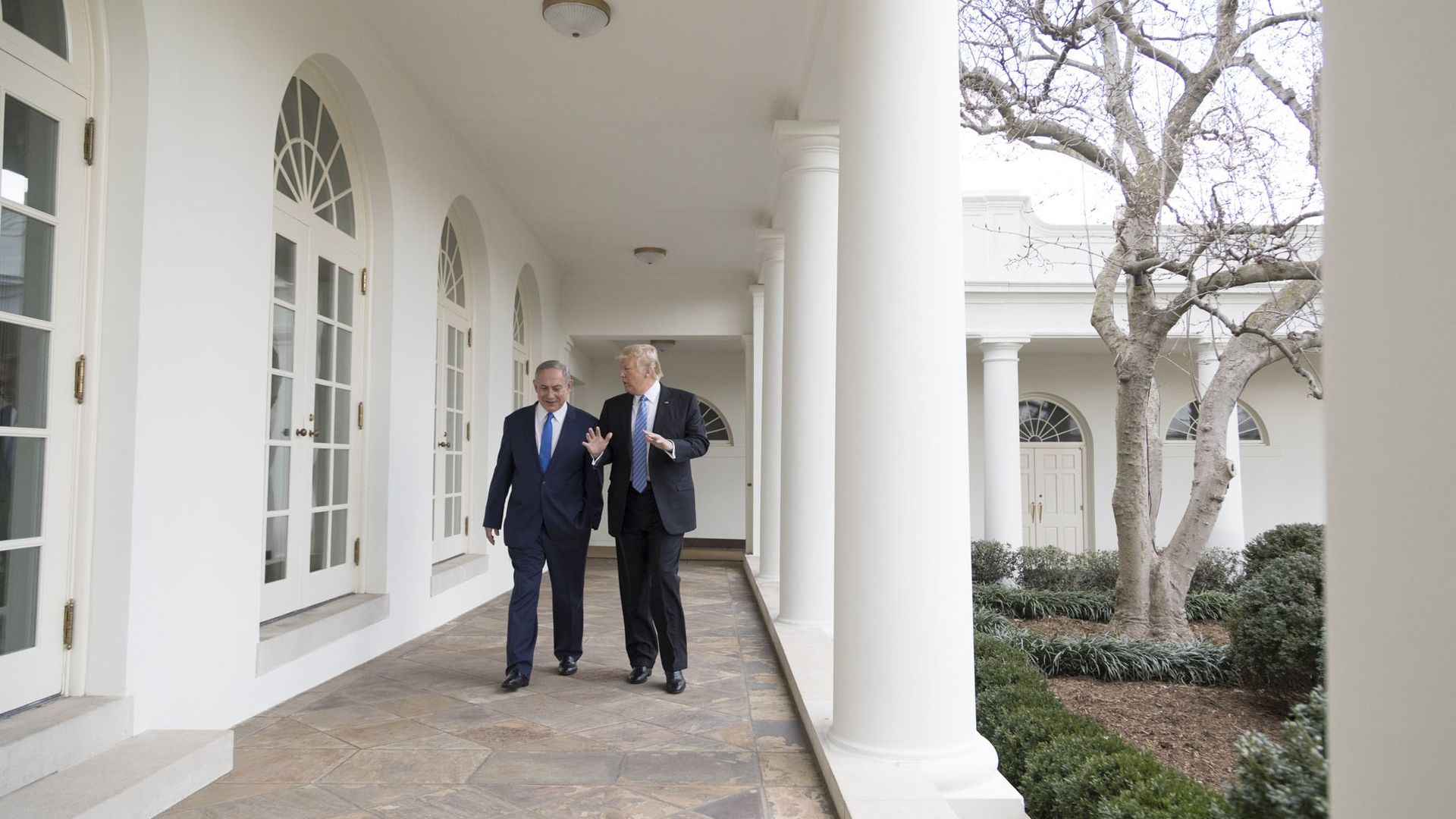 Israel is concerned by what it sees as a policy difference with the U.S. on countering Iranian military entrenchment in Syria, officials say. The issue is going to be discussed again in the White House meeting between Prime Minister Netanyahu and President Trump on Monday.
The bottom line: A senior Israeli official who deals with the Iranian activity in Syria told me the U.S. is not doing enough to help counter Iranian entrenchment. He added that there is a big gap between the American rhetoric against Iran and the action.
"It is comfortable for the Americans to let us be their sub-contractor against Iran in Syria. We are very worried", the official told me.
The disappointment over U.S. non-action against Iran in Syria was mainly heard in the closed rooms of the Israeli security cabinet until the last few days, when it became more public.
Israeli internal security minister Gilad Erdan, a member of the security cabinet, used his speech at the gathering of the conference of presidents of the major Jewish organizations in North America to convey a message to the Trump administration on the issue.
"Friends let me be direct. There is a need for greater American involvement in making sure that Iran doesn't turn Syria into a puppet state. Every day that Iran entrenches itself in Syria brings war closer. There is no vacuum. If the US chooses not to be a major player in shaping the future of Syria then others will — and trust me it won't be the democratically elected representatives of the Syrian people".
Israeli officials told me that even after numerous discussions on the issue, including a joint framework reached in December, the feeling in Jerusalem is that while Israel sees Iranian activity in Syria as a critical and urgent security concern, for the U.S. it is essentially a side issue — at least for now. 
The Israelis saw CENTCOM commander General Josef Votel's hearing in Congress yesterday as further proof of the policy difference. Votel said at the hearing, "countering Iran is not one of the coalition missions in Syria". He added: "The principal reason we are in Syria is to defeat ISIS. And that remains our sole and single, single task that we are principally oriented on".
A senior U.S. official intimately involved in the Trump administration's Syria policy said the U.S. agrees with Israel on the problematic actions by Iran in Syria but stressed that for now the U.S. has more urgent issues to take care of.
The U.S. official said: "What Israel is signaling in different ways is that there's a real security threat here (As a result of Iranian entrenchment in Syria). There's a concern, and we certainly understand it…However, until the ISIS fight can be continued, the ability to cogently and comprehensively deal with the challenge Iran poses is of necessity something that cannot be addressed as well as we would like, as well as others would like. And we've made that clear. There's a tiering here of threats and priorities".
Go deeper