The gun debate is a mess and Trump isn't helping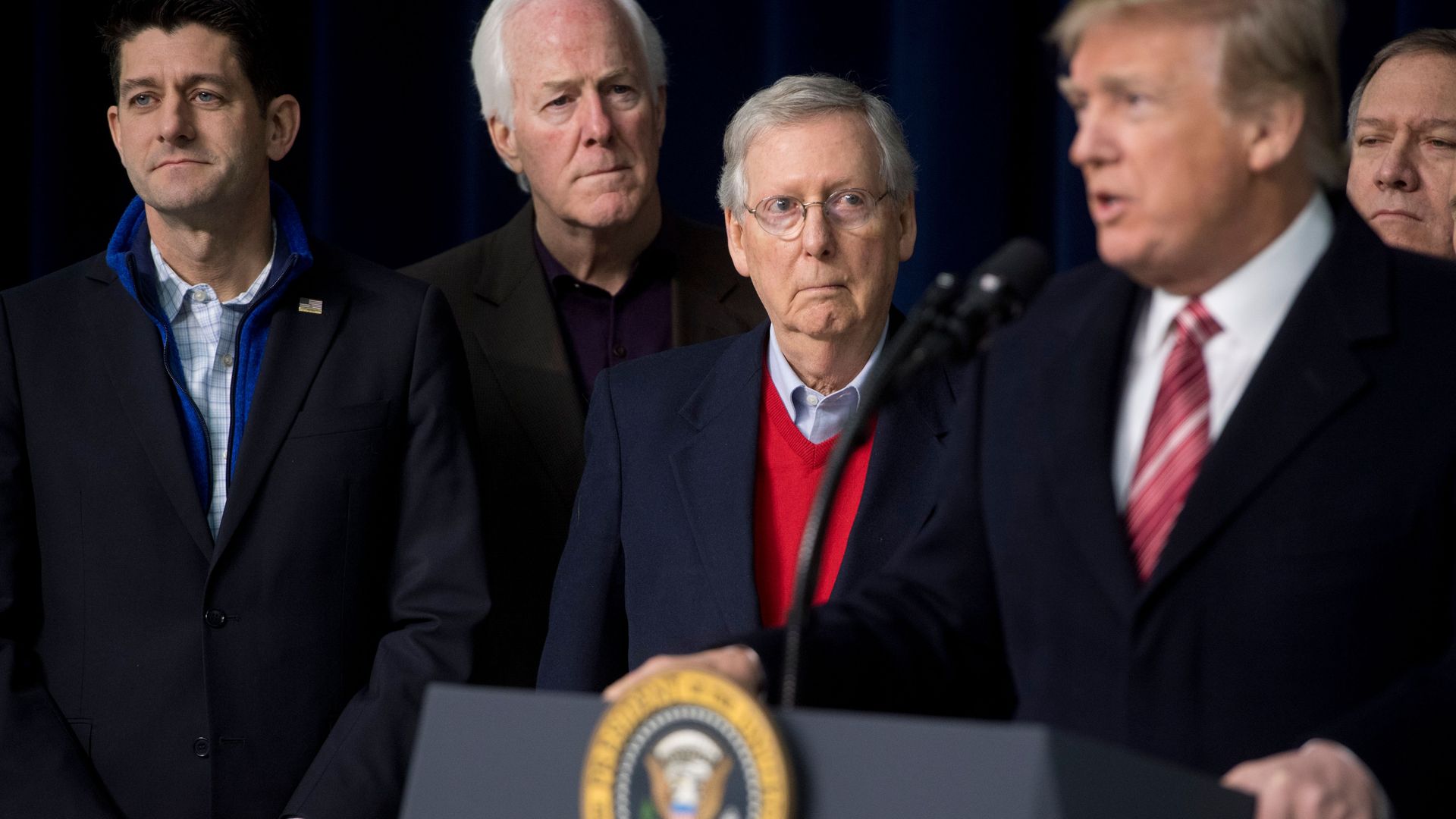 No one knows what, if anything, Congress is going to be able to do on guns. If there was tepid optimism going into the week that the Senate would be able to quickly pass a bipartisan, NRA-backed bill that strengthens the existing background check system, it was quickly replaced by the chaos that now erupts every time Congress tries to address something difficult.
Between the lines: The confusion and lack of a clear direction on the Hill mirrors the White House. President Trump has been all over the place since the Parkland shooting, and congressional Republicans are either not taking him seriously or unwilling to embrace many of the gun control policies he's floated.
I don't really consider this a solvable problem in the current environment.
— A senior Senate GOP aide
Recap of yesterday:
Majority Whip John Cornyn ran a test to see where members land on the background check bill he cosponsors with Democratic Sen. Chris Murphy. Sen. Mike Lee objected, meaning the bill can't quickly pass unanimously for now (other senators may have objected too).
Minority Leader Chuck Schumer said to vote on that bill, Fix NICS, alone "would be an abject failure and a dereliction of our duty," and called for universal background check legislation.
Murphy told reporters he won't vote for his own bill unless it's in the context of a broader gun debate and accompanied by other votes.
President Trump said again that he'd like to arm school personnel, seemed to advocate for bringing back mental institutions, said police should be given "immediate access to taking those guns away" from "sick people," and said he wanted to "strengthen" Cornyn's bill.
Reporters flocked to both Republicans and red-state Democrats to get them on the record about the numerous proposals Trump has backed in one way or another in the past couple of days, including arming teachers and raising the age at which someone can buy an assault rifle.
Bottom line: No one knows how Majority Leader Mitch McConnell is going to proceed.
Sen. Roy Blunt, a member of GOP leadership, said he'd like to bring Fix NICS to the floor and then open it to amendments. "We're better off to deal with this than go on and worry about it the rest of the legislative year," he told me, adding it was his personal opinion.
Others are skeptical McConnell will bring anything to the floor, but may attach something to a must-pass spending bill.
The House is waiting to see what the Senate does, a House leadership aide said. But most Hill watchers assume the House would take up Fix NICS if the Senate passes it, even without the concealed carry provision it attached when it passed its version of the bill earlier.
Go deeper