California Democrats show the party's competing shades of blue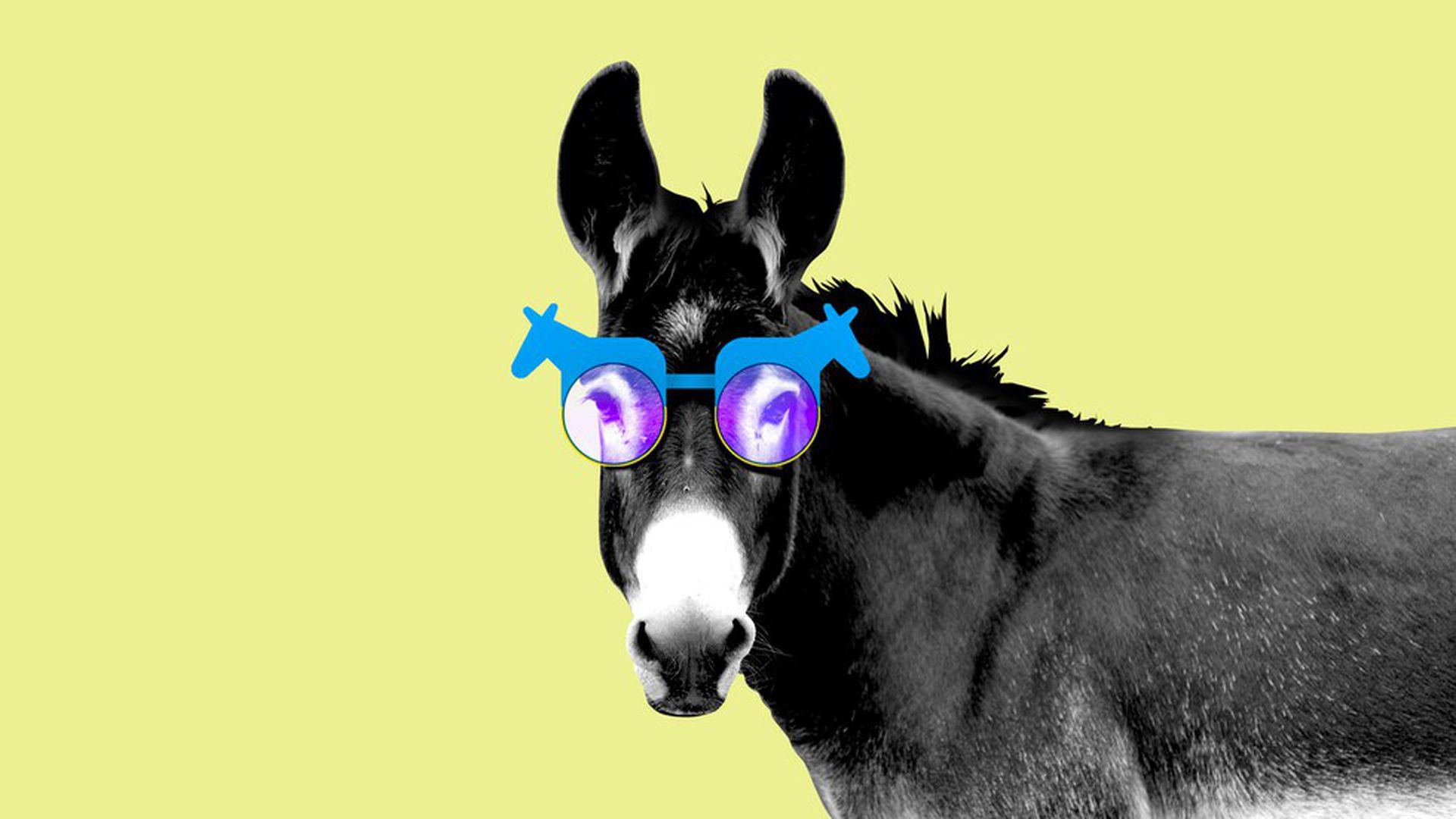 SAN DIEGO — Sen. Dianne Feinstein, who has served in Congress since 1992, didn't receive the California Democratic Party endorsement this weekend. Neither did her progressive challenger, Kevin de León, but he earned nearly 20 percentage points more among the delegates' votes.
Why it matters: Grassroots progressives want to push the party farther to the left, and voters are listening. Democrats aren't just fighting against President Trump — they're fighting each other and struggling to agree on the party's identity. All of those tensions were on display at the California Democratic Party convention.
There were key differences in the candidates' speeches that represented what Washington is (Nancy Pelosi, Feinstein) and what progressives want it to look like: anti-Trump and not afraid to show it, and ready to fight for things like single-payer health care and Dreamers.
Rep. Maxine Waters called for Trump's impeachment at least five times in her speech and urged the defeat of "spineless, unpatriotic" Republicans. "Democrats have had enough of the right-wing Republicans' agenda in this country and at every level of government," she said.
House Minority Leader Nancy Pelosi brought D.C. politics to the Golden State, talking about Democrats' "A Better Deal" plan and asking the audience if they were "ready to hold this administration accountable."
Los Angeles Mayor Eric Garcetti painted a clear picture of "two Americas: Washington and the rest of us. ... Those who fix our streets and those who send us tweets." And he even advocated to "lock them up," referring to all the men swept up in Bob Mueller's probe.
State Senate leader Kevin de León called himself "the president of the most progressive legislative house in America." He added that "you'll never have to guess where I stand," a common criticism progressives throw at Feinstein.
Feinstein talked a lot about gun control reform to a mostly quiet crowd. She went after Trump by saying, "These are dangerous times ... We have a president who launches insulting tweets instead of real solutions."
California Attorney General candidates:

Xavier Becerra (incumbent): "I've taken Vladimir Putin's favorite president to court 28 times."
Dave Jones (challenger): "California Democrats need a fighter against Trump; not a follower."
California Democrats' challenge is the state's jungle primary system — the top two candidates who earn the most votes, regardless of party, advance to the general election. That means even (and perhaps especially) when there are several Democrats running in the same district, two Republicans could end up running against each other in the general.
Democratic House candidates are quietly fighting against one another. I overheard Jay Chen, running against seven other Democrats to take Republican Rep. Ed Royce's seat, tell L.A. Board of Supervisors member Hilda Solis: "Getting your endorsement could really help us convince some of the lower-tier candidates to drop out."
What's next: California Democrats are hoping to take seven House seats from Republicans, but many of those races are crowded with Democratic candidates who could end up making way for two Republicans to face off in the general — leaving Democrats divided and out of power.
What to watch: Whether Democrats can fix this progressive vs. establishment division before the 2018 primary elections. "Most of the time it isn't about policy, it's about thinking about politics," billionaire Democratic donor Tom Steyer told Axios. The big question to solving this, he says, is simply answering: "What's our vision?"
Get more stories like this by signing up for our daily morning newsletter, Axios AM. 
Go deeper