Scoop: U.S. to move Israel embassy to Jerusalem May 14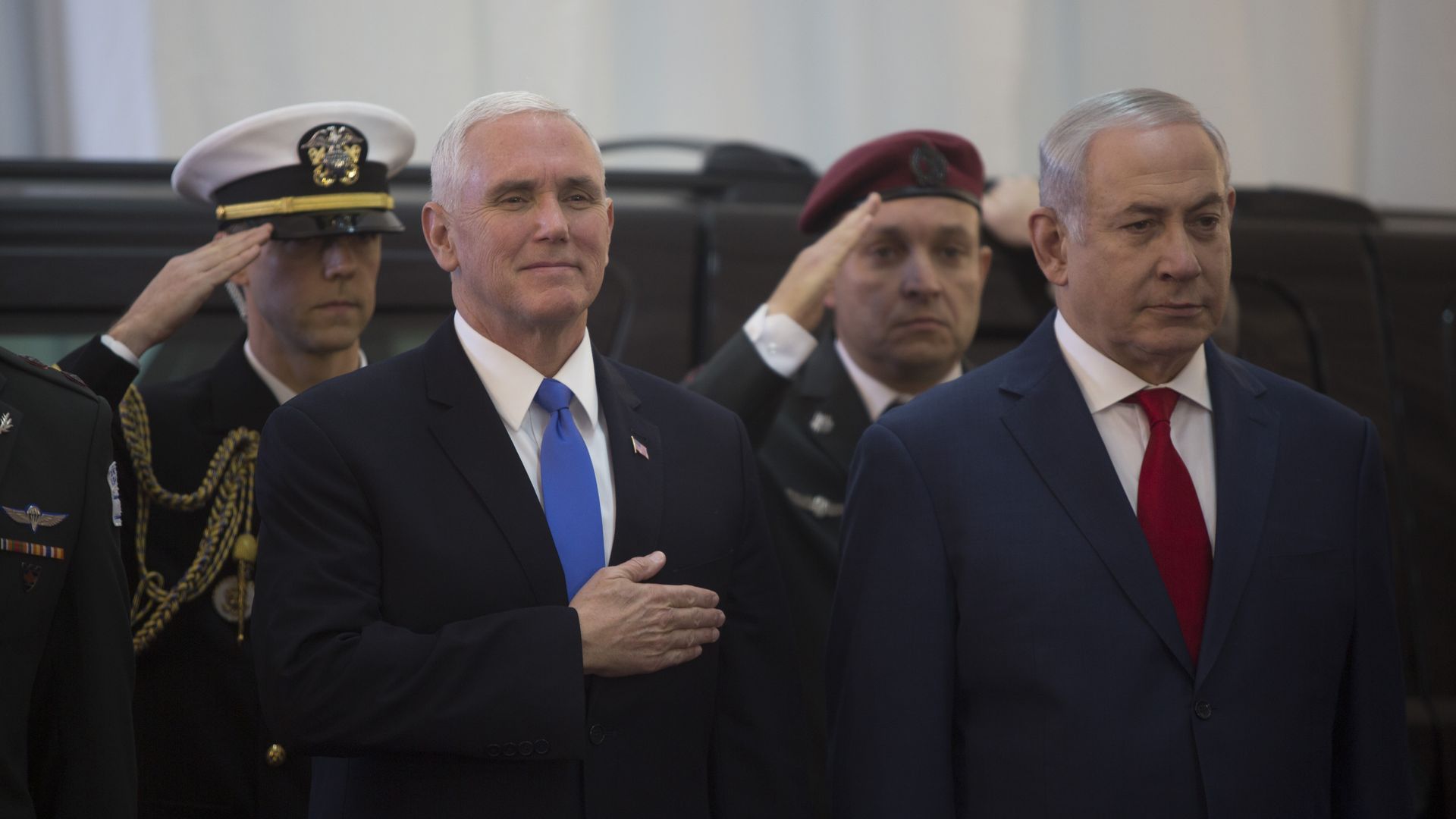 The U.S. embassy will move to Jerusalem on May 14th — the day Israel declared its independence in 1948 and the day President Harry Truman recognized the state of Israel, Israeli officials told me. The White House isn't commenting, but a U.S. official confirmed the plans.
The bottom line: That's a lot sooner than expected. During his visit to Israel last month, Vice President Mike Pence said only that the embassy would move to Jerusalem by the end of 2019.
The details: According to Israeli officials, in the first phase an "interim embassy" will be opened at the consular annex in West Jerusalem that handles visas and passports. The office of the ambassador will move to the building, and Ambassador David Friedman will work from there with a small staff.
The consular annex will change its name to the U.S. embassy. The building, located in the Arnona neighborhood, will be an interim embassy and the permanent location of the embassy will be determined at a later stage.
Behind the scenes: Officials in Israeli Prime Minister Benjamin Netanyahu's office said Netanyahu did not ask the White House to expedite the move. They said Netanyahu is in constant contact with the administration and will comment once an official statement is made.
What we're hearing: The staff of the consular annex in Jerusalem were notified today that starting May 14, they will become the staff of the U.S. embassy in Jerusalem. The consular section will continue operating at the Jerusalem embassy and will provide visa and passport services to both Israelis and Palestinians.
The residence of the U.S. ambassador will stay in for now in Herzliya, a city north of Tel Aviv. Ambassador Friedman will be working from his office in Jerusalem and from his office in Tel Aviv as needed. The embassy in Tel Aviv will become a "branch" of the embassy in Jerusalem.
In the second phase, the interim embassy in Jerusalem will be expanded and some of the U.S. diplomats working in Tel Aviv will move to Jerusalem. In the third phase, a permanent location for the embassy will be determined. The building of the permanent embassy will be a long process, and the rest of staff from Tel Aviv will only move to Jerusalem when it ends.
The U.S. consulate on Agron Street in Jerusalem, which handles relations with the Palestinians, will continue operating as usual.
The other side: Saeb Erekat, secretary general of the Palestine Liberation Organization, said in a statement that "President Trump and his team have disqualified the US from being part of the solution between Israelis and Palestinians; rather, the world now sees that they are part of the problem."
This story has been updated with the Erekat statement.
Go deeper