Trump gives first formal press conference in over a month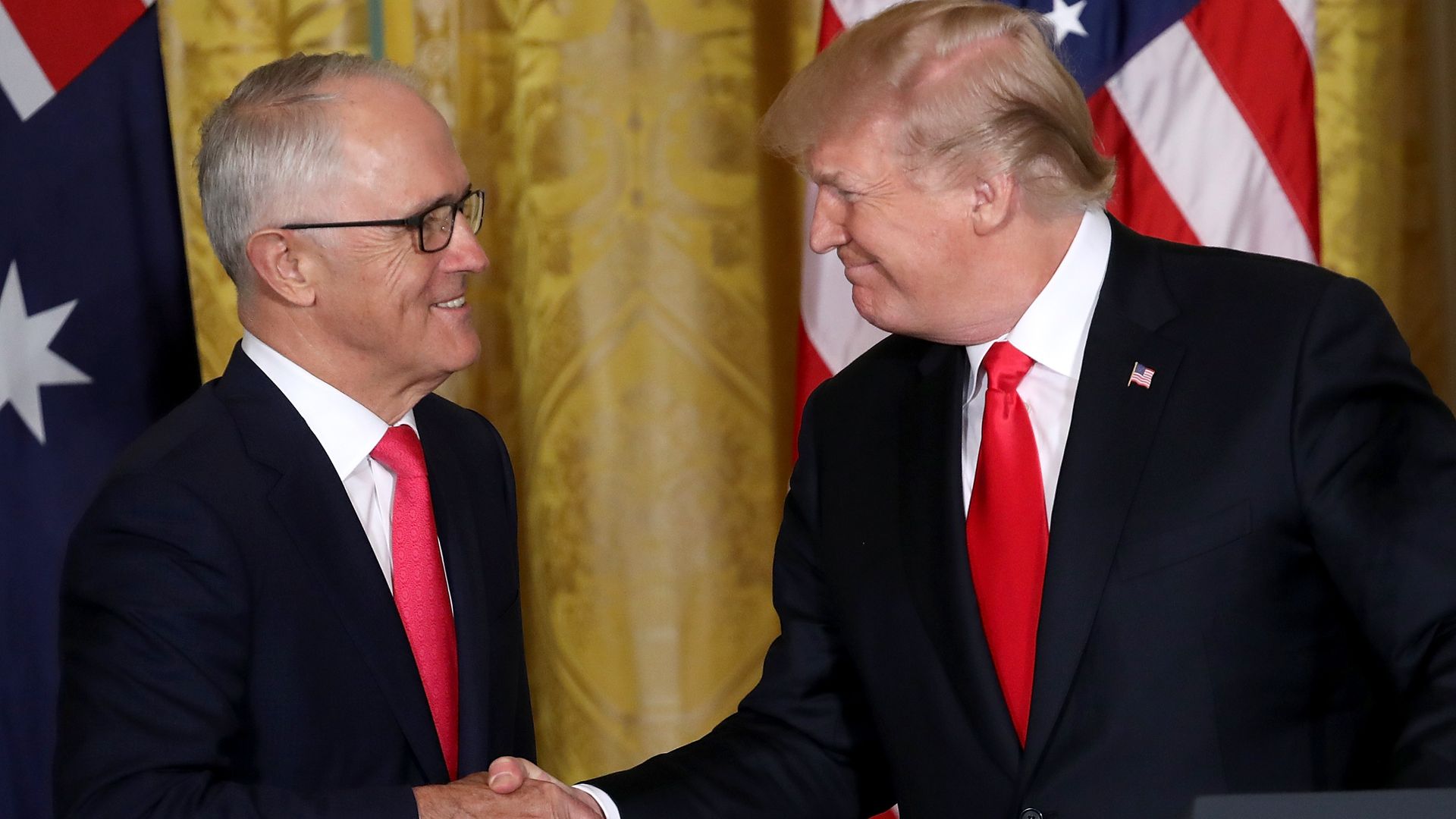 President Trump and Australian Prime Minister Malcolm Turnbull delivered a joint press conference Friday, addressing gun control, North Korea, immigration and more.
Why it matters: This was the first time in over a month that the president took questions from the press in a formal setting. The most recent conference before this was with Norway's Prime Minister Erna Solberg in early January. Trump's last individual press conference was over a year ago, on February 16, 2017.
Gun Control
In the U.S.: "We want to be very powerful, very strong on background checks, particularly where it pertains to the mentally ill. We're going to get rid of bump stocks and we're going to do certain other things... it's also very important that we have offensive capability as well as defensive capability in the schools."
Trump also implied that armed law enforcement don't "know the children" and don't "love the children" like teachers do, adding that teachers are the best people to protect them.
In Australia: Turnbull said that certain firearms, like semi-automatic weapons, just aren't available in his country (other than to those who need them for professional reasons.) But he did note that the two countries have "completely different context historically, legally, and so forth. We are very satisfied with our laws ... we certainly don't presume to provide policy or political advice on that matter here."
North Korea
Turnbull said he "welcomes" and supports Trump's new sanctions on North Korea.
Trump said "If the sanctions don't work we'll have to go to phase two, and phase two may be a very rough thing. May be very, very unfortunate for the world."
The president also called Australia a partner in the "maximum pressure" campaign.
China
Trump said poor U.S. leadership has allowed China to get away with murder by letting China become stronger and richer.
Turnbull said his country "see[s] China's rise as an overwhelmingly positive thing."
Touting each other's successes
Immigration: Trump congratulated Turnbull on Australia's commitment to merit-based immigration. "Are my friends from Congress listening to that? We want to do merit-based immigration also ... in that sense we hope to follow in your footprints."
Tax reform: "We have been inspired, I must say, by your success in securing the passage of tax reform through the Congress," Turnbull told Trump.
Everything else
White House security clearances: Trump said the process is broken, and trusts his chief of staff John Kelly will fix it. Asked specifically about Jared Kushner, Trump said Kelly "will make that call, I won't make that call."
Countries Trump condemns: "What Russia and what Iran and what Syria have done recently is a humanitarian disgrace... What those three countries have done to people over the last short period of time is a disgrace."
Go deeper