Trump plays his greatest hits in CPAC speech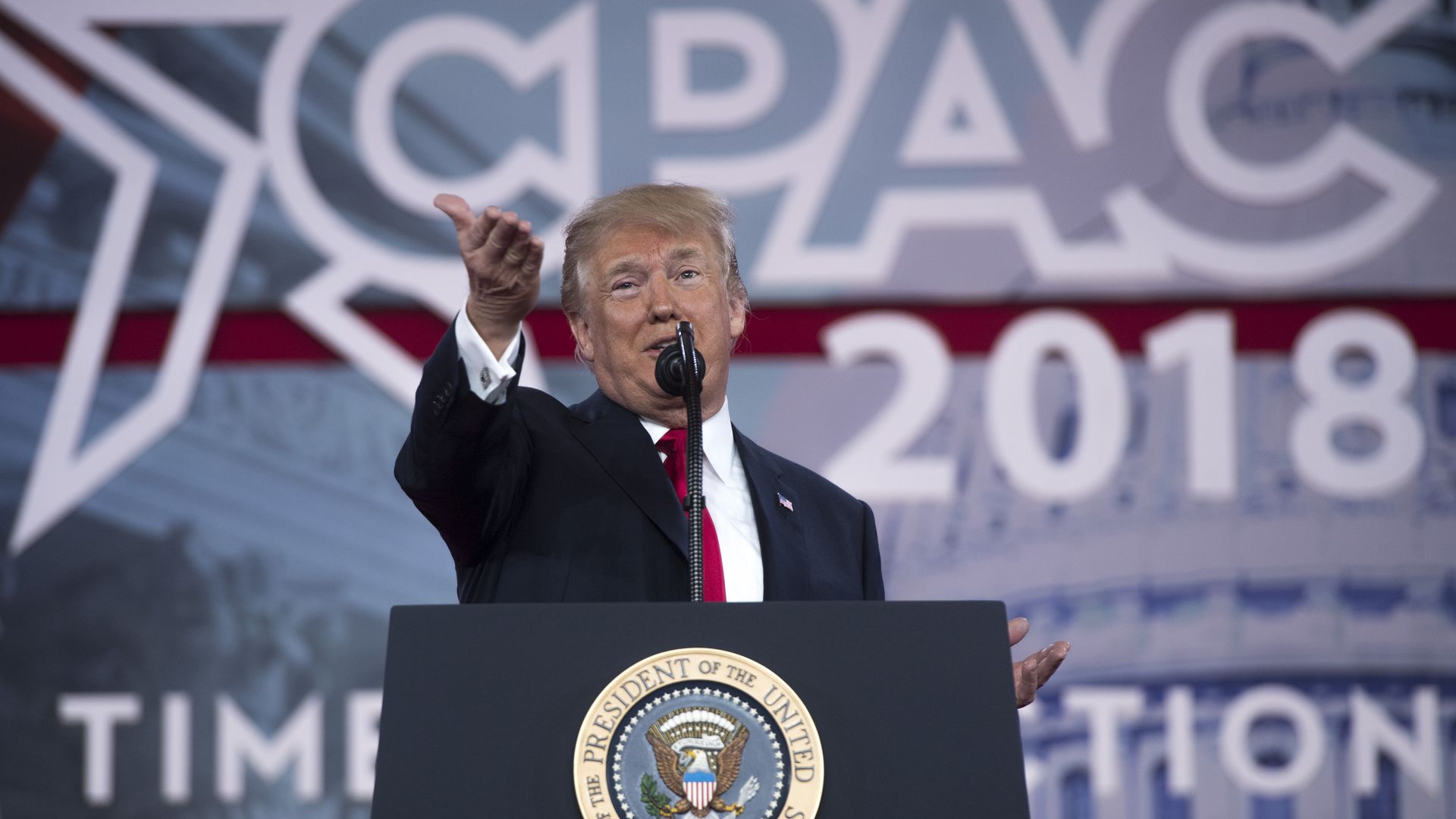 President Trump took full advantage of a boisterous, supportive crowd during his morning speech at CPAC. He chose to return to his campaign trail rhetoric — including a full reading of his favorite immigration allegory, "The Snake" — and prompted the room to break into familiar chants of "lock her up!" and "build the wall!" He clearly relished the environment, asking the crowd at one point if he could "go off script a bit" because the text in his teleprompter was "boring."
Why it matters: The 77-minute speech was pure fuel for Trump's base, even if it likely came off as overlong and overstuffed to anyone else listening. But that almost certainly doesn't matter to Trump — who clearly was having a great deal of fun — as he tried to fire up his GOP crowd to vote in the 2018 midterms, warning of the dangers of complacency.
The word really is complacent. People get complacent. It's a natural instinct. You just won, and now you're happy and you're complacent. Don't be complacent, okay? Don't be complacent.
— President Donald Trump on the 2018 midterms
More from his fiery speech:
On arming teachers post-Parkland: "When we declare our schools to be gun-free zones, it just puts our students in far more danger... A teacher would've shot the hell out of him before he even knew what happened."
On McCain's health care vote: "Except for one senator who came into a room at 3 o'clock in the morning and went like that [Trump did a thumbs down motion], we would have had health care, too. Think of that! … I don't want to be controversial, so I won't use his name. What a mess."
A rare moment of self-deprecation: After he caught a view of himself on one of the hall screens, Trump said, " I try like hell to hide that bald spot, folks. I work hard at it."
Knowing he'd prompt a chant: "Don't worry! You're getting the wall."
Relitigating 2016: " Next time [the Democrats are] gonna remember Iowa, they're gonna remember Ohio. They spent a lot of time in Pennsylvania — to no avail." He also declined to mention Hillary Clinton by name, calling her "a crooked candidate" instead.
On the stock market's recent fluctuations: "Hey, we've got seven years to go, folks. We've got a long time to go."
The line that got the biggest crowd response: "We salute our great American flag, we put our hands on our hearts for the Pledge of Allegiance, and we all proudly stand for the National Anthem."
His closing message: "We're gonna make America great again, and I will never, ever, ever let you down."
1 fun thing: The "greatest hits" didn't just stop with Trump's rhetoric: his speech closed out with the Rolling Stones' "You Can't Always Get What You Want" — a regularity on the 2016 trail.
Go deeper