Why Trump won't use his superpower on guns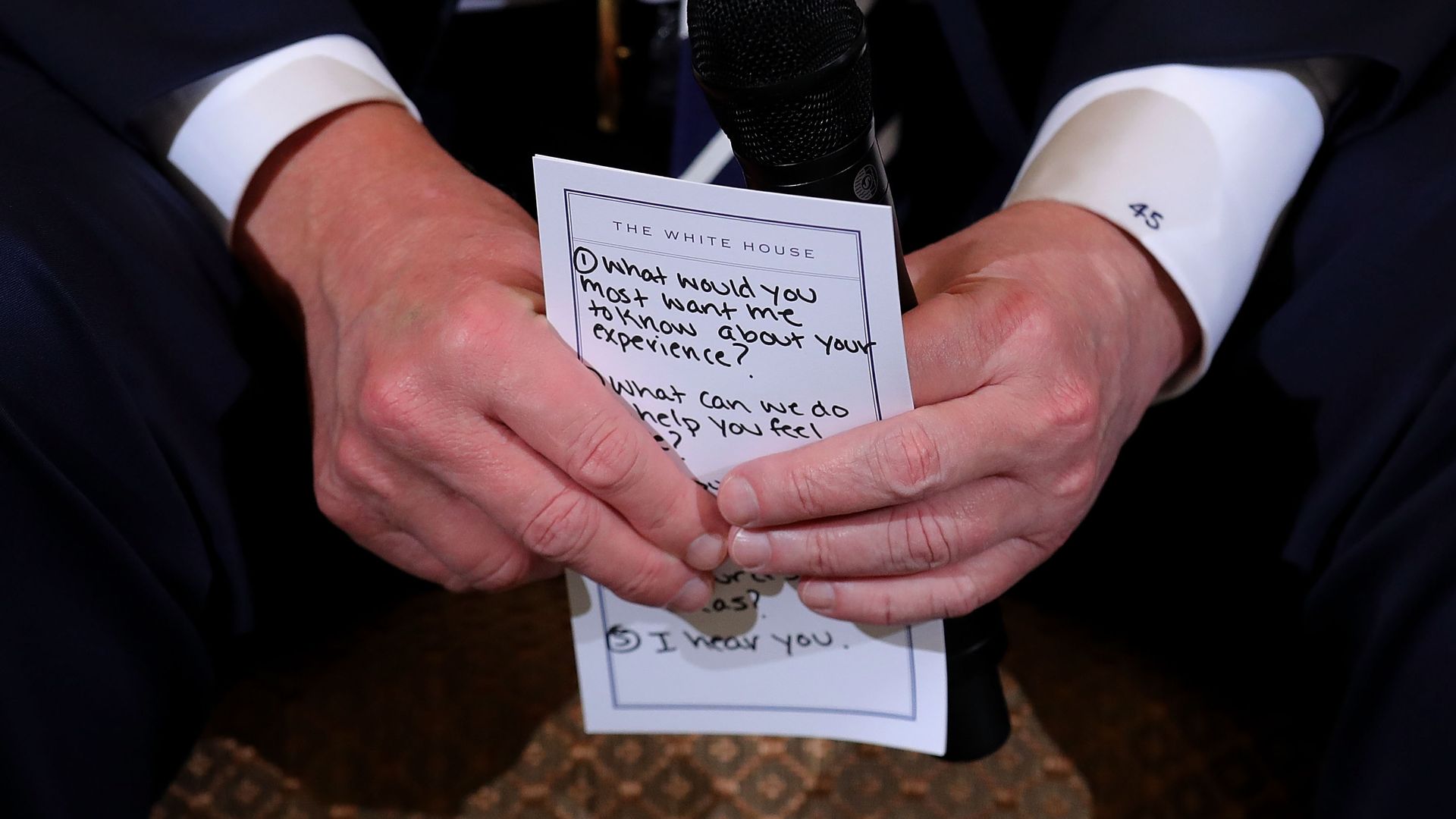 President Trump has a rare political superpower — he can get Republicans to do what seems like the impossible. He used this superpower to soften their opposition to Vladimir Putin, to instantly stir their distrust of the FBI, and embrace trillion-dollar deficits. No politician can move Rs to unthinkable places and provide more cover in the toughest of states or districts.
The big picture: Every few months, friends, family and advisers like Ivanka Trump, Rupert Murdoch and Gary Cohn fantasize Trump will tap his superpower as a force for good — to pass a big infrastructure bill, fight global warming, strike an epic immigration deal. Now, they dream of new gun controls to protect schools, kids and the innocent. He could, but he almost certainly won't.
Listening to distraught students, teachers and parents at the White House yesterday, he proposed more guns — arming teachers.
Given what Trump has openly mused about internally, he could push for quick action on higher minimum age for rifle purchases, better background checks, longer waiting period, and a bump stock ban.
What Trump is thinking: He may not fully understand the cultural significance of guns in middle America. But he believes that it's cultural, not political, issues that truly move the needle.
People who know Trump well say he is trying to thread the needle between the cultural flash point of school shootings and the cultural bedrock of middle America's attachment to the Second Amendment.
What the White House says: Raj Shah, White House principal deputy press secretary told Axios: "Leading by working across the aisle to forge compromise is what [Trump is] actually doing."
White House Press Secretary Sarah Sanders added: "He is reaching across the aisle on infrastructure, immigration and now on school safety."
Indeed, Trump got a lot of praise for actually listening during yesterday's "listening session."
WashPost's Aaron Blake tweeted: "Much credit to the White House: This is not a photo-op. It's an actual discussion."
The bottom line: Top Republicans see possible legislation on bump stocks and background checks, but think anything more significant is unlikely.
Go deeper