Updated Feb 22, 2018 -

World
Populists unite: Maréchal-Le Pen, Farage join the Trump show at CPAC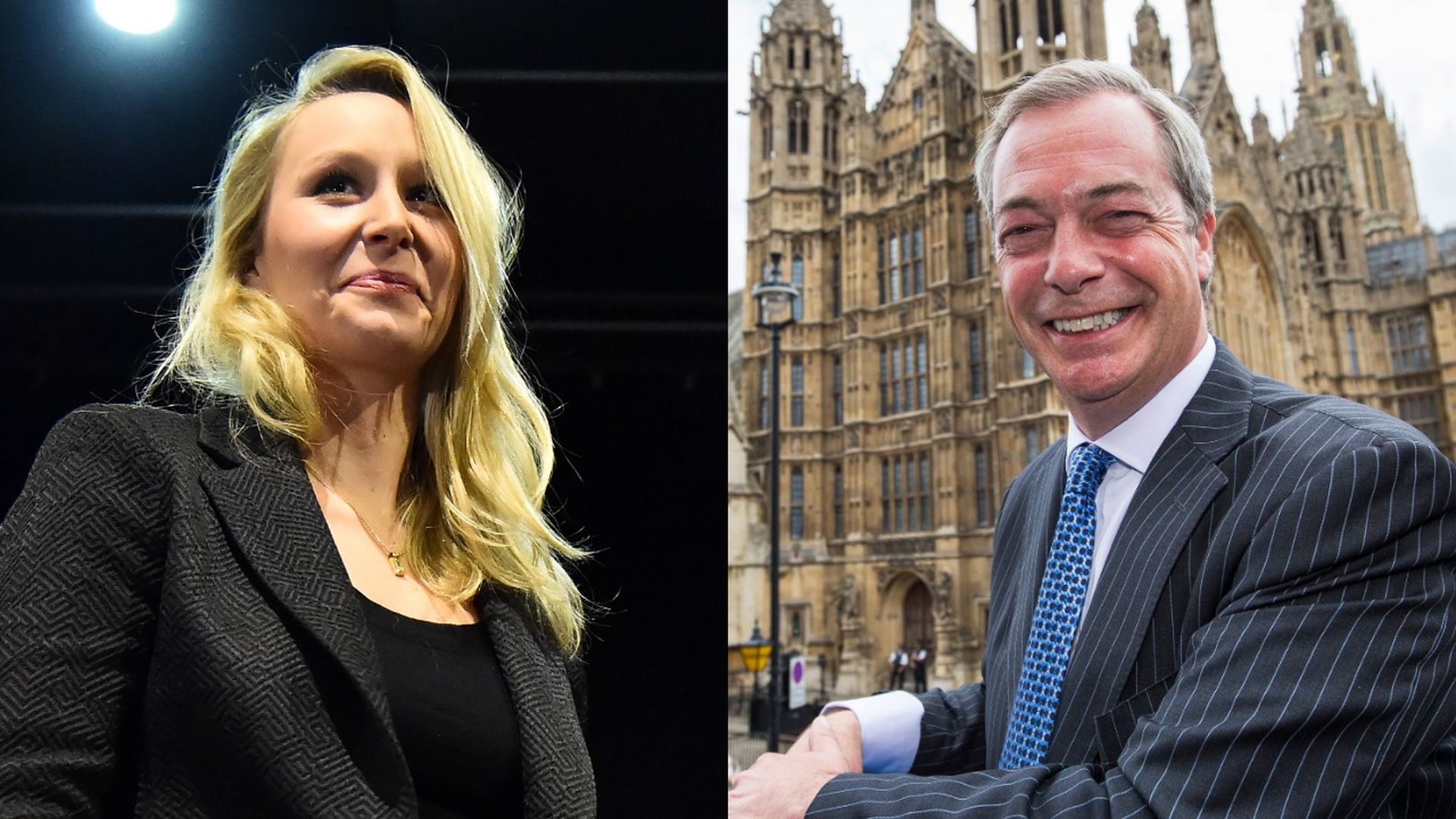 On the itinerary this week at the annual Conservative Political Action Conference (CPAC), along with President Trump and 12 senior members of his administration, are two controversial populists from across the pond. Marion Maréchal-Le Pen, the 28-year-old former French MP, will speak shortly after Vice President Pence on Thursday morning, while former U.K. Independence Party (UKIP) leader Nigel Farage will close out Friday's session.
Why it matters: Both Maréchal-Le Pen and Farage are treated as fringe figures by leaders in their respective countries, so the decision to grant them prime slots at America's leading conservative conference is sure to raise some eyebrows — especially when more moderate European conservative voices weren't extended an invitation.
Who is Marion Maréchal-Le Pen?
Maréchal-Le Pen landed a National Assembly seat for the populist right-wing National Front in 2012 at the age of 22, leading her to be called a "rising star" by Steve Bannon and the "political crush" of Sarah Palin, who breathlessly compared her to Joan of Arc.
But Maréchal-Le Pen, granddaughter to National Front founder Jean-Marie Le Pen (who has repeatedly dismissed the Holocaust as a "footnote") and niece to presidential runner-up Marine Le Pen, chose to quit politics last year following Marine's defeat, citing the need to care for her young daughter.
Her CPAC speech marks her first appearance on the political stage since last May, and it'll be sure to spark speculation that she's plotting a return to politics. Marion sits even further to the right on social issues than her aunt — actively opposing abortion, gay marriage and multiculturalism — and considers herself the "political heir" to her grandfather, though she doesn't endorse all his views.
Why she's invited
Matt Schlapp, the head of the American Conservative Union, which organizes CPAC, admitted to Axios that he hasn't "heard her give many speeches" and addressed possible criticism surrounding her appearance to Axios:
We believe that she represents a more enlightened and appropriate approach on the key issues than other members of her family… Just because you get an invitation, it's not an endorsement of everything.
— ACU Chair Matt Schlapp
Who is Nigel Farage?
Farage embraced the limelight after the U.K. voted to leave the European Union in 2016, his signature issue since the 1990s. Long a favorite of Bannon's, Farage shared the stage with Trump at a campaign rally in Mississippi. Trump went on to recommend him as a potential ambassador to the United States, causing headaches on Downing Street.
He also rocked the British mainstream with his political views during the Brexit campaign, notably being reported to police for an alleged "attempt to incite racial hatred" with a controversial poster in the days before the vote.
But, like Maréchal-Le Pen, Farage's political influence is waning at home. While still a member of the European Parliament, he's no longer the leader of UKIP.
Why he's invited
Farage is a more familiar face on the CPAC stage. He first impressed Schlapp at a 2014 speech at the Breitbart embassy, prompting an appearance at CPAC in 2015. Last year, basking in the afterglow of Brexit and Trump's victory, Farage outlined his worldview at CPAC: "Our real friends in the world speak English, have common law, and stand by us in times of crisis."
He was a hero in the anti-EU movement, and he's a good fit.
— ACU Chair Matt Schlapp
Who isn't coming
I asked Schlapp about the fact that mainstream European conservatives won't be attending, while Farage and Maréchal-Le Pen will. His response:
"We don't worry so much about what establishment judgments are about who's where. We are engaging important allied countries in comparing notes on the true definition of what a conservative is … The American conservative experience does not perfectly equate to every other country."
Go deeper