The Atlantic to expand, adding 100 people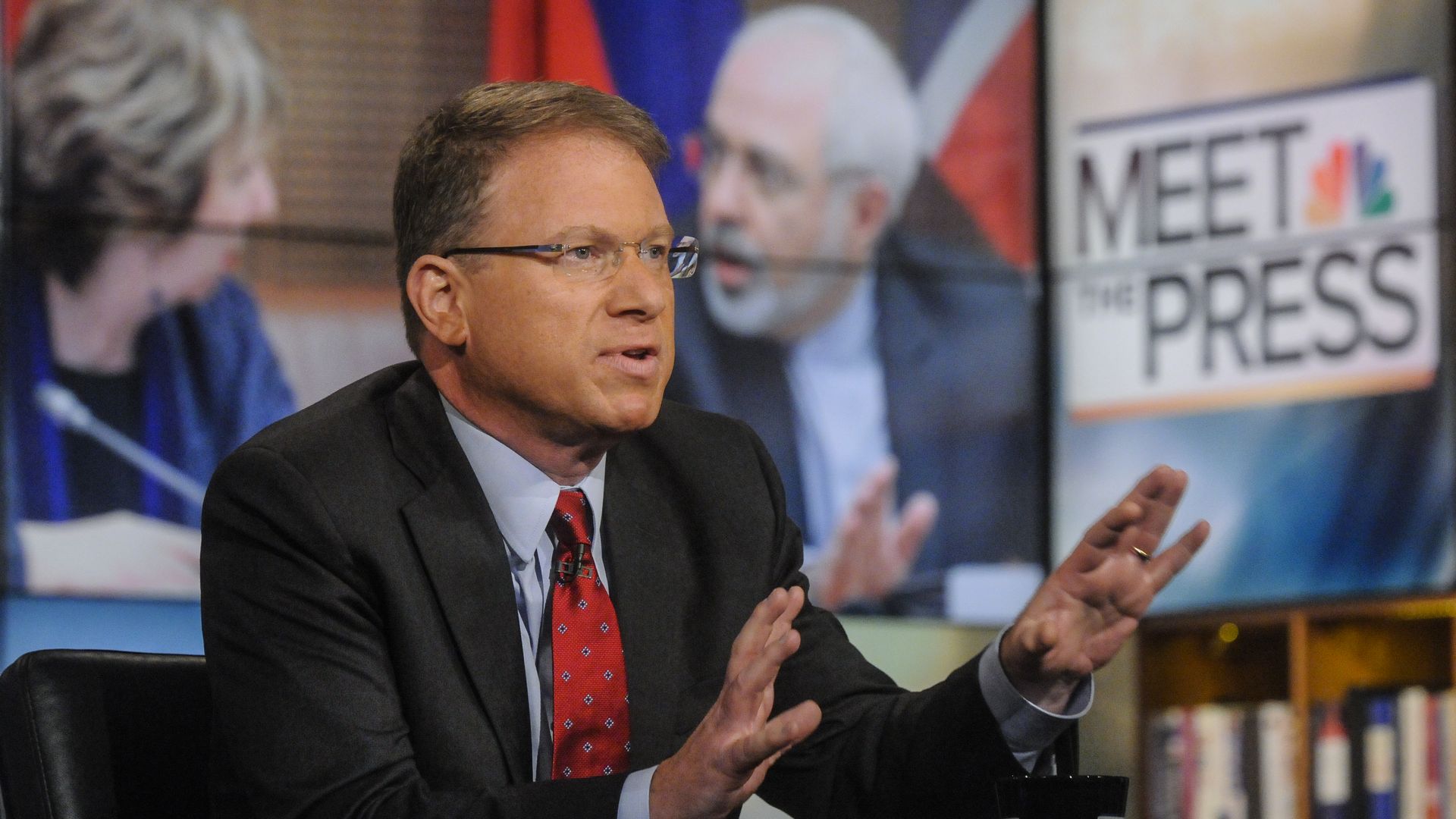 The Atlantic, one of the oldest print magazines in America, is adding 100 staffers (a 30% staff increase,) as a part of a 12-18-month expansion across all divisions, with roughly half of the additions going towards editorial, announced executives on Wednesday.
Why it matters: While the company has been profitable for eight consecutive years, a spokesperson from The Atlantic says its new majority ownership stake from Emerson Collective, the non-profit owned by Steve Jobs' widow, Laurene Powell Jobs, has allowed the company to accelerate the expansion. The company is still co-owned by David Bradley, Chairman of Atlantic Media, who sold the stake to Emerson Collective last year.
Read the memos shared with staff from The Atlantic President Bob Cohn and Atlantic Media Chairman David Bradley below.
Memo from The Atlantic President Bob Cohn to staff:
Many of you were at the town hall this morning. For those of you unable to attend, or those who prefer your information in text and not PowerPoint, I write now with some details about our plans for this year.
First, a bit of context. Editorially, we are coming off a very strong 2017. Our most ambitious articles – many of them magazine cover stories – drove a global conversation, from Ta-Nehisi Coates on Barack Obama's legacy to Caitlin Flanagan's investigation of fraternity hazing to the late Alex Tizon's essay about his family's slave. Online, we broke new ground with our coverage of Trump's Washington, #MeToo, and issues surrounding race, a foundational Atlantic topic. Magazine circulation hit an all-time high, as did our audience on TheAtlantic.com, which grew 25 percent in 2017 over the previous year. We introduced two podcasts, filmed documentaries in four countries, nearly doubled our YouTube streams, expanded our Washington Ideas program, and created a premium membership product – and we are finalists for five National Magazine Awards, including for General Excellence.
On the business side, revenue edged up despite a challenging environment, and the company turned a profit for the eighth consecutive year. Our strategy to nurture a diverse set of revenue sources continued to pay off, with sales at AtlanticLive, Atlantic 57, and CityLab.com hitting new highs, and Re:think was three times named Best Content Studio. Smart redesigns of the CityLab and Atlantic sites positioned both for further growth.
All that is backdrop for this year, which promises to be among the most consequential since our founding in 1857. Starting today, we are committing ourselves to a series of initiatives that will drive our journalism to even greater heights and accelerate the growth of our businesses. Among these initiatives:
1. Editorial Expansion
One of the core strengths of The Atlantic is that, as a general interest journalism operation, we cover a range of topics, from politics, business, and foreign affairs to technology, entertainment, health, and science. This year, Jeffrey Goldberg and his teams will continue to focus on excellence on all of our channels but will bring special attention, across each platform, to six specific areas:
• The Washington Story
Even as we've bulked up to cover the Trump administration over the last year, the story is relentless – and relentlessly interesting – so we'll be expanding our commitment to reporting on the White House, federal agencies, national security, Congress, and the culture of the capital.
• Technology
How new technologies are changing the world has long been an Atlantic obsession, and we plan to devote more resources to covering the people and companies, in and out of Silicon Valley, that shape our future.
• Hollywood
With an on-the-ground presence, we'll focus more intensively on the intersection of entertainment, business, and technology, allowing us to expand our coverage of popular culture and its global influences.
• Family
Next month we'll launch a new Family initiative, a hub for our coverage (online, in print, in video, and in a dedicated newsletter) of the cultural, political, and economic forces shaping America's families.
• Opinion and Ideas
Some of the best stories we publish come from essayists, commentators, and outside experts. This year we'll be more systematic and enterprising about sourcing these pieces as we search for the most talented writers across the globe.
• Washington Ideas
Now in its 10th year, this event has become the most ambitious program in the AtlanticLIVE portfolio. Last year, as you know, we expanded Washington Ideas over more days and more venues. In 2018, we seek to further grow the journalistic ambition – and to generate larger audiences and more cultural impact.
2. Consumer Revenue
For 161 years, we have asked readers to pay for our magazine. With the launch of The Masthead last fall, we began inviting them to support our work beyond print. Now we're ready to put new energy behind a strategy to encourage paid readership of our digital content. This means building out our capabilities in data, consumer marketing, and engineering, along with continued focus on editorial excellence. Paid content (on the digital side) is new territory for us, and we have a lot to learn about metered paywalls, conversion rates, funnels, pricing, and more. In the end, we believe that readers will pay for the richness of The Atlantic in digital form. And we think it's important for the company to rely equally on audience and advertisers for financial support.
3. Advertising and Client Growth
Which brings me to advertising. Across our platforms, we have developed an enviable audience that marketers want to reach. So even as we start generating new reader revenue, advertising of course remains critically important, a linchpin of our business. Much of our ad growth over the last few years has been driven by the skill and creativity of the people who work at our branded content studio, Re:think. At the same time, we rely heavily on the deep client relationships built by our teams at AtlanticLive and Atlantic 57. On top of all this, programmatic has been an important area of ad growth, and this year we are developing new strategies and hiring personnel to take advantage of these market trends. In all, growing client revenue across all our platforms is a major priority for the year.
What It Will Take
Launching these sorts of ambitious initiatives, along with meeting our other edit and business goals, requires new resources. So here's the headline: Over the next 12 months, we'll be adding as many as 100 new staffers to The Atlantic. That's about a 30 percent boost in personnel, with new people joining every division – from print, digital, and video to Live, CityLab, and Atlantic 57. The newsroom will grow the most, with up to half of these new employees coming to editorial. We'll also be nearly doubling the size of our product team, bringing new engineering and design resources to bear on all our work. And we are planning major commitments to the data, consumer marketing, and sales teams.
Hiring smart is hard – perhaps the hardest thing we do in our business. To ensure excellence in recruiting, retention, and advancement, we're creating a Talent Lab to support the newsroom. The journalists in the Talent Lab will assist editorial managers in hiring, and they will help our entire newsroom staff flourish. The Talent Lab will also help us achieve one of our paramount goals: ensuring that our team is truly representative of America in all of its diversity.
This promises to be an exciting and, I believe, transformative time in our history. The Atlantic has reached new heights thanks to the stewardship of David Bradley over the last two decades. And now, as David works alongside Laurene Powell Jobs, we take these next important steps with the guidance and support of our partners at Emerson Collective.
Allbest, Bob
Memo from David Bradley to The Atlantic staff:
My Atlantic Colleagues,
As I write, I am assuming that you have heard the news from Bob that The Atlantic begins, today, the steepest run of growth in its 160-year history.  Our immediate ambition is to add up to 50 staff to the newsroom, as many as 100 staff overall.  Growth can go wrong, sometimes terribly; a dozen wrong hires can undo a company culture.  But, likely, this goes terribly right.   What if we were to find that what follows now proves the transformative hour in Atlantic history?
Growth, but to What End?
Here, I want to take us back to first principles, to the founding purposes of The Atlantic Monthly.  For me, Jeff is incomparably compelling in explaining the first purpose, that The Atlantic is to wrestle out and champion the American idea.  It cannot be coincidental that the magazine was founded in 1857, at the outset of the nation's first and greatest crisis of identity.
In you, Jeff leads a staff exquisitely skilled in wrestling out truth from current events, then bringing it, truth, to life in our "pages."  Unhappily, wrestling out truth is not my own comparative gift.  I will contribute elsewhere.
Atlantic's "Second Purpose"
The Atlantic's second purpose—ordinally, but not as to significance—developed as a quieter matter.  Our founders intended their magazine to be the nation's great talent destination – the pages where America's finest writers published their best work.  
How they succeeded from the first – and then their heirs into the second century:  Ralph Waldo Emerson, Oliver Wendell Holmes, Harriet Beecher Stowe, Walt Whitman, Henry David Thoreau, Robert Browning, Charles Dickens, Edith Wharton, Mark Twain, Theodore Roosevelt, Emily Dickinson, Woodrow Wilson, Booker T. Washington, Jack London, W.E.B. DuBois, Robert Frost, Helen Keller, Rudyard Kipling, John Steinbeck, Martin Luther King Jr.
Our Occasion in the Moment
Definitionally, The Atlantic succeeded most as a talent destination when it could afford to take in talent.  In our own time together—the last 20 years—The Atlantic staff has grown from 70 to 345.
But, to my knowledge, in our 160-year history, we have seen no moment like this.  As of now, we are chartered to grow our editorial ranks as much as 40% and the whole staff as much as 30% across one to two years.
Of equal significance, I believe, Jeff is establishing a "Talent Lab," with full-time editors and researchers dedicated to a global search for the world's greatest writers – a few for our full-time staff, perhaps, but hundreds as outside contributors.  Along the way, I expect the research staff to have surfaced thousands of names – an arrestingly-diverse, magnificently-talented collection of writers, entered into a database and available to our editors as they assign out work.
The vision, at least as we are given to see it now, is that we create in The Atlantic a great, global, talent-discovery machine.  And, we create of The Atlantic, the great talent destination, a place worthy of your talent and that of others we attract.
Thinking Through My Own Role
Sometime across my 40-year career, I came to understand that my greatest gift is spotting gifts in others.   More modestly and at a minimum, having conducted thousands of applicant interviews, I am practiced.  The largest contribution I think I can make, as to expansion, is to support Jeff in creating a talent lab that succeeds in finding extreme talent—the best talent—around the world.  
In tandem, now is a good time for all of us, but beginning with me, to keep an eye on culture.  A few mistakes as to spirit of generosity, especially among new editors, can call into question the culture we've built these twenty years.   
A More Personal Note
When my partner in this work and Atlantic's majority owner, Laurene Powell Jobs, joined last summer, I gave my word that I would stay with The Atlantic, serving in the same role, under the same title. What has changed, what caught me unaware, is how much I would love doing so with her as my partner. That is enough for me to say now, save to tell you the infusion of ambition, intelligence, and confidence Laurene brings to our work.  And, my gratitude to her for loving The Atlantic.
And, Finally This ...
In the late 1990's, two English teachers at a Los Angeles school began meeting at the kitchen table of one to talk about the leap into professional writing each would love to attempt. Passing to and from the refrigerator, the husband of one, himself a Rand policy writer, would listen in on the conversation.  His wife was well down the path of writing novels.  But, her friend was nowhere down any path in particular.  
In the year 2000, life changed dramatically for the Rand husband and his wife's friend. He became the book editor of The Atlantic.  And, following his lead, his wife's friend began to write for our magazine.  She was Caitlin Flanagan already, but nowhere near the Caitlin Flanagan she was to become.
I can't begin to do the math.  How many Caitlin Flanagans—impossibly brilliant reporters, writers, essayists, podcasters, videographers, editors of all sorts—are hidden from sight in schoolyards, law firms, office parks, banks, factory floors, homes around the world?  How much fact, how much truth, how much compelling narrative, how much entertainment, is there to be brought to life?  And, in this, how The Atlantic might leaven the world.
___________________________
Aspiration reduces to work painfully fast.  And, so we'll begin with the plan Bob and Jeff set out today.  What remains for me to say is that I'm grateful to be doing this with you.
With high regard.
David
Go deeper