North Koreans canceled a secret meeting with Pence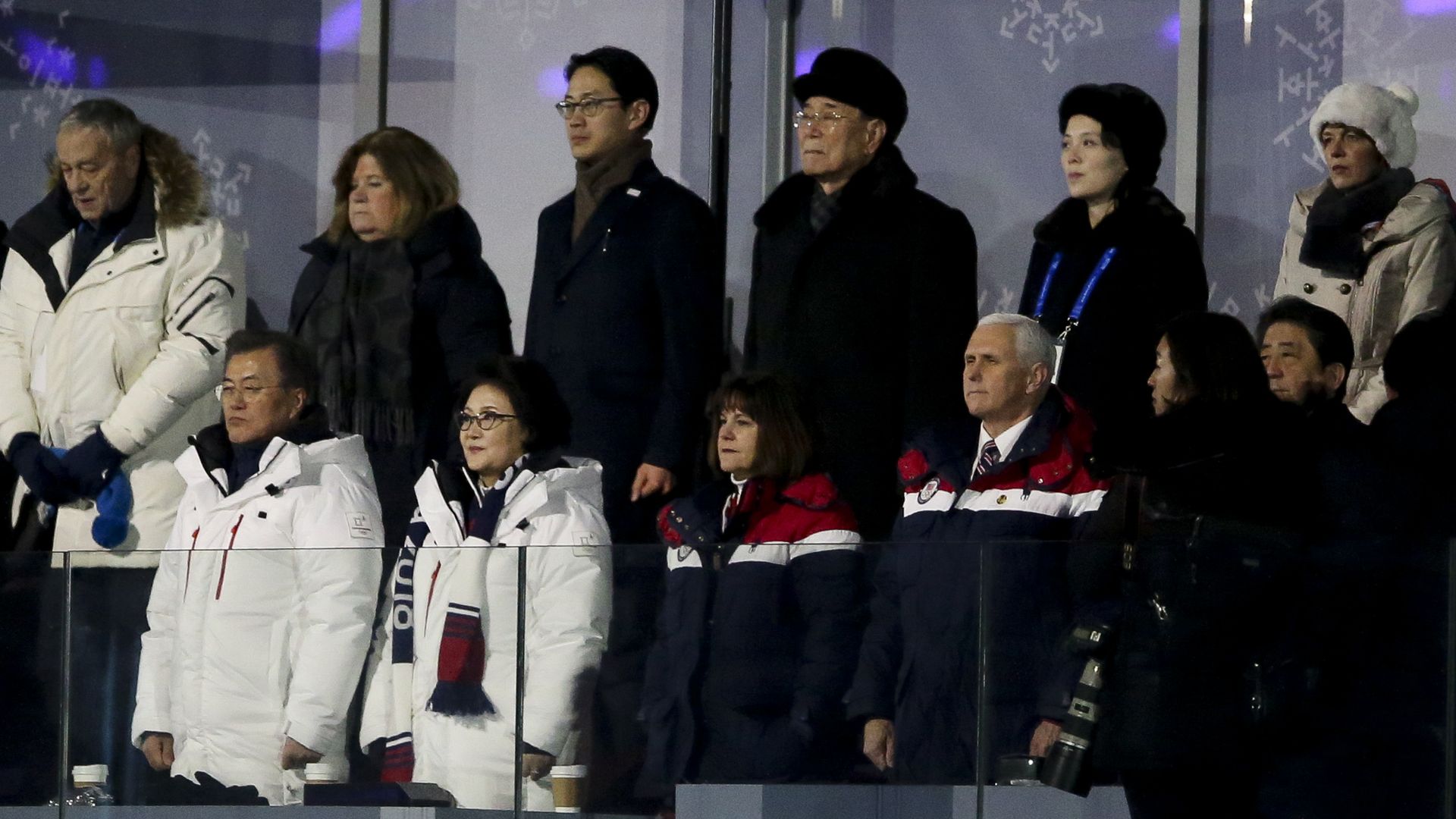 During his visit to South Korea, Vice President Mike Pence was scheduled to meet with Kim Yo-jong, the sister of North Korean leader Kim Jong-un, but it was cancelled two hours before it was supposed to happen, the Washington Post reported and the State Department has now confirmed.
"North Korea dangled a meeting in hopes of the Vice President softening his message, which would have ceded the world stage for their propaganda during the Olympics."
— Nick Ayers, the vice president's chief of staff
Why it matters: Pence took a far more hardline tone against the North Koreans during his trip to Asia, the Post says, in contrast to "the image of progress being promoted by the South Koreans, who would also have been eager to involve the United States in direct talks with the North."
From State Dept. spokesperson Heather Nauert:
"During the Vice President's recent visit to South Korea to demonstrate allied resolve and support American athletes, the possibility arose of a brief meeting with the North Korean delegation leaders.  The Vice President was ready to take this opportunity to drive home the necessity of North Korea abandoning its illicit ballistic missile and nuclear programs.
"At the last minute, DPRK officials decided not to go forward with the meeting.  We regret their failure to seize this opportunity. We will not apologize for American values, for calling attention to human rights abuses, or for mourning a young American's unjust death.
"We will not allow North Korea's attendance at the Winter Olympics to conceal the true nature of the regime and the need for the world to remain united in the face of its illicit weapons programs.  The maximum pressure campaign deepening North Korea's diplomatic and economic isolation will continue until North Korea agrees to credible talks on a way forward to a denuclearized Korean peninsula."
Go deeper