Scoop: U.S. ambassador to Israel says massive settlement evacuation could spark civil war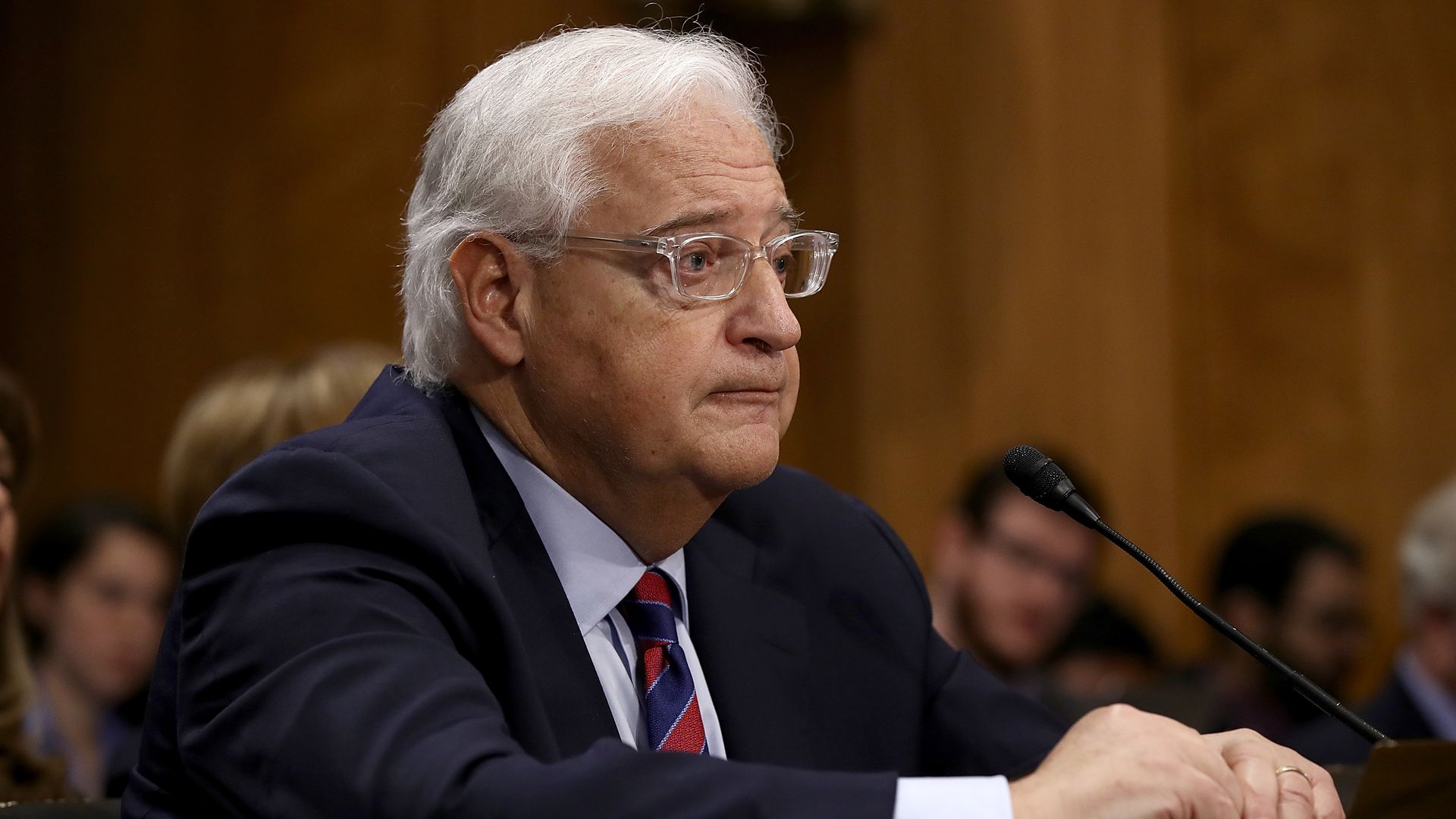 U.S. ambassador to Israel David Friedman told a closed door meeting yesterday in Jerusalem that a massive evacuation of Jewish settlements from the West Bank could lead to a civil war in Israel.
According to three people who attended the meeting, of the conference of presidents of the Jewish organizations in North America and shared their notes with me, Friedman said that the approximately 400,000 settlers who live in the West Bank "are not going anywhere…and significant evacuation could result in a civil war. This is my opinion".
Friedman was asked if he thought the reason will be the refusal of IDF soldiers to obey the orders of the government. He explained that Israel's military is more and more being lead by "Religious Zionists" who are committed to this land because they see it as their God-given Land.
The history
The future of the settlements is one of the core issues of the Israeli-Palestinian conflict. When Israel pulled out unilaterally from Gaza it evacuated all 8,000 settlers who lived there.
In all previous negotiation rounds during the Clinton, Bush and Obama administrations there was a common understanding that in a future peace deal most of the Israeli settlements would be annexed to Israel and the rest will be evacuated. During several rounds of negotiations in the past, ideas were floated about some settlers staying in their homes as Palestinian citizens.
More from Friedman's remarks
The end of 2019 is an outside date for moving the U.S. embassy to Jerusalem and it will happen sooner.  
The administration is realistic and is not overselling the prospects of a peace deal, but Trump is committed to trying to reach one. The administration does not believe that threats or pressure on Israel would help achieve a peace deal with the Palestinians.
The claim that a peace deal is needed to keep Israel as a Jewish and democratic state is a platitude because for 25 years people have been saying that and Israel has only thrived and prospered.
A peace deal between Israel and the Palestinians will be an achievement but it will not solve problems like ISIS or Hezbollah and for that reason security for Israel and the region is paramount.
There must be Israeli Security control in the Jordan valley (the border area between the West Bank and Jordan) in any future peace deal, otherwise the West Bank will turn into a second Gaza.
Israeli-Palestinian future relationship should be not a marriage but a divorce. But until now the Palestinians have not shown themselves capable of building institutions that will allow them to live in peace with their neighbors.
Update: Via a U.S. Embassy spokesperson: 
"The Channel 10 report is based upon three attendees at the conference who failed to provide much of the context behind Ambassador Friedman's comments as well as significant additional and related remarks by the Ambassador. Ambassador Friedman made clear in his remarks that the President is committed to a comprehensive peace agreement that benefits both Israelis and Palestinians and that the U.S. is working on a plan to achieve that goal. As for settlements, the Ambassador believes that unrestrained settlement growth is not helpful for peace."
Go deeper