This terrible flu season: What you need to know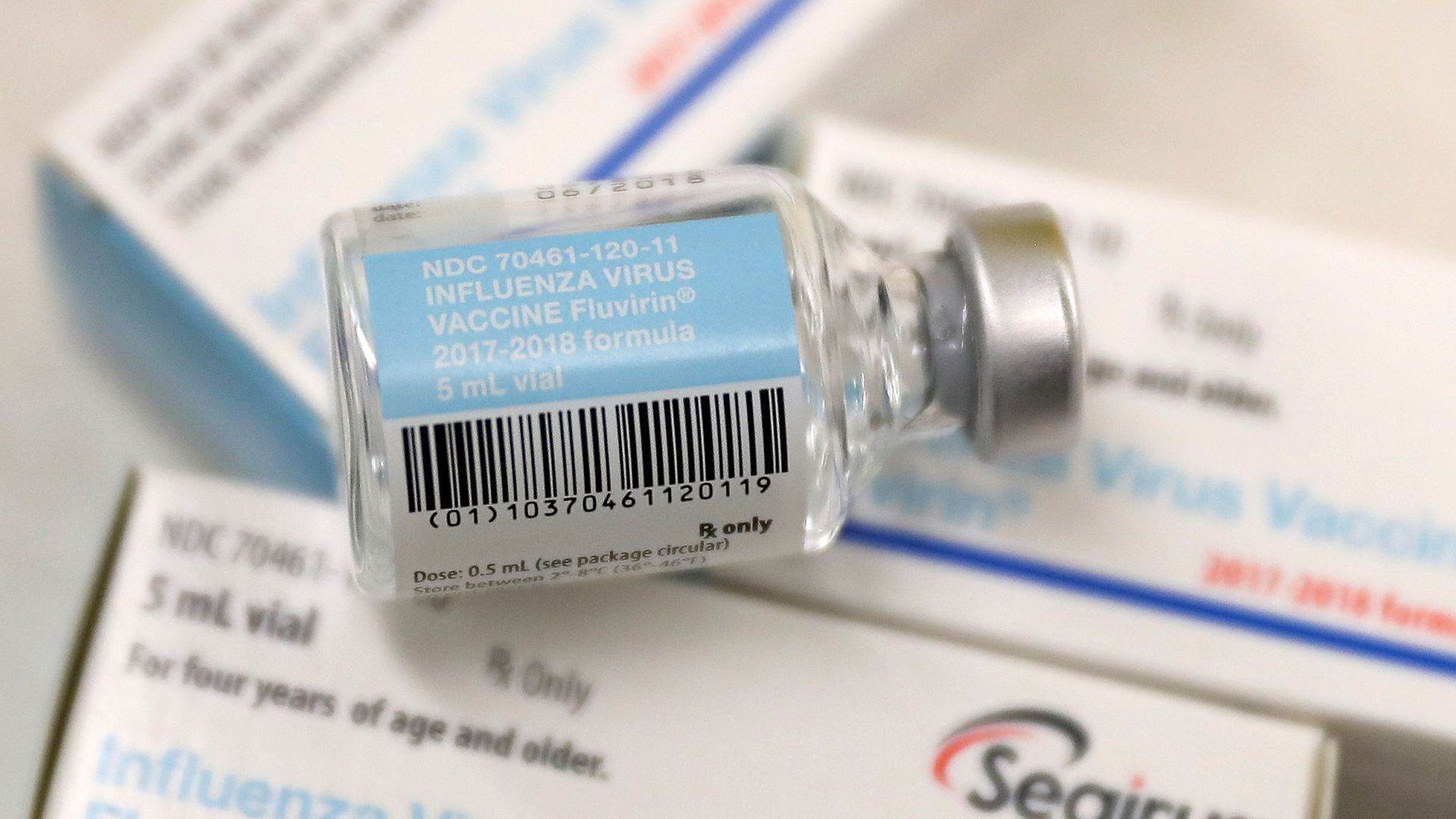 The current flu season is particularly deadly due to the specific virus strains combined with a "fluke" that rendered this year's vaccine less effective than desired, Anthony Fauci, director of the National Institute of Allergy and Infectious Diseases, tells Axios. The Centers for Disease Control and Prevention today announced interim results of the vaccine's overall effectiveness, which is 36%.
Why this matters: Healthy individuals are being struck down by the flu this season and some communities have taken steps like shutting schools to combat the contagion, which has killed at least 63 kids in the U.S. since the start of this flu season in the fall. While the CDC will update its influenza data soon, authorities say early indications do not show a slowdown yet.
1. Why the flu is particularly deadly this year
The severity of the flu in any given season depends on the strain. Public health officials are always on the lookout for a flu pandemic, which involves a new strain that spreads globally, such as the so-called Swine Flu of 2009.
What's different: Many people feel this year's flu is similar to a pandemic emergency, but it's not. We've faced these particular strains before.
One of the circulating strains, Influenza A H3N2, tends to cause severe illness in children and people 65 and older, and it continues to dominate the season, CDC acting director Anne Schuchat said at a Feb. 9 press conference.
Influenza B infections are rising now, and people can be reinfected more than once.
Part of the reason this year's vaccine is not as effective is that the key targeted protein — hemagglutinin, which is the "H" in the virus names — "mutated into an accidental mismatch that undermined [the vaccine's] protective qualities," Fauci says.
There have been reports of a lack of antiviral medications like Tamiflu and flu testing kits, but Fauci says those were due to regional distribution problems rather than actual supply problems.
2. Why the vaccine isn't really working
As opposed to other vaccines like measles and yellow fever — both of which have effectiveness rates of roughly 98% or more — the flu vaccine has always been a hit-or-miss endeavor.
Why? Fauci says the best effectiveness rate for a flu vaccine is 60%, partly due to the nature of the virus — which can mutate easily — and partly due to the current way vaccines are made. The cheapest and most common method is through a 6-month process using eggs, which are injected with the virus strains that scientists predict will be the ones to target.
By the numbers: While the U.S. does not usually calculate the effective rate of its vaccination until the season ends, the CDC issued on Thursday interim estimates of the effectiveness of this year's vaccine:
36% effectiveness for all the flu types together for all ages in the U.S.
59% protection against H3N2 in children 8 and younger.
25% effectiveness against H3N2 for all ages.
67% effectiveness against H1N1 for all ages.
42% effectiveness against influenza B viruses for all ages.
This compares with rates reported by Australia (roughly 10% against H3N2) and Canada (about 17% against H3N2).
3. What's next
Fauci says it's still important to get the flu vaccine, if you have not done so already. Any protection is better than none, and even if you already survived a bout of the flu, it's possible to get another strain this same season.
Some of the latest research:
New antiviral drugs: Several companies are working to produce new drugs to combat the illness once people are infected. CNN reports a Japanese team plans to submit a drug approval application to the FDA for an experimental drug that killed the virus within 24 hours for more than half of the participants in a study.
New observations on how it spreads: A recent University of Maryland study found the flu virus can be spread simply by breathing nearby air instead of requiring sneezes or coughs, the study's author Donald Milton tells Axios.
Vaccine targets: An Australian study published in Science Translational Medicine Wednesday says flu vaccines need to better trigger human's natural fighter immune cells, including T-cells.
"Killer T cells are the 'ninjas' of our immune system but the current vaccine does not alert them. If we could make a vaccine that recruits these highly effective virus killers into the flu-fight, we could be much of the way towards the one-shot, one-time, effective flu vaccine that could save hundreds of thousands of lives and a great deal of health care expense and focus."
— Study author Marios Koutsakos
What's next: Milton says more focus needs to be put into cell-cultured vaccines over egg-based production even if it's three times more expensive. Fauci says NIAID wants to create a new consortium of top researchers to make a universal influenza vaccine. While President Trump's proposed budget for HHS did not include specific funds for the consortium, Fauci says he hopes NIAID will receive money for this in the final budget.
Editor's note: This story was updated to reflect an expected update on influenza activity and to show today's release of the CDC's interim estimates of 2017-2018 vaccine effectiveness in the U.S.
Go deeper