Scoop: Trump threatens veto on immigration deal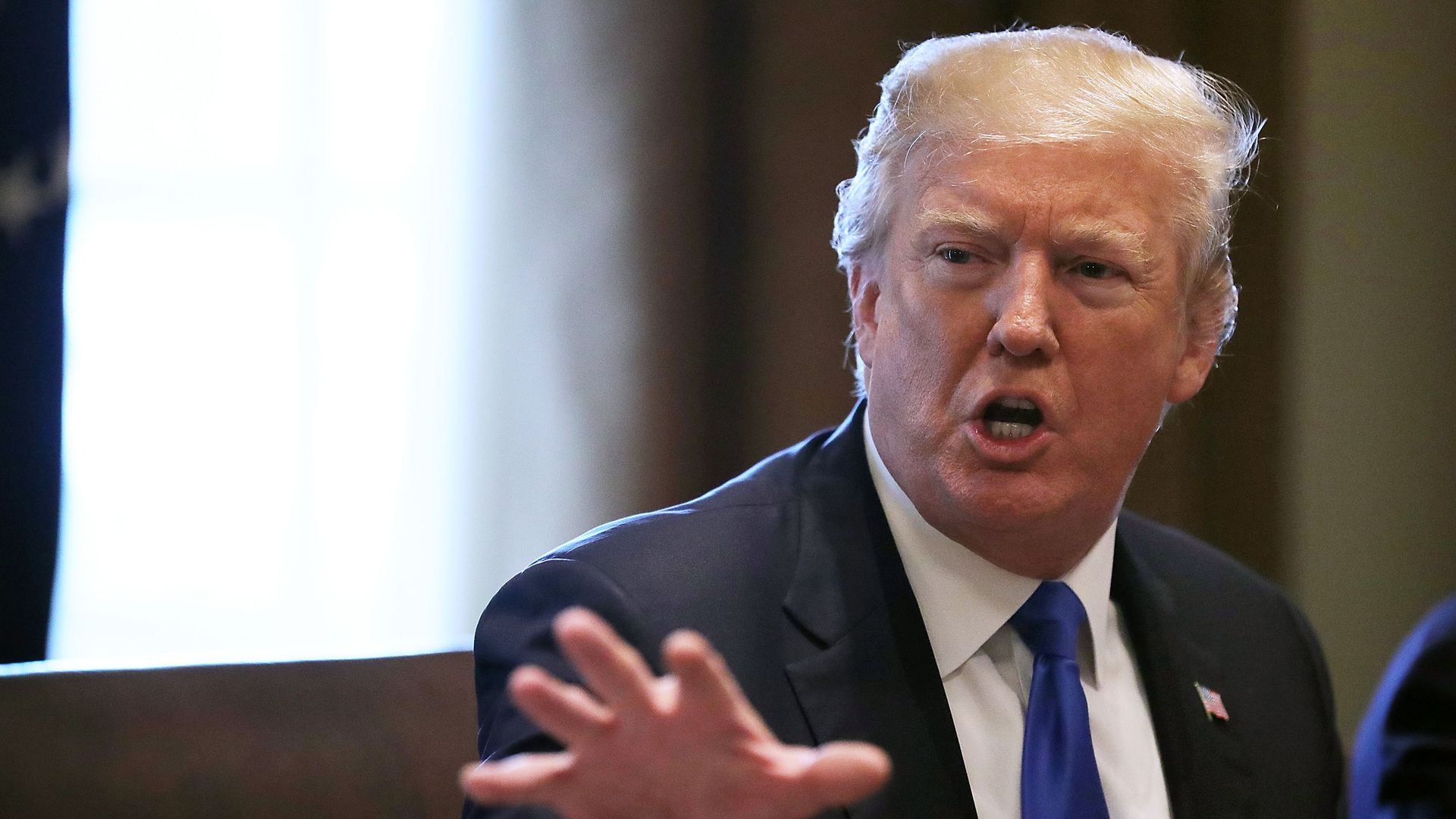 A senior administration official said Tuesday night that President Trump "will veto any bill that doesn't advance his common-sense immigration reforms" — a hardening of the White House bargaining position as the Senate begins an epic debate.
Why it matters: With moderate, bipartisan senators looking to restore protections for "Dreamers," who came to the U.S. as children, Trump is laying down a marker: He won't approve the squishy bill that will most likely come out of the Senate.
Reality check: There's almost zero chance the Senate approves a bill Trump will like.
Trump wants long-term cuts to legal immigration.
The other side ... A Senate Democratic official tells us: "Their spin is laughably bad. He ended the [DACA] program. He would be deporting them. Who in their right mind would blame Democrats?"
In discussing the White House's strategic thinking, the administration official asserted confidence on immigration, saying Democrats who resist Trump's approach will "be walking into a political suicide march."
The administration official said: "The White House has claimed the mainstream, middle ground on immigration."
"By opposing the president's framework, Democrats are making it clear that they care more about donors than Dreamers."
"Republicans have Democrats backed into a corner," the official added. "Democratic leaders are now catering to the far-left activist wing of their base."
"Democrats are selling out American workers for open borders ... [T]he White House is making it clear that the Republican Party is the party of American workers."
The Senate Democratic official blasted back: "Republicans are in charge of Congress, the President ended DACA, and if deportations come, it'll be Donald Trump's ICE agents doing the deportations."
"Republicans will own any failure to get a result here. Period."
The Democratic official added: "They will have to defend it while trying to win Senate seats in Nevada and Arizona, and swing House seats across the country."
"Democrats have offered Donald Trump the wall and reasonable bipartisan proposals on what they call chain migration and diversity visas."
"We have claimed the middle ground, and the President has rejected it ... He's using Dreamers as leverage to achieve immigration policies that are broadly unpopular."
Go deeper