A viewer's guide to the immigration debate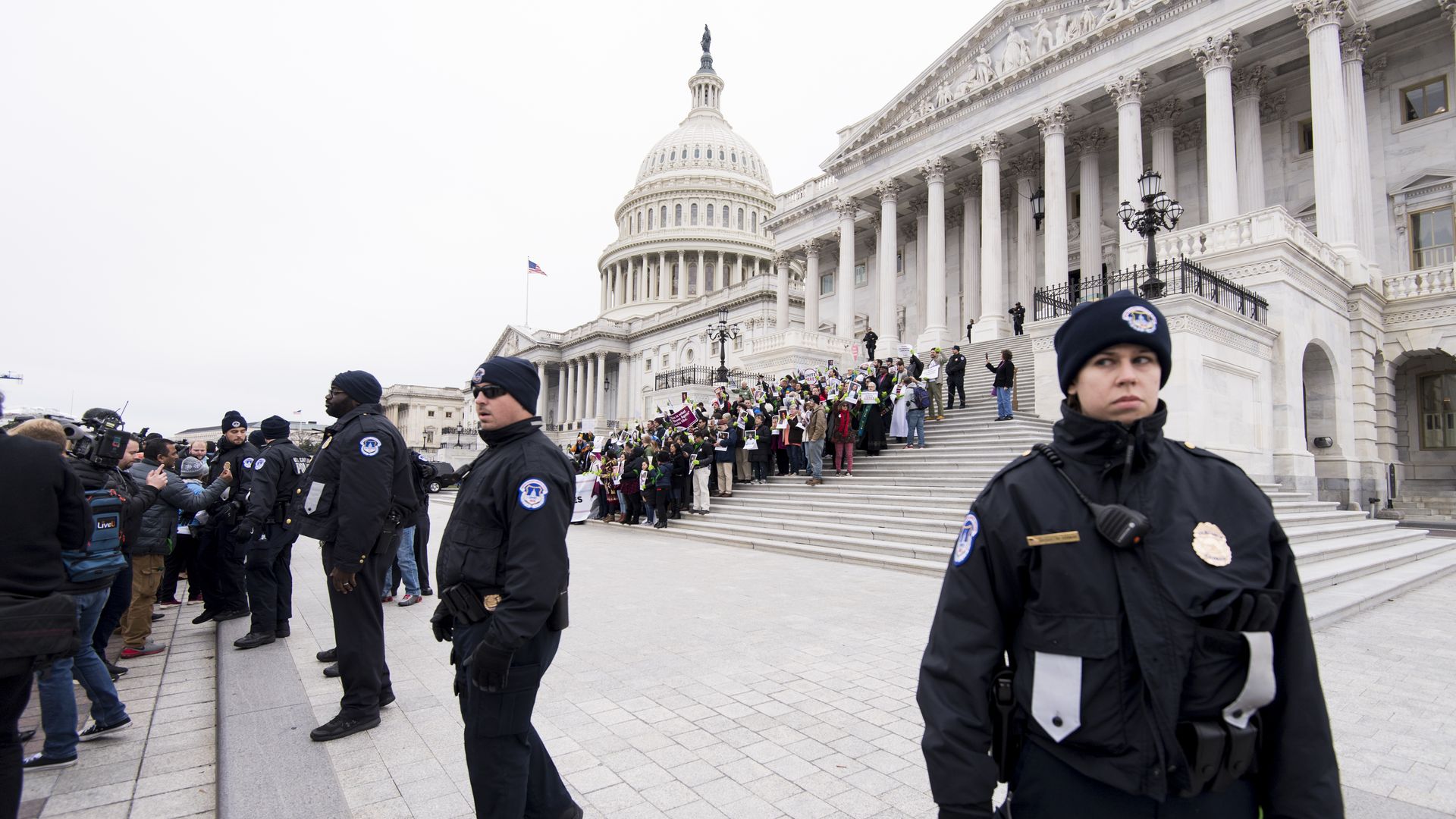 Senators gathered today to officially kick off the immigration debate in the upper chamber, which could last weeks and go any number of different ways.
Between the lines: The Senate hasn't functioned this way in a long time, and it's unclear whether the two parties will be able to create any kind of consensus product addressing a number of extremely political issues. Action is likely to be centered on a handful of topics that have been at the heart of recent attempts at a DACA solution.
We don't know yet what's going to get a vote, but recent immigration proposals give a good overview of what ideas are out there — including proposals by Sens. Lindsey Graham (R-S.C.) and Dick Durbin (D-Ill.), Sens. John McCain (R-Ariz.) and Chris Coons (D-Del.), and Sen. Jeff Flake (R-Ariz.).
Trump's opinion
Graham-Durbin: 👎🏻
McCain-Coons: 👎🏻
Secure & Succeed Act: 👍🏻
Flake's temporary solution: 👎🏻
Dreamers
Graham-Durbin: Permanently protects DACA recipients and provides a pathway to citizenship for any eligible "dreamers" — approximately 1.8 million people.
McCain-Coons: Protects DACA recipients from deportation and establishes a pathway to citizenship for eligible "dreamers."
Secure & Succeed Act: Creates a path to citizenship for 1.8 million "dreamers" — there are only 800,000 protected under DACA.
Flake's temporary extension: Would temporarily extend DACA's protection of "dreamers" if the Senate doesn't reach a long-term agreement.
The wall
Graham-Durbin: Allocates close to $3 billion for a border wall and border security technology.
McCain-Coons: Does not immediately include provision for Trump's border wall.
Secure & Succeed Act: Does not specifically address the wall, but does call for increased entry security and requires DHS to achieve "100% surveillance" and "operational control" of the southern border.
Flake's temporary solution: Does not address.
Border security
Graham-Durbin: Nothing specific beyond the almost $3 billion intended for the border wall and other security technology. Does not address law enforcement.
McCain-Coons: Increases the number of border patrol officers as well as security technology and physical barriers where necessary.
Secure & Succeed Act: Creates a $25 billion trust fund for a 10-year border security plan, which includes northern border security as well.
Flake's temporary solution: Would provide some funding for enhanced border security. No specific numbers have been floated yet.
Family immigration
Graham-Durbin: Would limit family-based visas for family members of DACA recipients. DACA recipients' parents would only be eligible for renewable, 3-year work visas, but not for citizenship. Family-based immigration policy would remain as is for all other immigrants.
McCain-Coons: Does not address.
Secure & Succeed Act: Only allows family-based visas to be given to spouses and unmarried children under 18 years old. Grandfathers in anyone currently waiting for family-based visas. Parents of citizens can receive non-immigrant visas for up to five years at a time, but are not authorized for work in the U.S.
Flake's temporary solution: Does not address.
Diversity visa lottery
Graham-Durbin: Eliminates the diversity visa lottery, which randomly awards up to 50,000 green card visas per year to applicants from countries that do not send many immigrants to the U.S. The bill would reallocate these visas to other immigration programs.
McCain-Coons: Does not address.
Secure & Succeed Act: Eliminates the diversity visa lottery, reallocates the visas to family-based and work-based visa programs.
Flake's temporary solution: Does not address.
Supported by ...
Graham-Durbin: Cosponsored by Democrats Bob Menendez and Michael Bennet, and Republicans Jeff Flake, Cory Gardner, Lisa Murkowski, Lamar Alexander, Susan Collins and Mike Rounds.
McCain-Coons: This bill mirrors a House proposal that gained support from 27 Republicans and 27 Democrats.
Secure & Succeed Act: Cosponsored by Republican Sens. Chuck Grassley, John Cornyn, Thom Tillis, David Perdue, James Lankford, Tom Cotton and Joni Ernst. Trump and hardline conservatives support this bill, and it's unlikely any Democrats will back this legislation.
Flake's temporary solution: Nobody, really. A short-term solution is a last resort.
What to watch: The new, bipartisan group of senators christened the "Common Sense Coalition," most famous for using Sen. Susan Collins' talking stick during the first government shutdown discussions, are expected to come out with a proposal soon.
Go deeper