North Korea gets bafflingly positive coverage at Olympics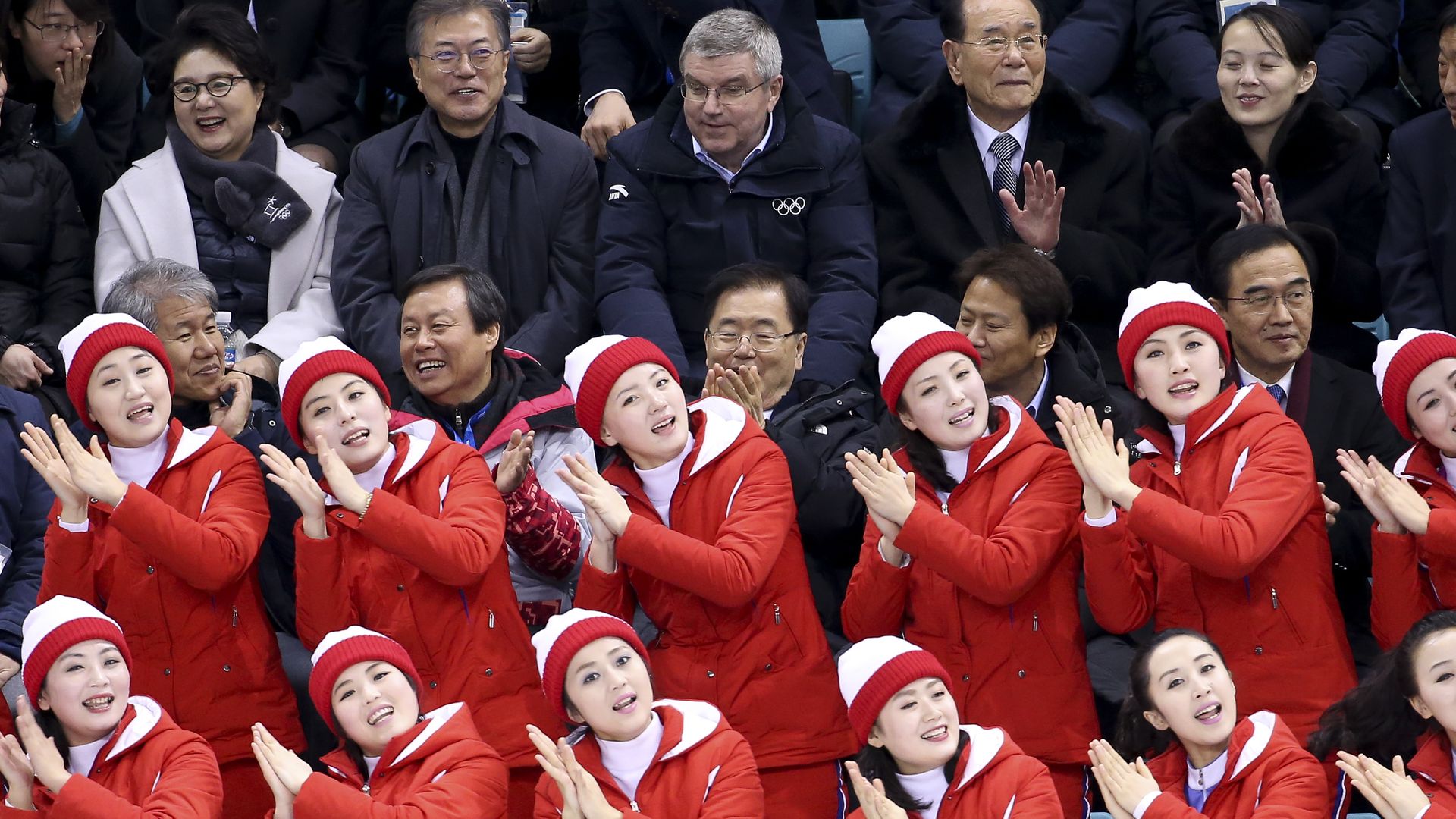 The first few days of the Olympic games have been marked by overwhelmingly positive media coverage of North Korea — namely of Kim Jong-un's sister, Kim Yo-jong.
Why it matters: North Korea is the least free country in the world, with its authoritarian regime subjecting citizens to brutal and inhumane laws. And Kim Yo-jong heads the "Propaganda and Agitation Department" of that regime.
Meanwhile, an aide for Vice President Mike Pence told Axios' Mike Allen ahead of the Games that Pence would take "every opportunity" to remind the world that "everything the North Koreans do at the Olympics is a charade to cover up the fact that they are the most tyrannical and oppressive regime on the planet," and that he would not allow North Korea's propaganda to "hijack the messaging of the Olympics."
But that's exactly what is happening in the media. The headlines:
North Korea is winning the Olympics — and it's not because of sports (CNN)

"[Kim Yo-jong's] historic visit to the South — the first of any member of the ruling Kim family — generated significant media attention, gracing news broadcasts and front pages across the world."

North Korea judged winner of diplomatic gold at Olympics (Reuters)

"North Korea has emerged as the early favorite to grab one of the Winter Olympics' most important medals: the diplomatic gold."
Kim Jong Un's sister is stealing the show at the Winter Olympics (CNN)

"If 'diplomatic dance' were an event at the Winter Olympics, Kim Jong Un's younger sister would be favored to win gold."

North Korea's 200-plus cheerleaders command spotlight at 2018 Winter Olympics with synchronized chants (ABC)

"The women arrived in South Korea in charter buses on Wednesday. Most of the squad members ignored questions from the press, only saying, 'Nice to meet you.'"
Reality check, via Eurasia Group president Ian Bremmer, "North Korea's cheering squad is an amazing spectacle. But they're human hostages of a criminal regime. It's the most heartbreaking thing we'll see at the Olympics."
Go deeper