The West Wing reverts to early disarray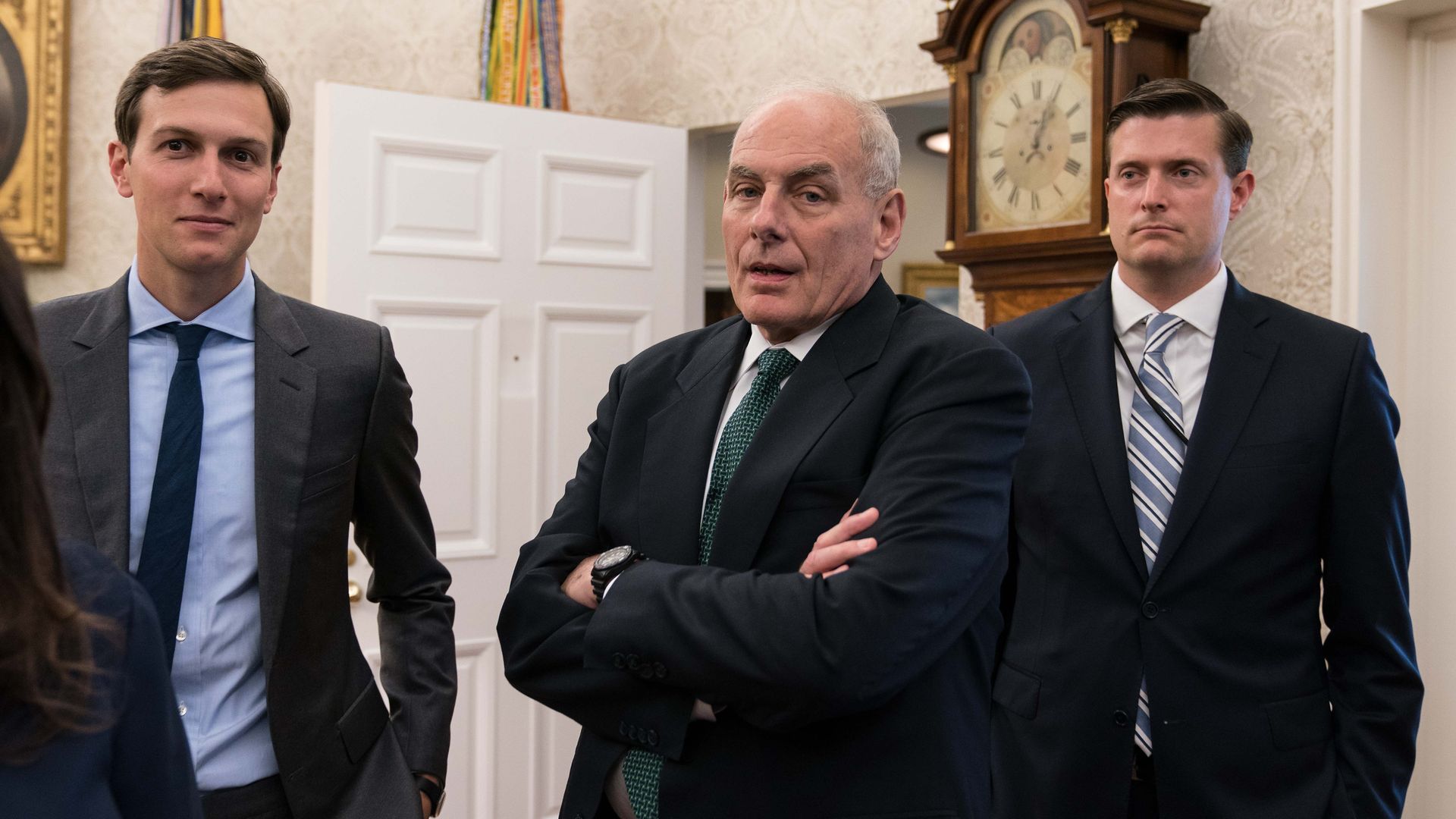 In less than a week, months of progress in bringing order to President Trump's West Wing have been reversed.
The resignation of Staff Secretary Rob Porter has brought back many of the chaotic characteristics of the early months, according to conversations we have been having.
Leaking in real time.
Internal finger-pointing, with factions turning on each other.
Frenzied internal speculation.
Staff members admitting they lack faith in the chief of staff's judgment.
More fires than aides can put out.
President Trump venting internally and externally, and calling old friends to air grievances about his team.
Why it matters: This time, all that is sprinkled with anger and panic. People around the president are unsure exactly what happened, and baffled about how to regain their footing.
The big picture: The White House has still not explained who knew what, and when.
The latest:
WashPost lead story, "Kelly's job may be in peril amid furor from Porter's exit": "[T]he man whose mission had been to enforce order in the West Wing, Chief of Staff John F. Kelly, was focused instead on [saving] his job."
"Kelly spent much of [yesterday] scrambling to preserve his credibility inside the White House. In a morning staff meeting, he told senior aides to tell lower-level staffers ... that he had taken action within 40 minutes of learning that abuse allegations from both of Porter's ex-wives were credible."
"[S]ome staffers left the meeting believing Kelly had asked them to lie."
The three potential Kelly replacements Trump has discussed — House Majority Leader Kevin McCarthy, OMB chief and acting CFPB head Mick Mulvaney and businessman Tom Barrack — are names that have circulated before, reflecting the White House's limited options.
Broke last night ... "Another Trump staffer quits after assault claims," per WashPost:
David Sorensen, a speechwriter at the White House's Council on Environmental Quality, resigned "after his former wife claimed that he was violent and emotionally abusive during their turbulent 2½ -year marriage."
Sorensen sent Axios a 12-page statement, including photos and screenshots, denying the allegations and contending he was the victim of abuse from her.
Be smart, from the N.Y. Times: Trump's "glowing praise of a staff member accused of serial violence against women was in line with the president's own denials of sexual impropriety ... and his habit of accepting claims of innocence from men [Roy Moore] facing similar allegations."
Go deeper