Mark Warner tried to arrange meeting with dossier author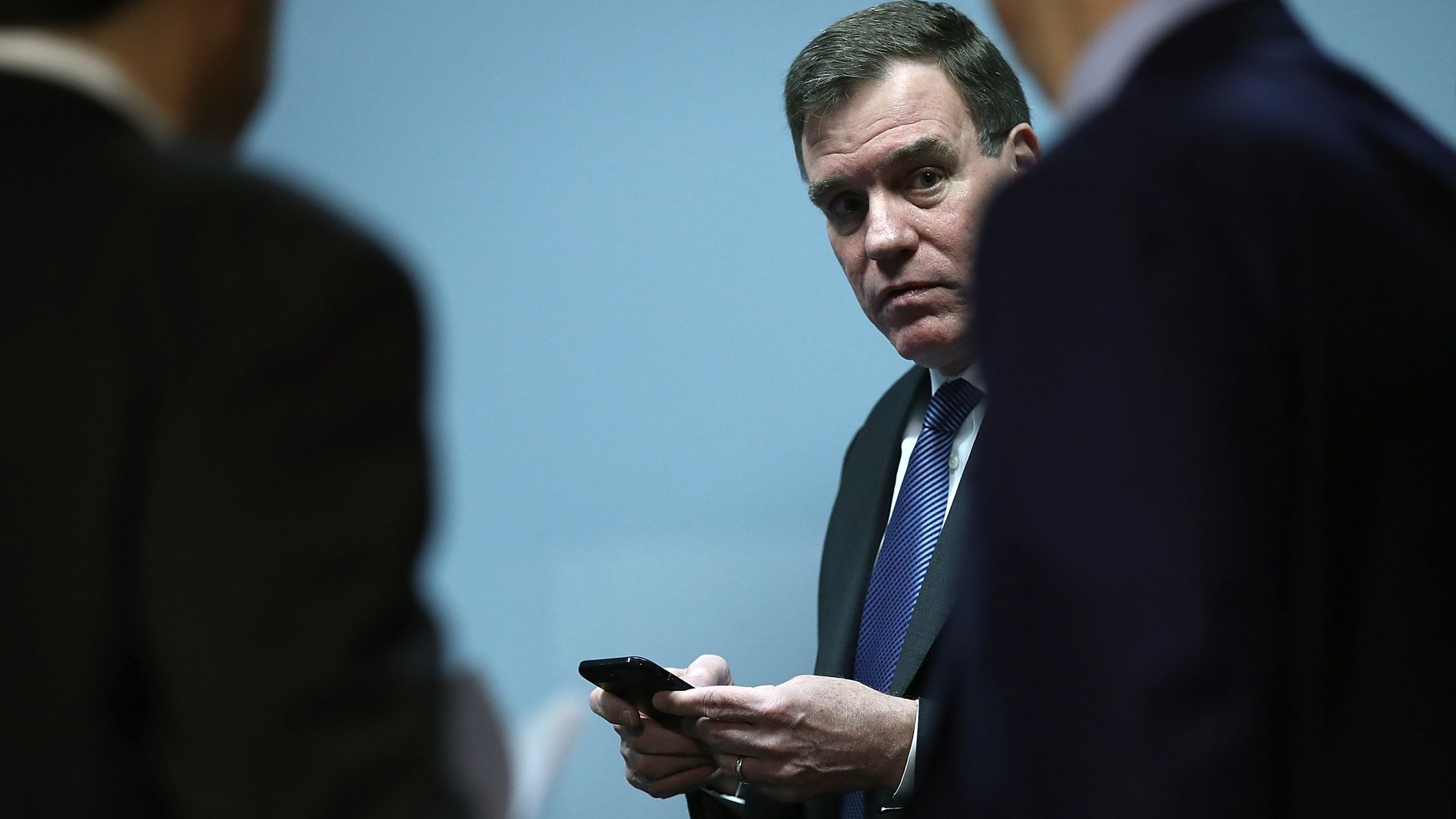 Sen. Mark Warner, vice chairman of the Senate Intelligence Committee, texted last year with Adam Waldman, a D.C. lobbyist connected to Russian billionaire Oleg Deripaska, in an attempt to gain a meeting with Christopher Steele, the author of the controversial Trump-Russia dossier, according to text messages obtained by Fox News.
Yes, but: While the Fox News report put an emphasis on the "secrecy" of Warner's messages, Warner issued a statement to Fox News with Senate Intel Chair Richard Burr indicating that the report doesn't paint a full picture: "From the beginning of our investigation we have taken each step in a bipartisan way, and we intend to continue to do so. Leaks of incomplete information out of context by anyone, inside or outside our committee, are unacceptable."
Buried deeper in the Fox News report is a nugget that Warner's messages "were quietly given to the intelligence committee" last June and all senators on the committee were informed about the messages in October.
Republican Sen. Marco Rubio confirmed that disclosure in a tweet yesterday, defending Warner's actions:
A key paragraph: "An aide to Burr knew there was a 'back channel' Warner was using to try and get to Steele and was not concerned that Warner was freelancing on the matter."
Who is Adam Waldman? Waldman is an American who runs the Endeavor Group, a D.C. lobbying firm that worked for Russian oligarch Oleg Deripaska in 2009 and 2010. Deripaska has been connected to the Russia investigation previously with his business dealings with former Trump campaign chairman Paul Manafort. Deripaska sued Manafort and his associate Rick Gates over a failed deal earlier this year.
What do the text messages say? The messages reveal that both Warner and Steele were interested in meeting to discuss the dossier, but were concerned about leaving any sort of paper trail.
Waldman noted several times in his messages to Warner that Steele was worried about leaks and "spooked" by the attention he had already been receiving from the dossier.
The messages also reveal the two discussed having Deripaska cooperate with the intelligence committee — as well as a deal with the Justice Department to bring WikiLeakers founder Julian Assange to the United States to face criminal charges.
Go deeper