Exclusive: 1% of publishers initially affected by Chrome ad blocker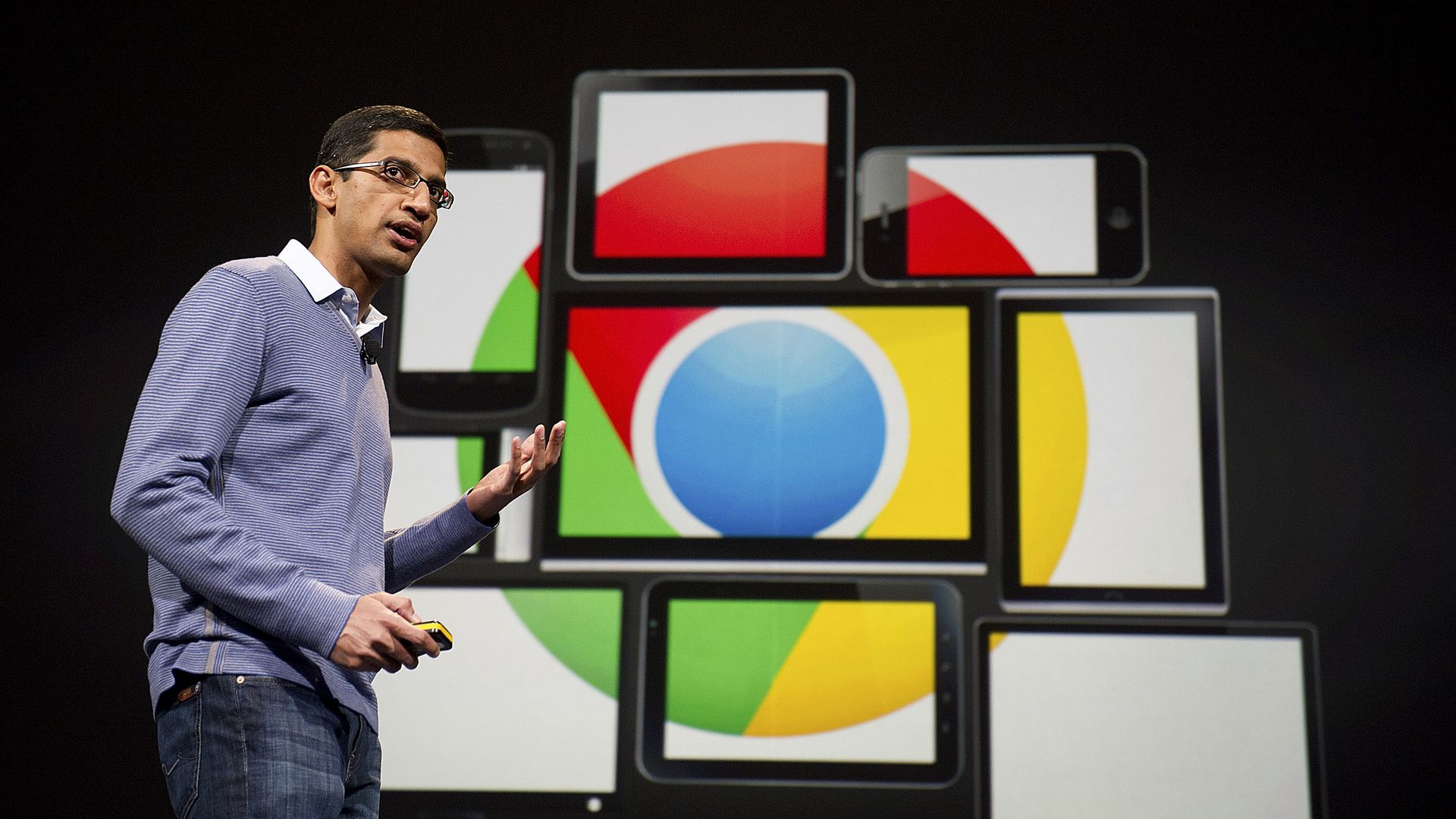 Google says that roughly 1% of publishers aren't compliant with third-party ad blocking standards, meaning the vast majority of web-publishers will not be impacted by the ad blocker the tech giant will install in its latest version of the Google Chrome web browser next week.
Why it matters: Publishers were initially worried when the ad blocker was announced eight months ago that compliance would be difficult, hindering their ability to make ad revenue. This data should mitigate those concerns.
Google reviewed over 100,000 websites in North America and Europe since June as part of an ongoing audit of publishers' ads to ensure they're compliant with third-party industry standards. The sites are being reviewed to make sure publishers are aware of bad ads on their site so they can take quick action to fix them.
Of the 100,000+ sites surveyed, only .5% were at the "warning" level of potentially being blocked. Only .9% were at the "failing level" and would be blocked.
Google says that 37% of sites found in violation of the Coalition's standards have already fixed their advertising issues.
Sites like the LA Times, Chicago Tribune and Forbes that initially violated the Coalition's standards were made aware of their ad violations through Google's Ad Experience report for publishers, which was provided to publishers a few months ago.
"There's a user experience issue online. If web experiences are annoying experiences, people will not want to search the web. We make money on search and good user experiences."
—
Scott Spencer, Director of Product Management for Sustainable Advertising at Google
According to Google's research:
One-in-five Chrome feedback reports mentions annoying/unwanted ads
There were 5+ billion mutes from people using Google's "mute this ad" feature in 2017
Three common misconceptions around the blocker should relieve worried publishers.
Publishers won't be punished for one bad ad. Instead, publishers have a 7.5% non-compliance threshold before their ads are blocked. Eventually that threshold will move down to 2.5% as publishers work to comply with the standards.
The ad-blocker weighs ads by page views, so if you have a pop-up ad every time someone visits a page, it's considered much worse than if you use them sparingly.
House ads, or promotional ads, are not included in the ad-blocker.
All of these standards are set by a third-party group called the Coalition for Better Ads, which is comprised of publishers, agencies, industry groups and tech companies.
Google introduced "funding choices" earlier this year for publishers to help sites better communicate to ad-blocking consumers the value exchange of content for ads. Since having implemented the "funding choices" language, more consumers are allowing sites to pass through their ad blocker.
30% of sites have been whitelisted for "hard wall" ad-blocking messages, which prompts users to allow that site to have ads show.
5-15% of sites have been whitelisted for "soft wall" blocking messages, which give users the option to dismiss the message.
One big point that Google wants to make clear is that they have tried hard not to catch publishers off guard with these changes. "We've been working closely with publishers for months," says Spencer. "Our goal is to not filter anybody. Our goal to get rid of annoying ad experiences to make the internet a better."
Go deeper