Adam Schiff: White House will be forced to release Democrats' memo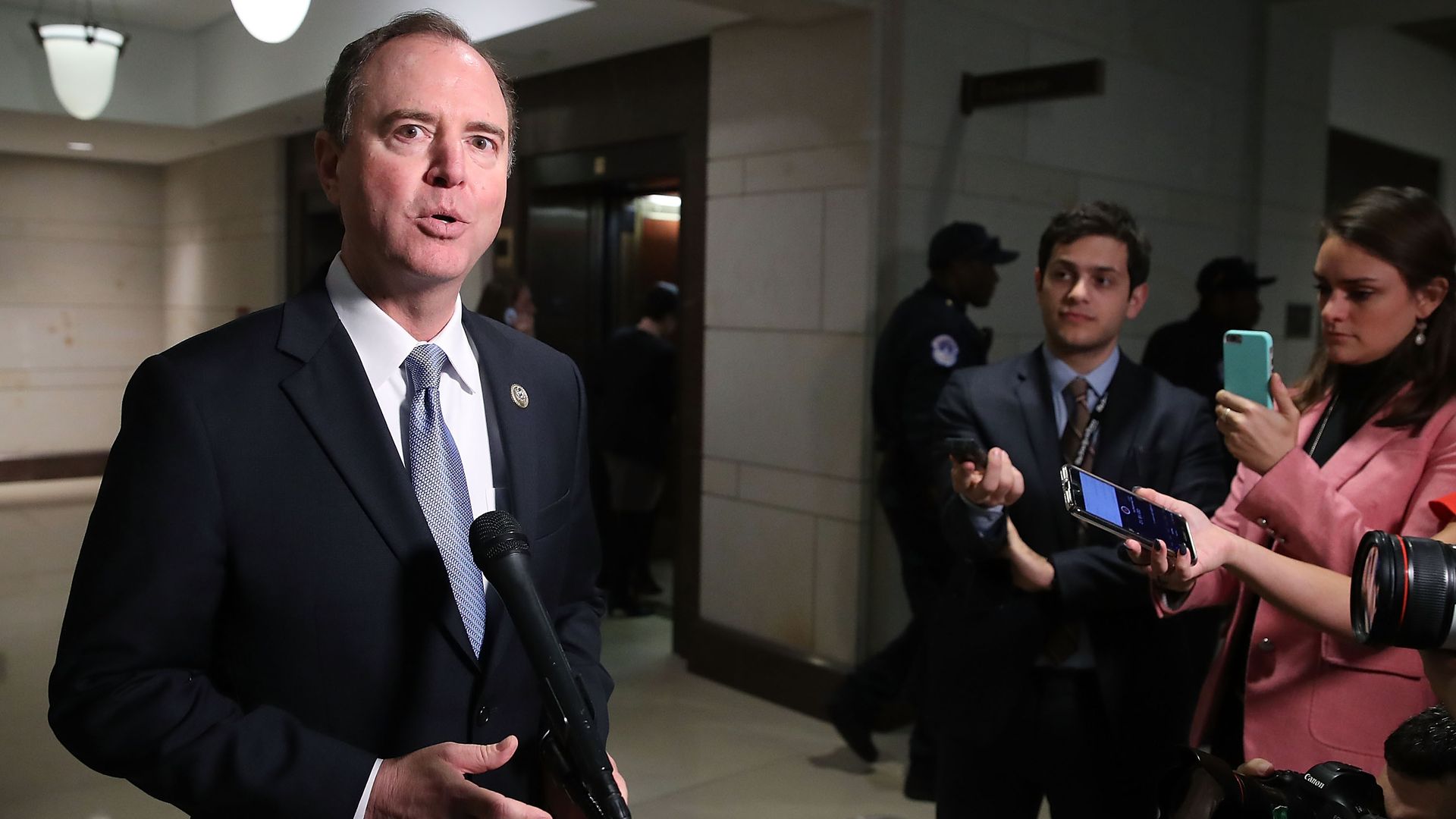 Rep. Adam Schiff (D-Calif.), ranking member of the House Intelligence Committee, told reporters that the Trump administration "would be hard-pressed to try to suppress the [Democrat's counter-memo], particularly since they claim they're releasing the GOP memo in the interest of transparency."
Why it matters: Schiff said that the minority memo is currently in the hands of the FBI and the Department of Justice, who are reviewing it for necessary redactions. If Trump decides to veto the Democrats' memo, which he has the power to do, it will further call into question the partisan (and possibly obstructive) nature of his decision-making.
Schiff also lamented that the whole idea of "one party sending out a misleading memo and the other party having to correct the record" sets a "terrible precedent" — one that will have a chilling effect on the relationship between the intelligence community and Congress.
Other highlights:
On Peter Strzok and Lisa Page: "I think the reason [they] are even included in this is it's an effort to tar the FISA application by invoking their names, without any suggestion in the memo that they had anything to do with the application. ... The suggestion is that [Strzok] embarked on this investigation on his own, operating out of political malice, and they've provided no evidence of that."
On Carter Page and George Papadopoulos: "It would have been derelict for the FBI not to seek a FISA on Carter Page, given what they knew about [him], given what they knew about what the Russians were doing by interfering in our election...This is I think one of the most misleading parts of the memo, and that is suggesting that there had to be some conspiracy between Carter Page and George Papadopoulos."
On the memo's motivations: "If this was really about oversight...you would bring in the FBI and you would ask the FBI, 'You included this in the FISA application, you didn't include this. Can you tell us why?' You would want to know those answers, but here the Committee did not want to know the answers. ... This wasn't about oversight, this was about telling a political story that's designed to injure the work of the Special Counsel and discredit it."
Go deeper