What Trump's State of the Union speech means for tech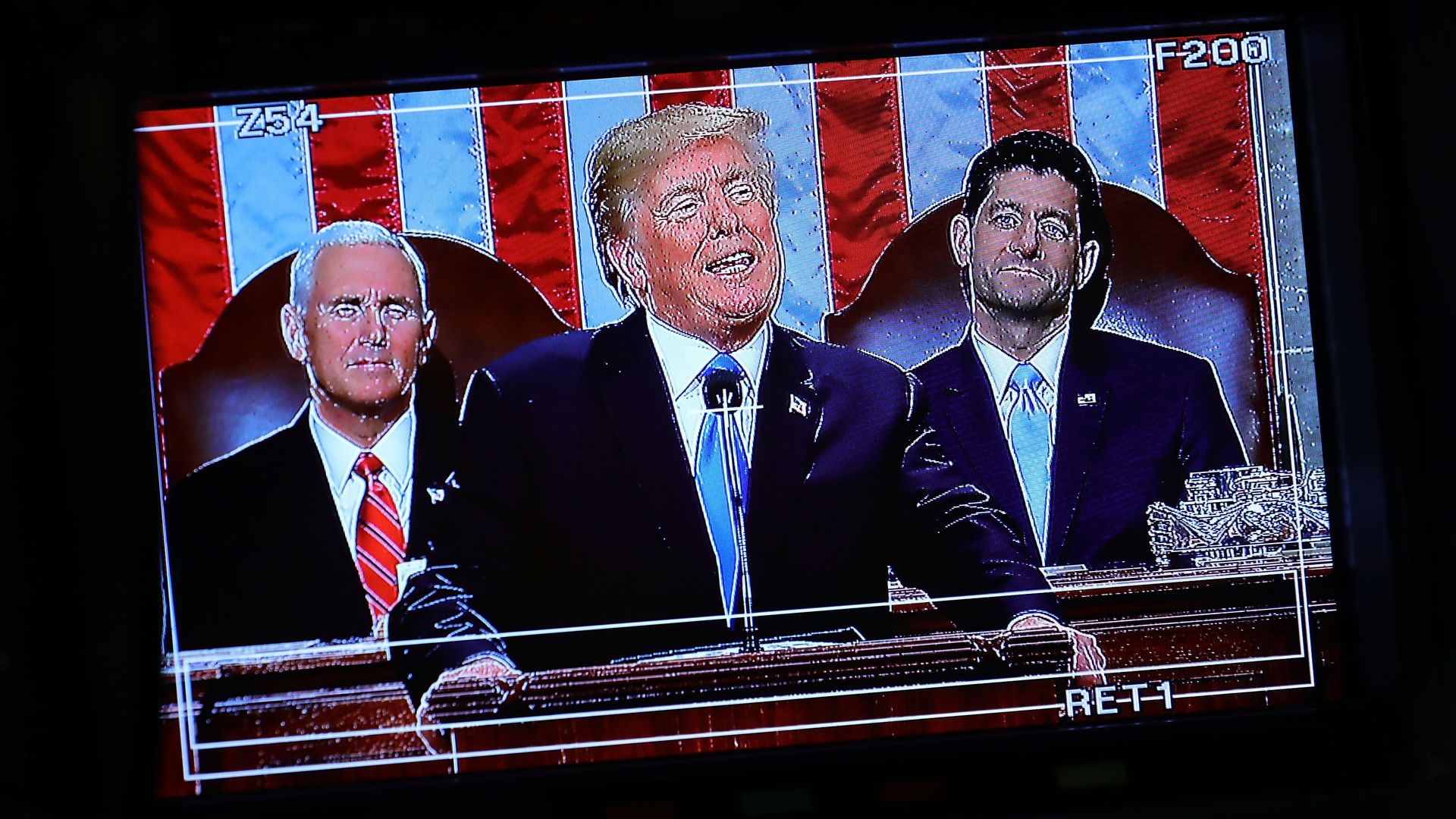 President Trump didn't focus much on tech-specific issues, but he did raise a few notable things including Apple's investment announcement, immigration and trade.
The bigger picture: Long gone are the shout-outs to Silicon Valley for its innovation and moon-shots that often made it into the speeches of the past 8 years. Still, Trump's speech could have been a whole lot worse for the tech industry. 
Apple shout-out: Trump used Apple to tout his tax cuts, highlighting that the company announced "plans to invest a total of $350 billion in America, and hire another 20,000 workers."
Yes, Apple made that announcement, but its press release did not credit the tax reform bill for those investments. Most of that investment probably would have happened even without the tax changes, as Slate pointed out.
Still, this is why many on the left were upset with the timing of Apple's announcement, which they say played right into Trump's hands. That said, Apple angered some Republicans by not actually giving them credit.
Infrastructure: Trump called on Congress to draft a bill generating at least $1.5 trillion to invest in new roads, bridges, highways, railways and waterways.
Broadband wasn't mentioned, even though that's been considered a crucial piece of U.S. infrastructure that would benefit from federal funding for expansion in rural areas.
Intel's policy chief Peter Cleveland put out a statement urging the administration to include digital infrastructure "that could yield higher returns on public investments."
Immigration: Trump called to end the visa lottery for green cards. "It is time to begin moving towards a merit-based immigration system — one that admits people who are skilled, who want to work, who will contribute to our society, and who will love and respect our country."
This is nothing new and aligns with his "Americans first" philosophy. Tech firms are generally OK with a merit-based approach (since they tend to hire workers on the higher end of the skill scale) as long as H-1B visa numbers aren't dramatically slashed.
Trade: He pledged to protect American "intellectual property, through strong enforcement of our trade rules."
This follows remarks he made at Davos in which he said the administration would not tolerate trade abuses or forced technology transfers — particularly when it comes to China.
This is a big deal for software and hardware companies often forced to hand over IP as a cost of doing business in China. Still, there remains a wariness about taking retaliatory action against China (as Reuters reported is under consideration) out of fear of starting some sort of trade war.
Go deeper