Employee who sent Hawaii missile alert fired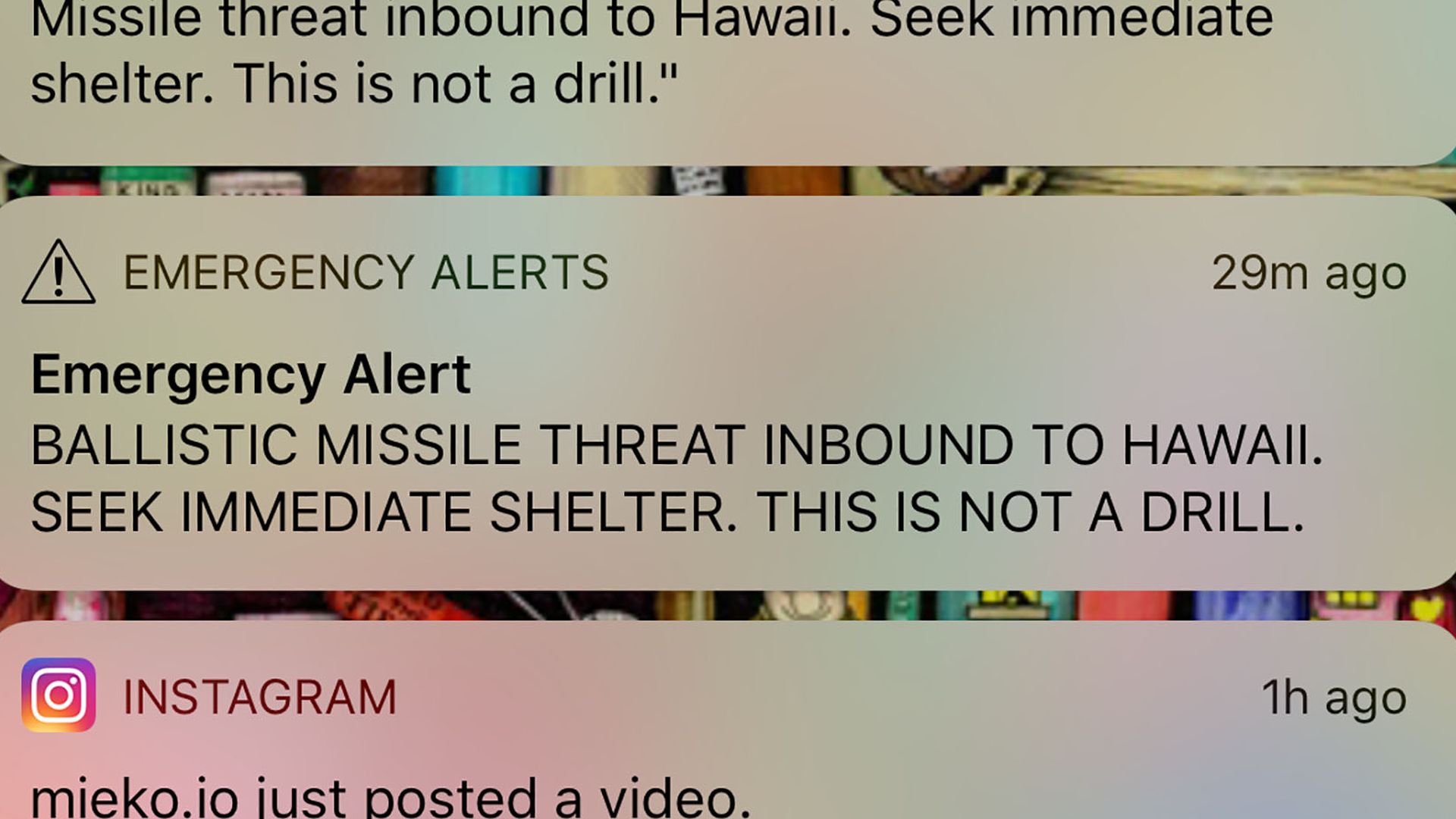 The false missile alert set off in Hawaii earlier this month has led to the resignation of emergency management administrator Vern Miyagi and the firing of the employee who sent the warning, according to the AP.
The moves come after the Federal Communications Commission said Tuesday that the employee who sent the alert claimed to have believed the threat was real. A recording that was played as part of a drill during a shift changeover accidentally included the words, "this is not a drill," according to the regulator.
The bottom line: The FCC said that a "lack of preparation" led to Hawaii's 38-minute delay to correct a false alert that said a ballistic missile was headed towards the state. And they said the alert was sent in the first place because of a "combination of human error and inadequate safeguards."
The FCC produced a detailed timeline of Hawaii officials' 38-minute long scramble to contain their error:
8:05 a.m. in Hawaii: A midnight shift supervisor for the state's Emergency Management Agency initiates a drill for the warning officers on duty during the day. A recording played as part of the drill includes language to indicate it was an exercise, but also includes the language "this is not a drill" as part of the text of a live alert.
The FCC reports that at this point, some of the officers on duty realized it was a drill. One officer, however, claims they believed it to be a real emergency.
8:07 a.m.: That officer clicks "yes" when asked, "Are you sure that you want to send this Alert?" The message is sent.
8:08 a.m.: The officer gets the false alert on their phone.
8:09 a.m.: The governor is informed about the false alert. Other authorities are told a minute later.
8:12 a.m.: The agency cancels the alert, five minutes after it was sent.
8:20 a.m.: The emergency agency posts on Facebook and Twitter that there is no missile threat to the state.
8:27 a.m.: Authorities decide how to correct their error using the alert system. Three minutes later FEMA, which runs the system, agrees.
8:45 a.m.: Hawaii's Emergency Management Agency sends its correction, 38 minutes after the false alert was sent.
Go deeper: Learn more about how the alert system works.
Go deeper