Corporate world prepares for chaos if DACA isn't renewed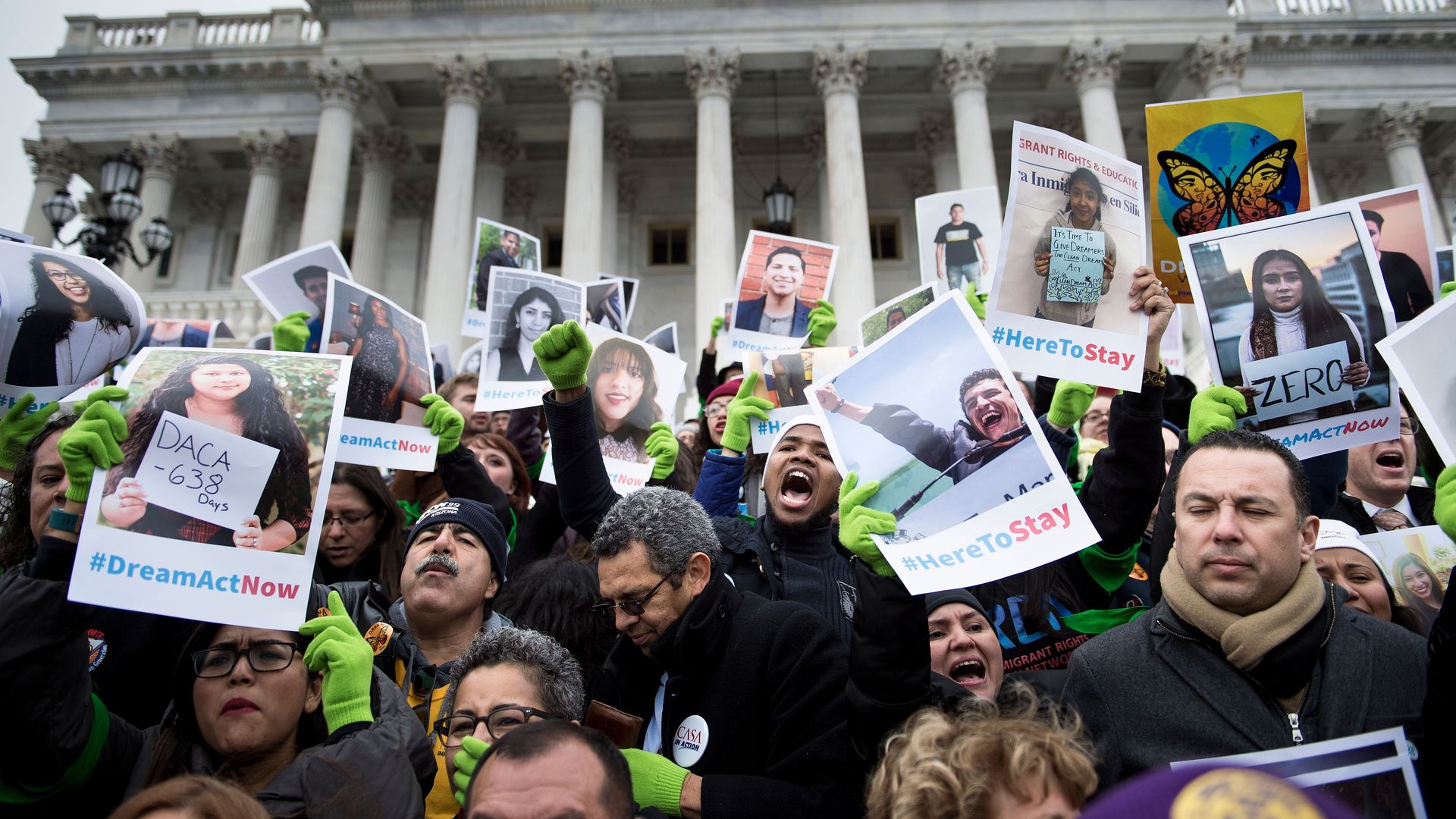 Companies that employ "Dreamers" are scrambling to find out what kinds of legal trouble they could face if DACA isn't renewed by the March 5 deadline. They're asking lawyers for guidance on what could happen to their workers, and what kinds of fines the companies might have to pay.
Why it matters: Republicans and Democrats are far from a compromise on DACA. As the termination of DACA creeps closer, there could be chaos for businesses, immigration law enforcement agencies and immigrants living and working in the U.S.
What's new:
An immigration attorney for the international law firm Holland and Knight sent a letter last week to several high-level clients advising them how to prepare for the legal issues they would face if DACA is rescinded in March. It was in response to many requests for help in establishing contingency plans, the attorney, Leon Fresco, told Axios.
Berry Appleman & Leiden, a global law firm focused on immigration issues, also plans to send a letter to their clients later this week on how to prepare for DACA's termination. Axios was provided a draft of the letter.
"In almost twenty years of practice, I have never seen business leaders as personally involved in an issue as they are with the Dreamers. People are naïve if they think this issue will just go away on March 5th."
— Lynden Melmed, partner at BAL and former USCIS chief counsel
Fresco warned that rescinding DACA could lead to:
Mass layoffs: After Sessions first announced that DACA would be rescinded, a study by FWD found that roughly 300,000 "Dreamers" employed in the U.S. would lose their work permits and could be subject to deportation between March 6 and November 6, 2018.
But since then, a recent injunction ordered by a California federal judge currently requires USCIS to renew DACA recipients' work permits. This means that many could have their DACA extended into 2020 if they apply for renewal.

"We face the risk of losing valuable talent and skill-sets from across our company and being forced to back-fill positions as best we can," Jessica Herrera-Flanigan, an Executive VP at Univision, told Axios in a statement.

ICE raids: While currently U.S. Citizenship and Immigration Services does not share immigrant information with ICE to help with deportation, this could change. ICE already has access to all E-Verify databases, which are used by many large corporations and anyone doing business with the government. E-Verify could provide detailed, locational information about DACA recipients.
Key quote: "There is usually silence on the phone line when we tell a client they need to fire a rising star in the company," said Melmed. "Anyone who thinks this issue is going away just doesn't understand how personal it is from the CEO on down."
On the other hand: Businesses could also face fines or sanctions if they refuse to hire DACA recipients before the policy is rescinded because of anti-discrimination laws.
Where it stands:
California Attorney General Xavier Becerra, on behalf of the state, won an injunction earlier this month, which allows dreamers to continue applying for DACA renewal until a final decision on the case, which could be several months away. This could make the March 5 deadline less pressing, but the Justice Department has appealed the judge's decision.
A few Hill aides and outside sources have said that they wouldn't put it past President Trump to push back the DACA deadline if a deal isn't reached to avoid media coverage of mass deportations. He's already hinted at it.
The president has often called DACA "illegal," and Fresco told Axios he thinks it's most likely Trump will tell Congress to come up with some kind of short-term DACA solution before March 5th.
Without a solution, warns Neil Bradley of the U.S. Chamber of Commerce, "On March 6th and everyday thereafter for two years, employers will be forced to terminate DACA recipients whose work authorization has expired because it will be illegal to employ them. DACA recipients and employers should never be put in such a position."
Go deeper: Why a DACA deal seem so hard to reach
Editor's note: This piece has been updated to more accurately reflect the impact the California federal judge's injunction has on the timeline of the DACA program at this moment.
Go deeper