Expect Trump's inside voice at tomorrow's State of the Union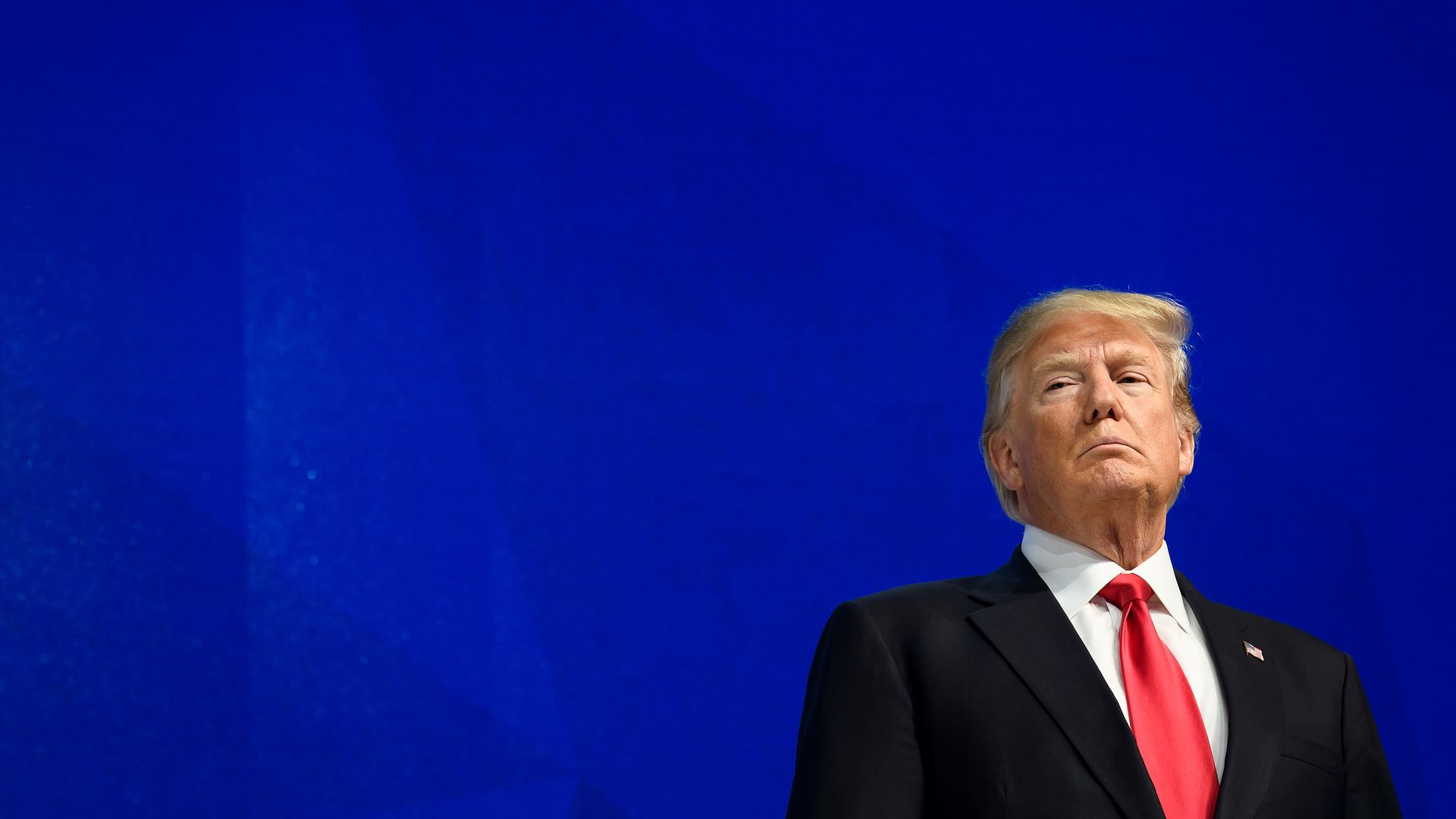 President Trump's aides say to expect a more bipartisan and collaborative tone in tomorrow's State of the Union Address — in contrast to his own record.
The partisan fights, like Obamacare and tax cuts, are behind. Now everything requires cooperation and agreement.
— A Trump source
Reality check: Trump rarely even flicks at real cooperation in big negotiations. 
Trump source: "Time to appear as commander-in-chief and leader of the whole nation. So expect calls to patriotism and national security and national greatness."
Reality check #2: Trump has offended almost every group in American politics other than straight, white, Trump-supporting men. 
Trump hasn't changed, and won't. But following his unlikely triumph in Davos, and looking ahead to tomorrow's address, we see a clear pattern: For big speeches, he tends to stick to the prompter and is less divisive than usual, and basks in the ensuing reviews.
We saw it in his first address to Congress, just over a month after the inauguration, which fed internal hopes that some semblance of normalcy might lie ahead.
It didn't, of course. But for a president who loves praise, it was a cue for how to get it.
So we saw a well-behaved Davos man. And aides are previewing a State of the Union that's more classic conservative than populist brimstone — although laced with plenty of boasting.
Trump can yell at the world at his campaign rallies, then use his inside voice for big moments like tomorrow:
Don't look for any new policy in this speech. Instead, expect key moments when, drawing on one of Ronald Reagan's most effective plays, Trump brings in the life experience of a gallery guest — a family affected by opioid addiction, or a mother whose daughter was killed by MS-13 gang members.
Swan reminded us in his Sneak Peek newsletter yesterday that the most emotional part of Trump's speech to Congress last year was when he spoke directly to the widow of a fallen Navy SEAL. Look for more of those moments.
For all Trump's triumphalism, the speech comes against a discouraging backdrop that has kept a pall on morale among many in the administration:
Robert Mueller is sending ominous signals.
Democrats are likely to take over the House, with resulting investigations and torment for the West Wing.
An ambitious legislative achievement is unlikely this year. Tomorrow's speech will tout Trump's infrastructure plans. But even close allies see no path to a big win.
The White House faces daunting negotiations on an immigration package that includes both a "Dreamer" solution and a plausible wall.
Be smart: Trump creates his own reality. (The N.Y Times' Maggie Haberman has said it's as if he has a magic Crayon to draw the world as he wishes). And his current reality is dominated by praise for his tax cut, and a peppy stock market that has become his new political poll.
Go deeper