Trump's FBI target steps down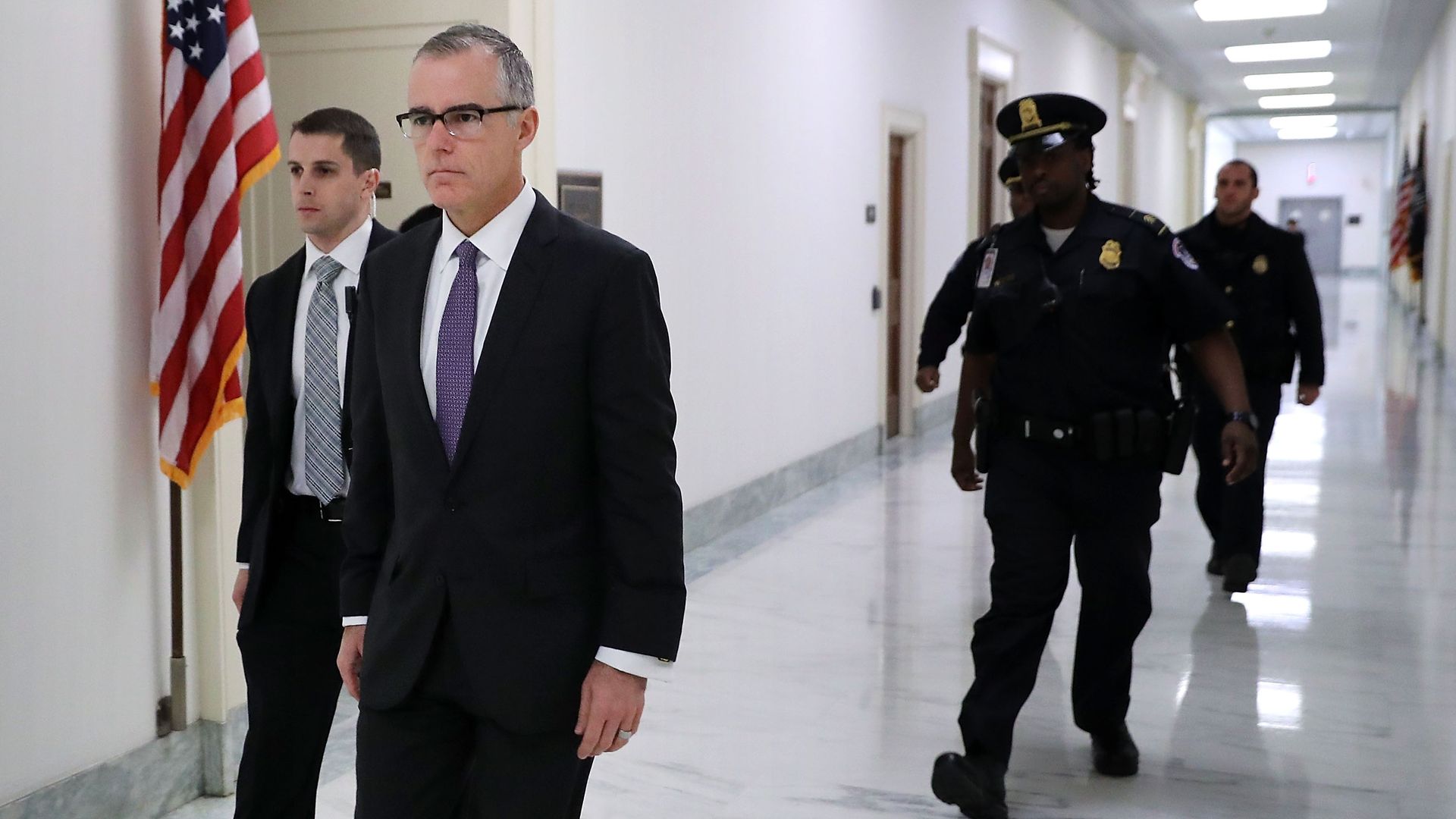 Months of private and public pressure from the Trump administration paid off today, with FBI Deputy Director Andrew McCabe stepping down in advance of his scheduled retirement.
The public pressure: Trump has tweeted five times about McCabe over the past year, thrice in December.
The private pressure: AG Jeff Sessions — at the public urging of Trump — had been pressuring FBI Director Christopher Wray to fire McCabe, but Wray threatened to resign if McCabe was removed, Axios' Jonathan Swan scooped last week.
"McCabe abruptly stepped down on Monday as the F.B.I.'s deputy director after months of withering criticism from President Trump, telling friends he felt pressure from [FBI Director Wray]," sources told the NYT's Adam Goldman and Matt Apuzzo.
Wray "raised concerns about a forthcoming inspector general report examining the actions of Mr. McCabe and other senior F.B.I. officials during the 2016 presidential campaign, when the bureau was investigating both Hillary Clinton's email use and the Trump campaign's connections to Russia," per NYT.
Swan on why it matters: "Substantively, I don't think it makes a big difference regarding Trump's exposure, especially on Russia. Rod Rosenstein is still there and so is Mueller. But Sessions is gradually bending the Justice Department in the direction Trump wants it to turn."
Intrigue: Today's talker comes from NBC's Carol Lee, who reports that Trump called McCabe after firing James Comey in 2017:
"Trump demanded to know why Comey was allowed to fly on an FBI plane after he had been fired... McCabe told the president he hadn't been asked to authorize Comey's flight, but if anyone had asked, he would have approved it..."
"The president was silent for a moment and then turned on McCabe, suggesting he ask his wife how it feels to be a loser — an apparent reference to a failed campaign for state office in Virginia that McCabe's wife made in 2015."
"McCabe replied: 'OK, sir.'"
"Trump then hung up the phone."
Behind the scenes by Bloomberg's Jennifer Jacobs, a preview of more to come:
"Trump erupted in anger [last week] while traveling to Davos after learning that Associate Attorney General Stephen Boyd warned that it would be 'extraordinarily reckless' to release a classified memo written by House Republican staffers."
"Trump warned Sessions and others they need to excel at their jobs or go down as the worst in history," sources told Bloomberg.
Go deeper: Timeline — Trump's turbulent relationship with McCabe
Go deeper