Remember Dolly? The first monkeys were just cloned the same way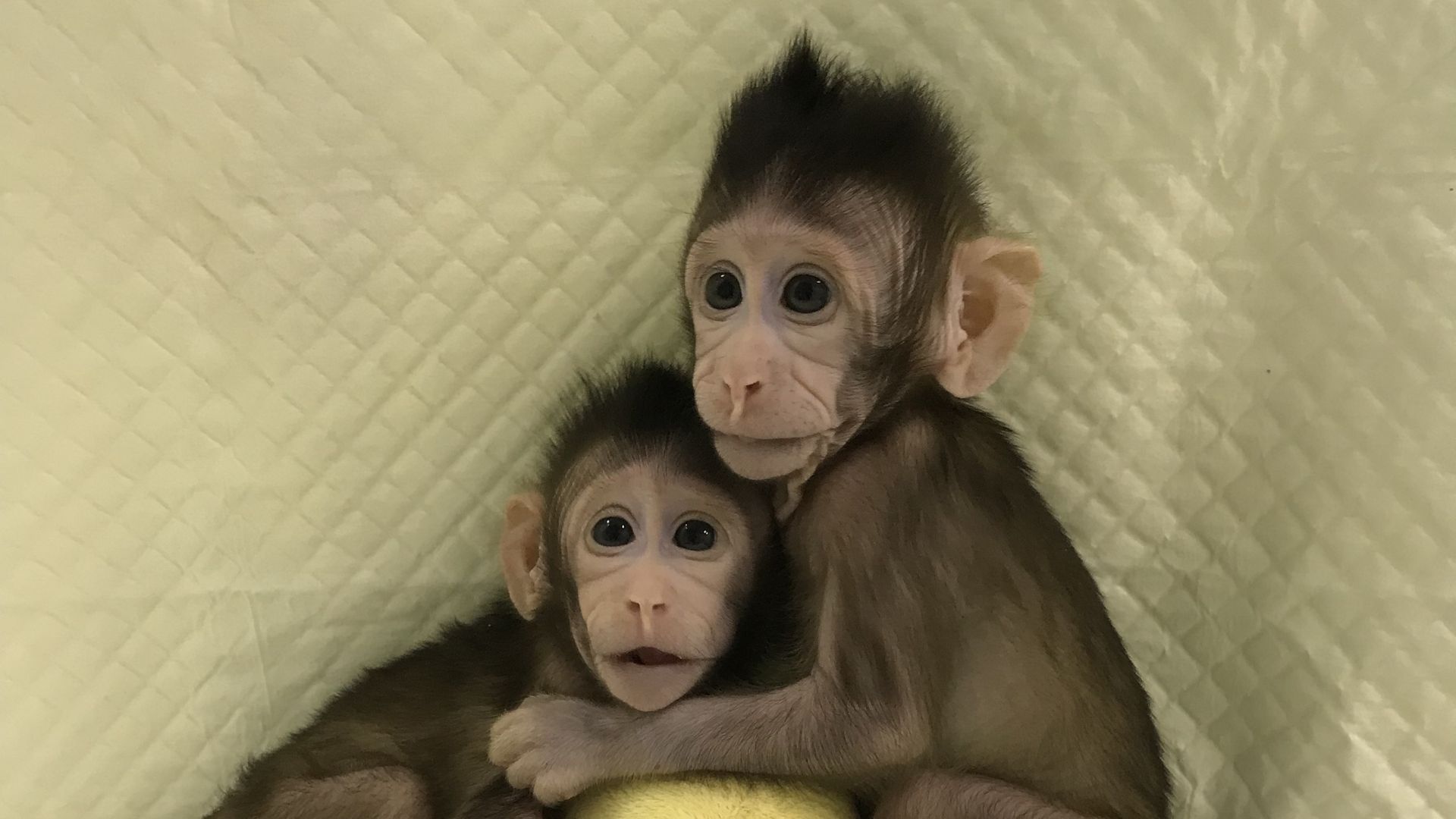 Scientists at China's Institute of Neuroscience today announced the birth of two macaque clones. The monkeys aren't the first primates to be cloned, but they are the first to be created using a technique — the same that produced Dolly the sheep — that allows researchers to create a larger number of clones than other methods.
Why it matters: Genetically identical animals can be used to study the precise effect of a drug or a gene being altered through disease or editing. So far, researchers have struggled to come up with a way to clone close primate relatives of humans for research.
What to watch: "[The] first group of monkey clones will be models for neurodegenerative diseases," Mu-ming Poo, co-author of the research and director of the Chinese Academy of Sciences' Institute of Neuroscience, told the Guardian.
How they did it: In somatic cell nuclear transfer cloning, DNA from the cell of the individual being cloned is transferred into an unfertilized egg, which is then placed in a surrogate mother to develop into a clone of the donor. The method has been successfully used in cats, pigs, dogs, rats and sheep but has proved technically challenging in monkeys.
In the new study, the researchers treated the fused egg to help with the development of the embryo and used DNA from macaque fetuses rather than adults in order to successfully clone the primates.
The researchers say the method can produce a larger number of clones than embryo splitting, which mimics how identical twins form but can give rise to only four clones from a naturally-produced embryo.
Yes, but: The Francis Crick Institute's Robin Lovell-Badge told the Guardian he was "doubtful as to whether the approach offers benefits over embryo splitting, given how few live babies were produced." The researchers report putting 79 embryos created using fetal cells into 21 surrogates, resulting in six pregnancies and ultimately two live macaques were born.
"This is so inefficient, so hazardous and unsafe, that I am not sure it is really justified, to be honest," Lovell-Badge said.
What's next: Not humans, say the researchers. "[O]ur research purpose is entirely for producing non-human primate models for human diseases; we absolutely have no intention, and society will not permit, this work to be extended to humans," Poo tells the Guardian.
Go deeper: STAT's Sharon Begley on what monkey clones might mean for biomedical research.
Go deeper