Why a DACA deal looks so hard to reach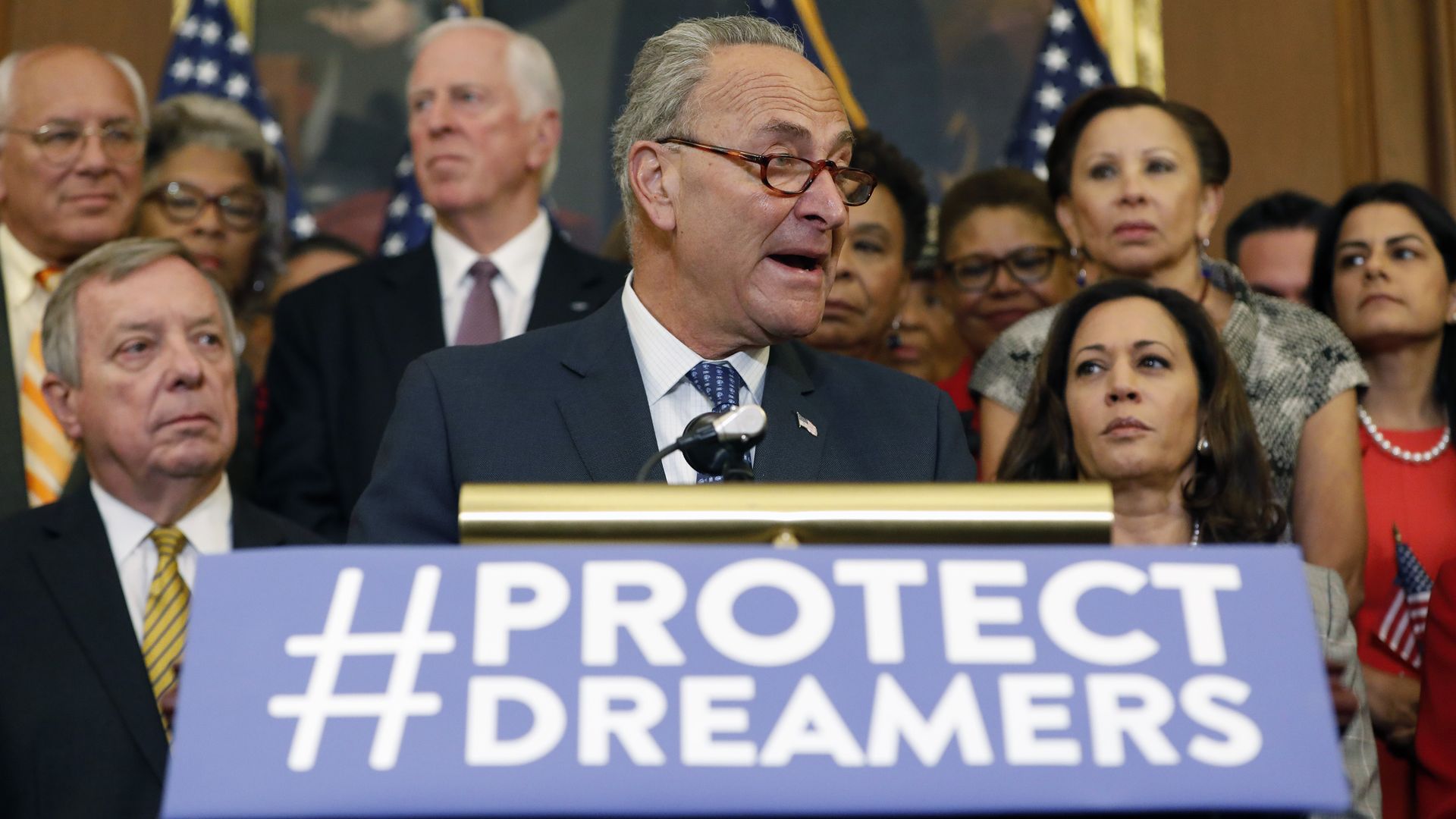 A DACA solution along with a long-term budget by February 8 looks next to impossible, Senate aides on both side of the aisle as well as several industry sources closely involved tell Axios. They expect to be in the same spot they were in last weekend.
All about that base: Lawmakers on both sides of the aisle want to protect DREAMers — even President Trump wants a DACA solution. The problem is, Republicans want to use DACA as a bargaining chip to get Trump's wall, pass tougher immigration enforcement policies and cut back on chain migration. They can't risk a clean DACA deal with their base. Meanwhile, Democrats have no interest in chain migration changes as part of a DACA deal, according to a Republican Senate source. There's not been much compromise and it doesn't look like much will change between now and February 8th.
Silver lining: Democrats could be willing to budge on the wall and even get behind some tougher immigration enforcement policies in exchange for DACA, one Democratic aide told Axios. But they've yet to see a promising piece of legislation on the issue. Chuck Schumer has also withdrawn his offer of a big spending boost for "the wall" in exchange for DACA, Politico reported today.
And:
The Congressional schedule is not generous, leaving senators with basically the one week leading up to the Thursday deadline to get some kind of miracle deal that pleases both sides into the budget.
Setting the federal budget is a complicated task in and of itself even without a fight over funding for a wall and a path to citizenship for DREAMers. Time is quickly running out.
As of right now, a plausible deal on DACA doesn't exist. The "Gang of 6" bipartisan bill revealed a couple weeks ago could have been a starting point — a piece of legislation that Republicans could have slowly dragged to the right, but Trump quickly shut that one down.
Political moves: Sen. Schumer's deal with Republicans to reopen the government yesterday was a strong political play. He can now force Republicans into an actual vote on some kind of DACA legislation. If Republicans vote no, Dems can use it against them politically — in the upcoming midterm elections, for example.
Bottom line from Axios' Caitlin Owens: "No one sees a path for something through the Senate, House and to the WH unless Trump gives Paul Ryan some MAJOR cover."
Go deeper