Big Tech's new worst enemy: telecoms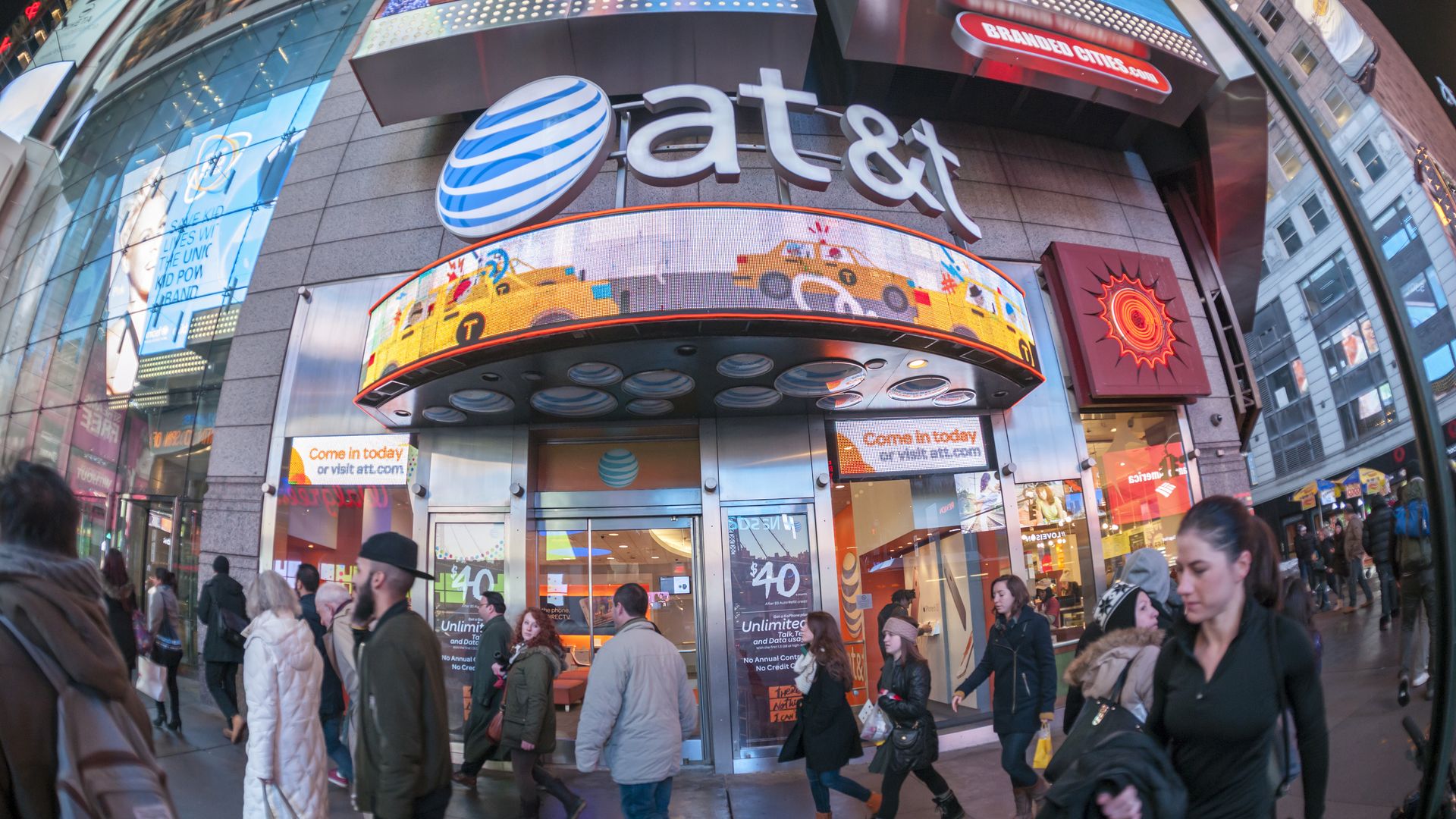 Telecom companies like AT&T and Verizon are racing into the digital advertising space — currently dominated by Google and Facebook — now that Washington has given them the ability to sell data to third-party advertisers.
Why it matters: The growth rate in the digital ad market is expected to decrease over the next four years, according to eMarketer, meaning that any market share internet service providers are able to gain will eventually come at the expense of other advertising-based businesses, mainly Google and Facebook.
AT&T's proposed merger with Time Warner will be a linchpin in the battle between internet companies and the web firms that rely on their services. If the merger survives the Department of Justice challenge, AT&T and Verizon — two of the largest internet companies in the U.S. — could collectively put a dent in Google and Facebook's advertising dominance.
"What a lot of people don't understand — and frankly this is what I think the government is missing as it relates to looking at these mergers in a backward-looking way — is we're competing in the land of the giants," John Martin, chief executive of the Time Warner-owned Turner, said at CES this month. "If you don't think Facebook and Google and Amazon are the land of the giants, think again."
"We believe AT&T, and Verizon more so, are attempting to patch together large-scale inventory pools coupled with their newfound ability to mine browsing history and user data," says Jason Kint, whose trade association Digital Content Next publishes annual forecast for Google and Facebook's ad growth.
"If they're successful, this mostly likely competes with Google and Facebook's direct marketing and micro-targeting dollars."
Conservative regulators are seizing on this rationale as they pull up telecom regulations, arguing that empowering legacy telecom companies could be an way to curb the dominance of the duopoly.
FCC's commissioner Michael O'Rielly, one of the agency's Republican members, told reporters on Monday that lifting regulations on internet service providers was the right way to grapple with the growing influence of Google and Facebook.
The commission's Republican chairman, Ajit Pai, said last year that web giants were advocating against his net neutrality repeal to use "the regulatory process to cement their dominance in the Internet economy," adding that "the government shouldn't aid and abet this effort."
The effort to free up ISPs to use data for ad targeting goes as far back as March, when lawmakers voted to roll back privacy rules that covered their customer data.
AT&T and Verizon have taken major steps to take advantage of the regulatory environment that will allow them to dive deep in the ad business.
AT&T made waves last year when it hired Brian Lesser as its CEO of advertising and analytics. Currently, AT&T owns the distribution and data from its internet and cable services. It's hoping its merger with Time Warner will give it premium content to sell ads against.
Verizon launched Oath last year, which includes media properties like AOL, HuffPo, Yahoo and more, in an effort to scale its advertising footprint. Matthew Ellis, EVP and CFO at Verizon, said last year that with the addition of Oath, Verizon's addressable advertising market "has expanded from millions of wireless and wireline customers to about one billion global content consumers."
Both companies are using brand safety as a major pitch to lure advertisers to their advertising platforms.
Google and Facebook are "nervous about the content they've produced living in environments they can't control," Lesser told attendees at last week's AdExchanger Industry Preview conference in New York City.
"We are the brightest, biggest alternate threat to the Duopoly because of our focus on an open approach to ad tech and our strength in mobile," Oath's chief revenue officer John DeVine tells Axios. "Agencies and brands are begging to have an alternative and they are rooting for the trust that comes with Oath."
Go deeper