There's no solution yet to why the government shut down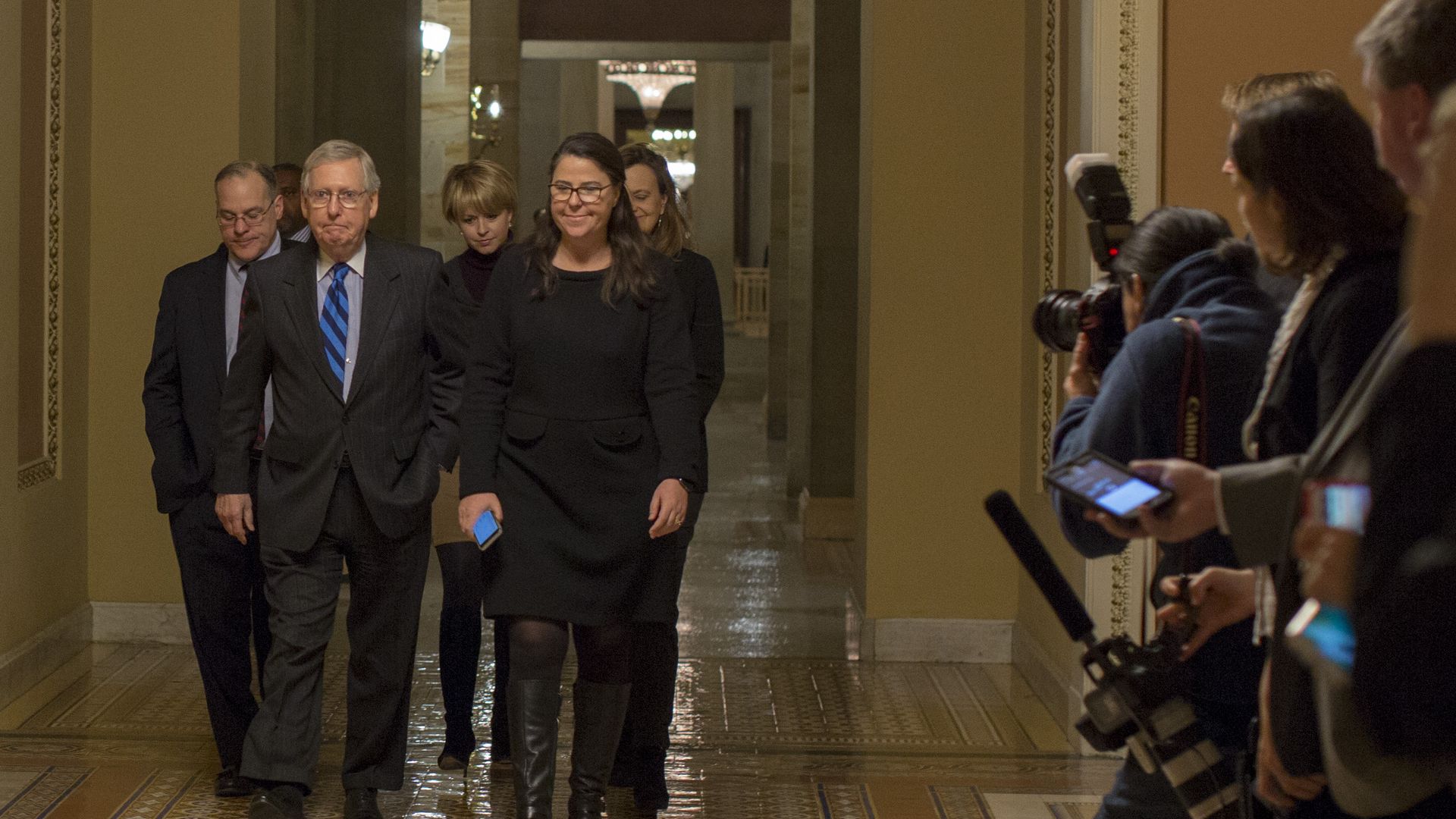 Even if the government shutdown ends soon, there's no obvious solution for the immigration issue at the center of it all — and it's hard to see how one comes together.
Our thought bubble: Both parties are being driven by activists on immigration and it's extremely hard to imagine an immigration deal that could pass the House and the Senate with the support of President Trump.
There are two problems facing Congress: The immediate one of reopening the government, and then the pressing-but-not-immediate one of securing a path to citizenship for immigrants who came to the U.S. as children, called Dreamers.
Problem #1: Shutdown
Last night, McConnell announced a vote on a proposal supposedly backed by a group of moderates from both parties. It'd open the government until Feb. 8, and McConnell said it was his "intention to proceed to legislation" that would deal with Dreamers and border security.
This could get enough moderate Democrats on board, as several feel uneasy about the shutdown. It also has the support of two former Republican "no" votes, Sens. Lindsey Graham and Jeff Flake.
The government is going to have to reopen at some point, and Republicans have insisted they're not going to negotiate an immigration deal until it does.
Problem #2: Immigration
No Republican I've spoken to has said there's an obvious immigration package that can pass both the House and the Senate.
Democrats know that, and tried to use it as leverage while voting against a spending bill. There was — and is — a real concern that if Dreamer protections aren't included in a must-pass bill, they won't become law.
There's general agreement that we're likely going to do this all over again when the next spending bill expires. The parties are too far apart on it and even if the government reopens, almost no progress has been made on finding an immigration solution.
Sources in both parties say that this really comes down to Trump and the cover he can provide congressional Republicans, especially in the House. For now, no one knows what he actually wants.
Democrats are frustrated. "McConnell said publicly he didn't know. Trump said he wanted the wall. We offered the wall. Now the only thing standing between the president and his wall" is Trump, said Ben Marter, a spokesman for Democratic Sen. Dick Durbin.
Republicans know Trump is prone to changing his mind, hence the freakout over his one-on-one meeting with Minority Leader Chuck Schumer on Friday.
"Potus is going to have to be part of the solution. Meaning he will have to get [House Speaker Paul] Ryan to put it in play. It requires a level of potus leadership we haven't seen," one former GOP aide in both House and Senate leadership told me.
The bottom line: Washington generally assumes there's a solution to be found if there's enough pressure. But on the issue of immigration, the parties are so far apart and the House and Senate are such different chambers that it's impossible to see how this all works out right now.
"We haven't had an immigration agreement since 1986 for a reason," a senior GOP aide told me.
And the former aide: "Most likely this all ends in sadness."
Go deeper