Mulvaney: Dems "are opposing a bill that they don't oppose"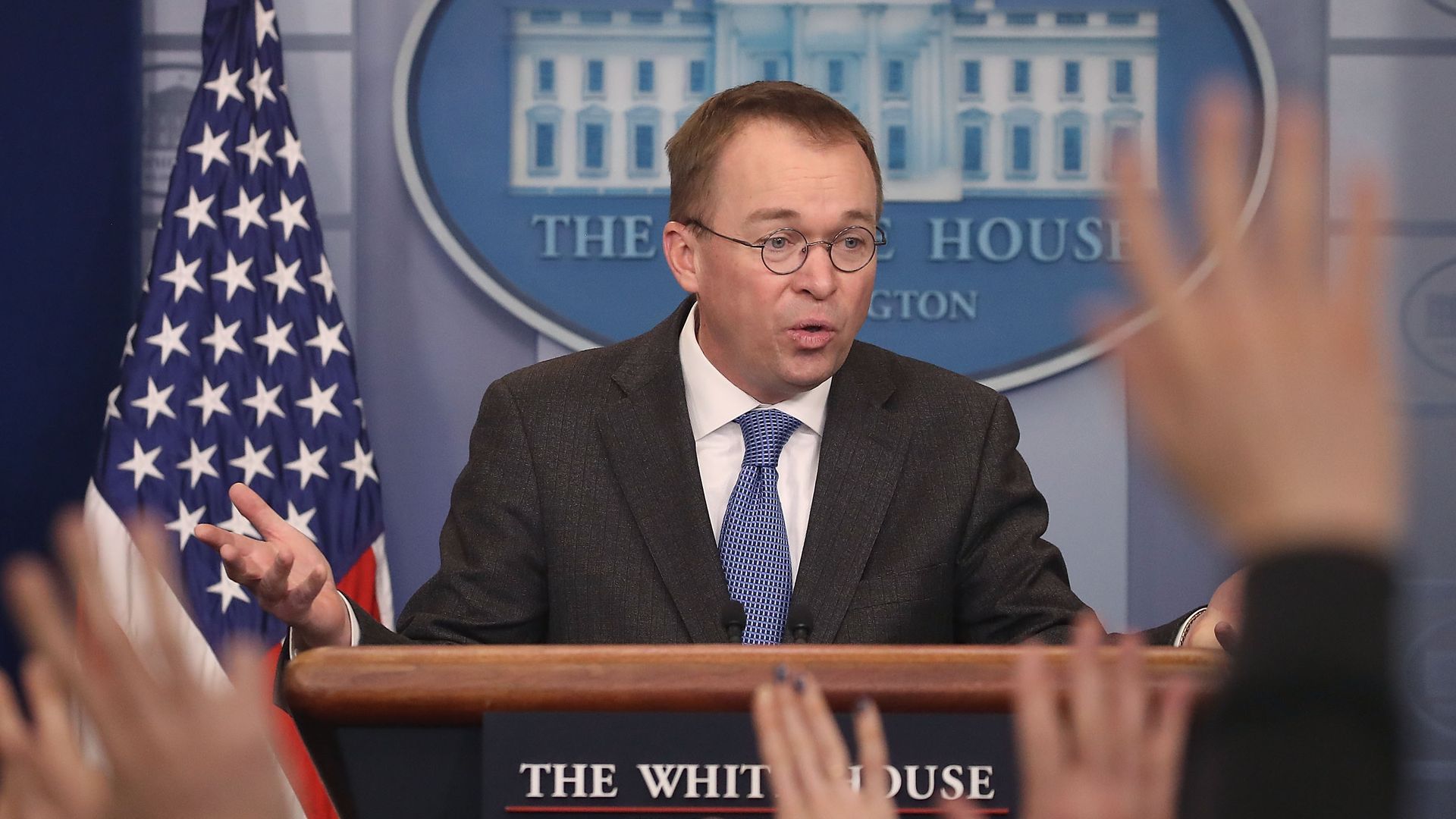 OMB head Mick Mulvaney insisted Friday that the Trump administration doesn't want a government shutdown, ascribing blame instead to Senate Democrats who "are opposing a [funding] bill that they don't oppose" and calling the looming situation the "Schumer Shutdown."
Between the lines: Yes, Senate Democrats don't oppose a 6-year extension of CHIP, but they specifically requested an immigration solution for Dreamers be packed into this funding bill, prompting this showdown. Mulvaney brushed aside those concerns until pushed by reporters, stating that "there's no reason to deal with DACA until the middle of February" and that a DACA "bill is simply not ready" to bring to a vote.
More on DACA: Marc Short, the White House's legislative affairs director, also dismissed the Flake-Durbin-Graham immigration proposal that prompted Trump's now-infamous "shithole" comments that blew apart bipartisan discussions on immigration. He said, "[Senate Democrats] say there's this Flake-Durbin-Graham proposal but there is no legislation for them to even vote on."
The White House's role: Mulvaney played down any assumption that the "shithole" comments had brought on this shutdown face-off, arguing that President Trump personally reached out to bipartisan leaders on immigration in an attempt to present a contrast to the last government shutdown:
The Obama administration weaponized the shutdown in 2013…They chose to make it worse. The only conclusion that I can come to is that they did that for political purposes.
1 different thing: Mulvaney said that national parks would remain open during this shutdown "but things like trash won't get picked up." The New Republic's Emily Atkin has a worthy read on why that could be a very bad idea.
Go deeper