Money in your pocket: the GOP view of the tax law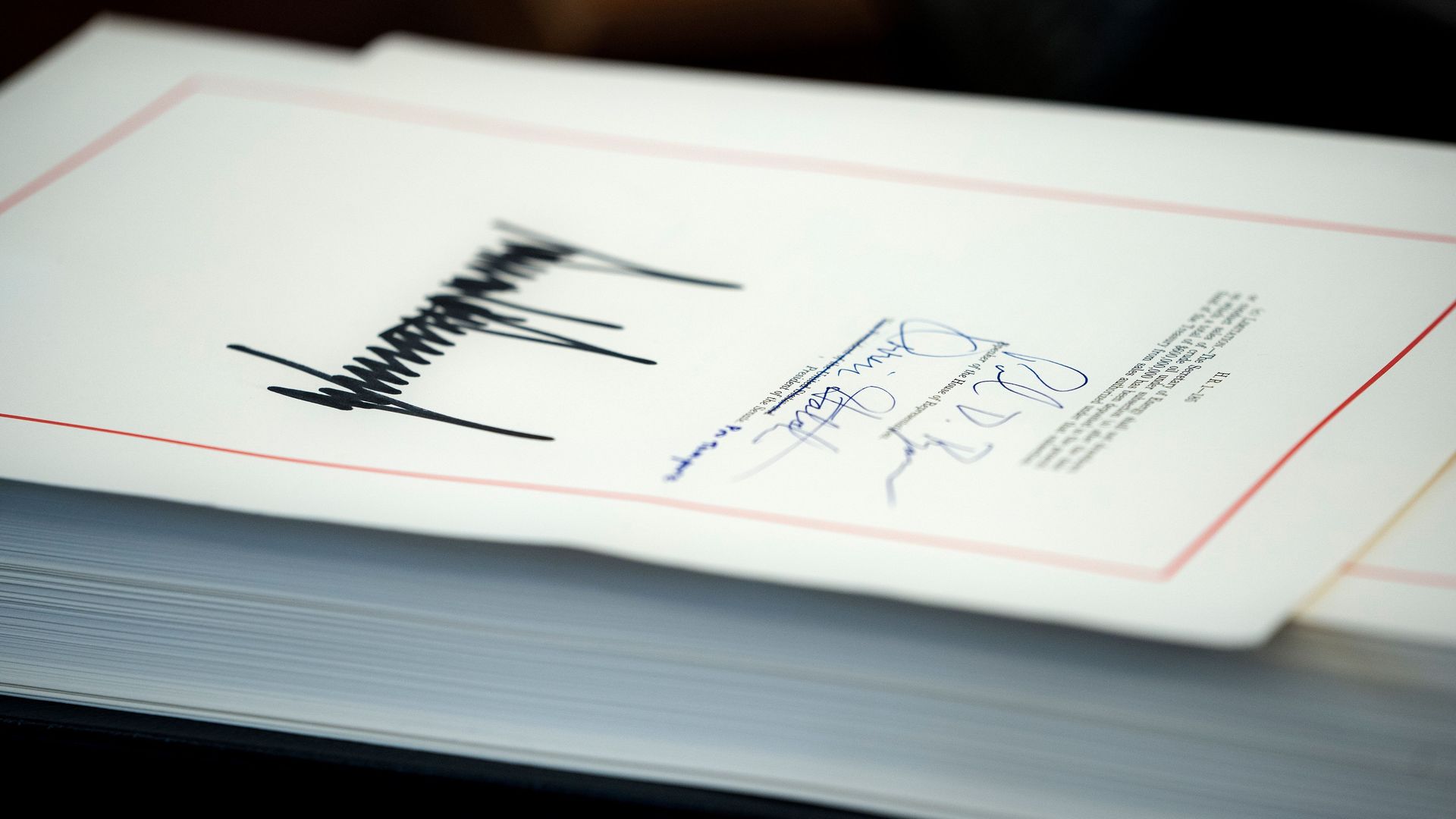 Republicans are pleased with the immediate aftermath of their tax law, citing a long string of bonus and wage increase announcements as evidence that it's helping the middle class. This clashes with Democrats' insistence that the tax bill is a handout to the wealthy.
Why this matters: Both parties have 11 months to convince voters their narrative about the tax bill is correct. While the law is still unpopular, its approval numbers are improving. And Republicans feel confident that the upcoming increase in take-home wages — which the vast majority of Americans are expected to receive — will change some minds.
If nothing else, the GOP has benefitted from unexpectedly good PR from the business world immediately following the bill's passage. There's been a blitz of corporations saying they're giving employees one-time bonuses, increasing wages or beefing up benefits.
Some examples: Wal-Mart announced it was raising its minimum wage to $11, Visa upped it's 401(k) contribution, and AT&T announced it was giving more than 200,000 workers $1,000 bonuses.
The worst-case scenario here is that all of these announcements stop and are just a one-time attempt to curry favor with the White House. But it's undeniable that an extra $1,000 or a bump in the minimum wage is not small potatoes to many middle-class families.
According to the conservative Americans for Tax Reform, at least 2 million people have received bonuses following passage of the tax law. (It's keeping a running tally of the companies that are giving bonuses and how many workers they have.)
"People were cautious initially because the real impact on families through the code isn't felt until next year, so all the corporate activity on bonuses and raises and employer contributions to retirement accounts, etc is seen as an unexpected bonus politically," a source close to Majority Leader Mitch McConnell told me.
What happens next:
Treasury has estimated that 90 percent of wage earners will get more take-home pay beginning next month, although people will still file their taxes under the old code in April and thus won't see any change until next year.
Republicans on the Hill are already looking to highlight the increase in take-home pay next month. Beyond that, the GOP — including the Koch network — plans to spend millions on promoting the tax law.
"Given that the tax reform bill was just finalized, there's a lot of work to be done educating Americans about its benefits. We will make a massive push to show how pro-growth policies can revitalize the economy and open the floodgates to new opportunity, innovation, and prosperity," said James Davis, executive vice president of Freedom Partners, a conservative group affiliated with the Koch brothers.
Yes, but: Bonuses are good, but have a negligible effect on the economy or even individual families in the long-term. However, higher wages, new jobs and more generous benefits are more serious and long-lasting. These will be the indicator of whether tax reform really helps the middle class.
The other side: Even though the polling is looking better, the tax law is still struggling with the public because it's seen as a huge giveaway to the rich.
Democrats will keep beating this drum, and they say it's working.
It's true that the law directly benefits the wealthy and corporations more than the lower and middle class, according to both government and independent analyses. The GOP says this then gets passed on to workers.
However, since the bill added over $1 trillion to the federal debt, it cuts taxes on average for all income groups — until 2026, when the individual provisions are set to expire and taxes increase for many in the lower and middle class.
The bottom line: This is both a war of messaging, voter experience and luck. Republicans have been lucky businesses have responded in the short-term the way they have. Both parties plan to push their narratives relentlessly until November.
What to watch: Obviously, these messaging plans could easily be derailed in the current political environment. Democrats have already been forced on defense on the emotional topic of immigration, and President Trump has spent the majority of this month bashing Michael Wolff and Steve Bannon or answering questions about whether he's racist.
Go deeper