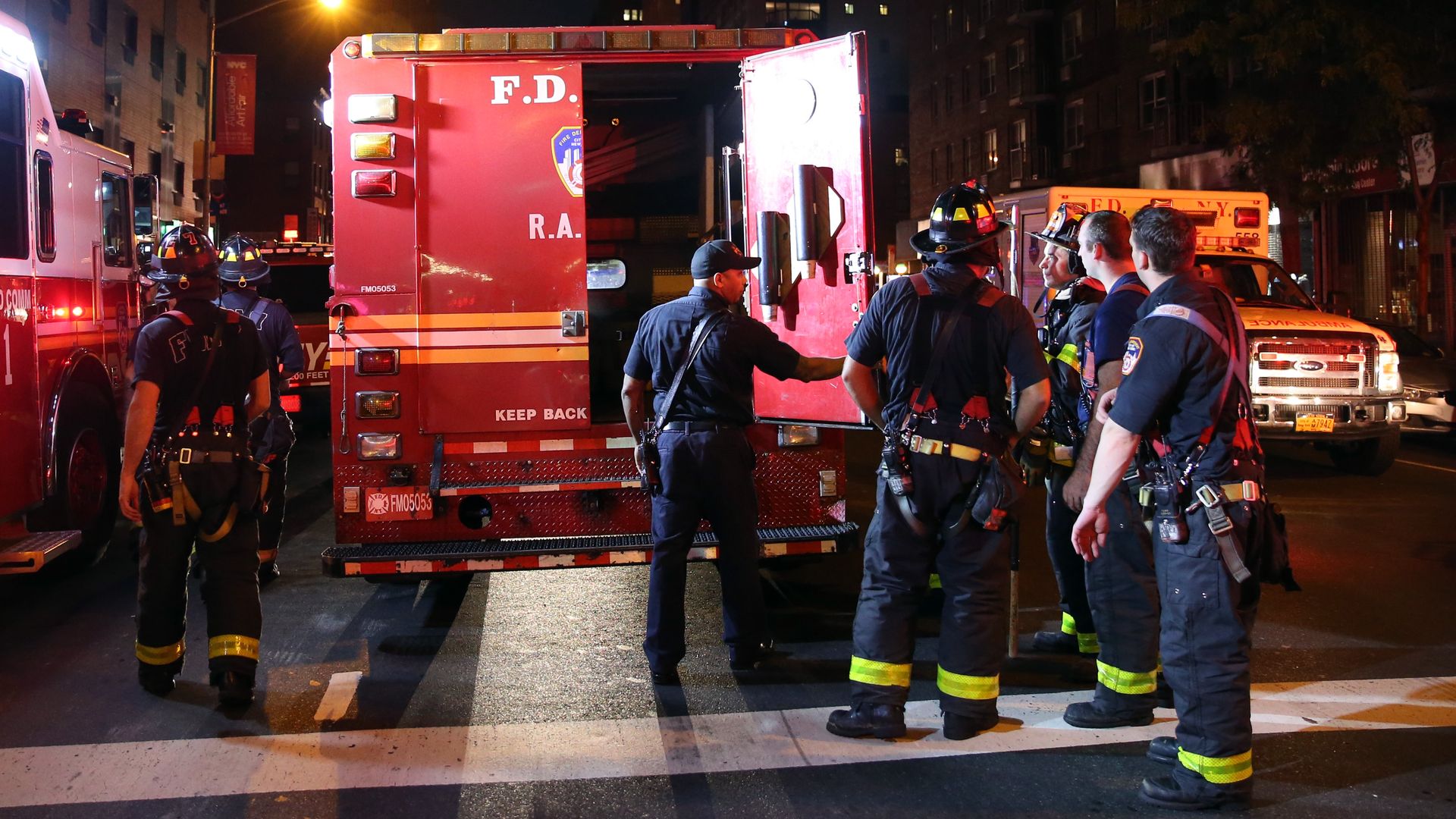 Police and firefighters are finally getting the priority communications network they were promised in the wake of the September 11, 2001, terrorist attacks. In exchange for building it, AT&T gets $6.5 billion in government funds over the next five years and access to a large chunk of valuable airwaves for 25 years.
Why it matters: Technical failures and incompatible radios have been a chronic problem for first responders — especially on 9/11, when firefighters rushing to the scene from different jurisdictions couldn't talk to each other. AT&T won the contract to build a national mobile broadband network — FirstNet —specifically dedicated to first responders, which is the final recommendation by the 9/11 Commission.
The state of play: Governors of all 50 states opted to participate in the network, rather than build their own. Now AT&T takes on an aggressive schedule to meet government requirements and sign up 60,000 first responder agencies across the country, from the big-city police squads to small-town volunteer fire departments.
It's also facing competition from rival Verizon Wireless as it tries to deliver a service that covers even the most rural areas of every state — something virtually every member of Congress cares about.
How it works: Under the federal FirstNet contract, AT&T is on the hook to build by March a highly secure "core" — the backbone of the network that all states will connect to — that will route and encrypt all traffic sent between firefighters, paramedics and law enforcement.
It also must roll out new tools, like mission-critical devices and apps designed for public safety. (A hackathon will be held in San Francisco this month to enlist developers' help on creating the apps.)
What AT&T gets: AT&T gets to use 20 megahertz (a significant chunk) of sought-after airwaves to power the network and add capacity to its commercial network. In times of crisis such as a terrorist attack or natural disaster, public safety officials get priority use of those airwaves and can even boot off any commercial users in the way.
When there's not an emergency, there'll be plenty of capacity to speed up AT&T's own customers' mobile connections. This is a significant advantage for AT&T, since all major carriers are hunting for more airwaves to meet growing mobile demand.
AT&T hopes to turn a profit by leveraging those underutilized airwaves, even after spending $40 billion over the life of the 25-year contract.
The competition: Verizon says it already serves two thirds of first responders throughout the country, offers priority service on its LTE network, and will build its own encrypted "core" infrastructure to compete with AT&T.
"AT&T would like you to believe that now that there's FirstNet, you have to use AT&T, and that's simply not the case," said Mike Maiorana, SVP Public Sector for Verizon. "We've been serving this market for decades...We continue to have extensive coverage advantage over AT&T."
Verizon didn't bid on the FirstNet contract, but Maiorana said it has "raised the bar" in terms of the mission-critical services that will be available to first responders.
AT&T says it's not worried: "What we're building is more than a telecommunications network, it's an ever-evolving ecosystem of life-saving tools to help first responders protect themselves, their communities and the nation," said Chris Sambar, SVP FirstNet for AT&T. "And while others may try to replicate what FirstNet will offer with a 'me-too' response, FirstNet is the only platform prepared to deliver on public safety's and Congress's vision."
Hurdles ahead: Even with valuable spectrum and big investments, AT&T has a lot of work to do.
The company has to build and upgrade tens of thousands of new and existing cell towers across the country to finish the network by the five-year deadline.
It must sign up more first responders as customers to meet federally mandated benchmarks.
Making sure all agencies even in rural areas have access to the network will be complicated, since some of those areas barely have broadband service as it is.
"This is a complex technical project and we'll invariably run into challenges," said Mike Poth, CEO of the First Responder Network Authority, which oversees FirstNet. "AT&T will also have to evolve with the contract. We don't know what public safety's needs are tomorrow, let alone 10 years from now."
Go deeper