Trump trashes bipartisan DACA deal that he rejected yesterday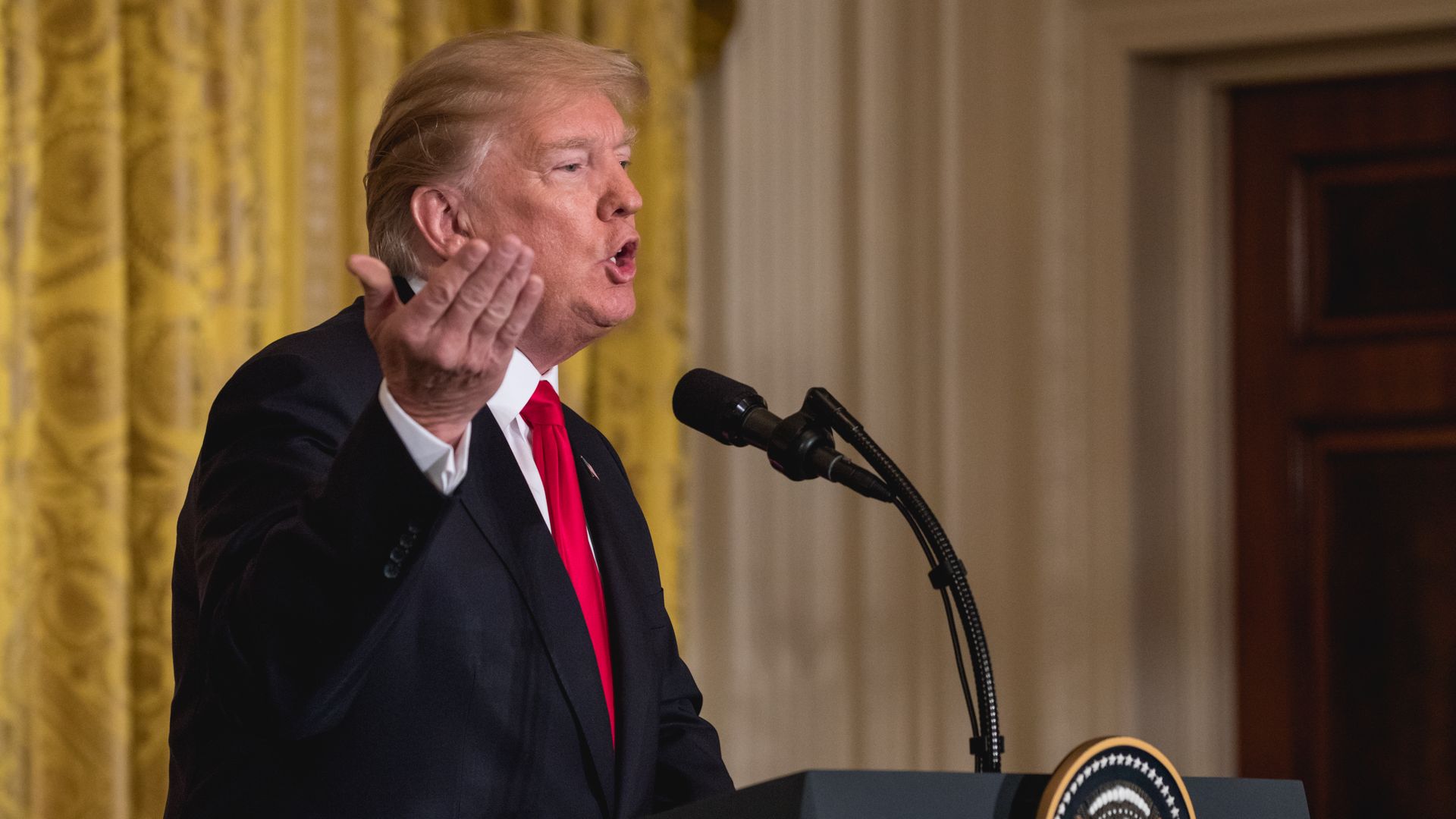 A bipartisan group of six senators presented Trump with a DACA deal that included proposals for handling the diversity visa lottery system, chain migration, and Dreamers' future in this country. Now Trump is trashing it on Twitter this morning after rejecting it yesterday.
Why it matters: Trump needs bipartisan support to pass a spending bill that includes both border security funding and immigration reform — two areas in which Democrats and Republicans draw hard lines. The six senators whose proposal he rejected represent five different states and account for many different factions of the Senate (from leadership to ranking members on committees covering nearly every policy).
Trump tweeted:
"The so-called bipartisan DACA deal presented yesterday to myself and a group of Republican Senators and Congressmen was a big step backwards. Wall was not properly funded, Chain & Lottery were made worse... USA would be forced to take large numbers of people from high crime countries which are doing badly. I want a merit based system of immigration and people who will help take our country to the next level. I want safety and security for our people. I want to stop the massive inflow of drugs. I want to fund our military, not do a Dem defund.....Because of the Democrats not being interested in life and safety, DACA has now taken a big step backwards. The Dems will threaten "shutdown," but what they are really doing is shutting down our military, at a time we need it most. Get smart, MAKE AMERICA GREAT AGAIN!"
What they're saying: A Senate Democratic aide told Axios, "This is a deal that is months in the making and hard work on both sides."
How it went down:
The group includes Lindsey Graham (R-SC), Dick Durbin (D-IL), Jeff Flake (R-AZ), Michael Bennet (D-CO), Cory Gardner (R-CO), and Robert Menendez (D-NJ)
Trump spoke separately to Graham and Durbin yesterday morning about the bipartisan DACA deal. They were encouraged by that conversation and went to the White House at noon to talk through the deal in person, per a source familiar with the situation.
Graham and Durbin thought they were meeting alone with Trump, but shortly after they arrived Sens. Tom Cotton, David Perdue, Kevin McCarthy and Bob Goodlatte walked in the door.
Stephen Miller, considered to be the president's lead immigration official, sent those conservative lawmakers to the meeting, according to White House and Capitol Hill aides, because he "was concerned there could be a deal proposed that was too liberal," per Washington Post.
Trump doesn't sign off on the deal, despite what was considered an encouraging conversation earlier in the day.
That sequence of events matters because it suggests Miller is being less helpful in getting Trump to sign off on a bipartisan DACA deal, despite what the White House and Legislative Affairs Director Marc Short say about him. Short told the Daily Beast: "We think he knows the issue of immigration better than anyone. Because of that, if there is a deal that can be done with Democrats, Stephen knows where and how."
But, but, but: Multiple Democratic aides told Axios they believe Miller hasn't been helpful in reaching a deal. "Stephen Miller has never made a deal with anyone on immigration in his entire life," said one senior Senate Democratic aide. "He's a destructive force that is not likely to help Democrats and Republicans reach a deal."
The aide added: "If the president's goal is to get a deal, then Stephen Miller is not on his team because Miller and John Kelly are leading him on a path to nowhere." 
Another senior Dem aide said: "The manifestation of Miller's involvement in this topic is the Goodlatte bill, which cannot pass the House and is an anti-immigrant wish list. The bill is going nowhere."
Be smart: Trump's latest tweets suggests he's siding (for now) with the Miller/Goodlatte conservative view of refusing to make a bipartisan DACA deal — he's focusing on the need for a border wall, a merit-based immigration system and, interestingly, funding for the military. All while painting Democrats as the obstructionist enemies.
What to watch: Whether Democratic senators will ask for DACA talks without the conservative hardliners as a way to try to get Trump to come around on a bipartisan deal that Dems and Republicans will be happy with.
Go deeper