Vulture capitalists are killing off retail jobs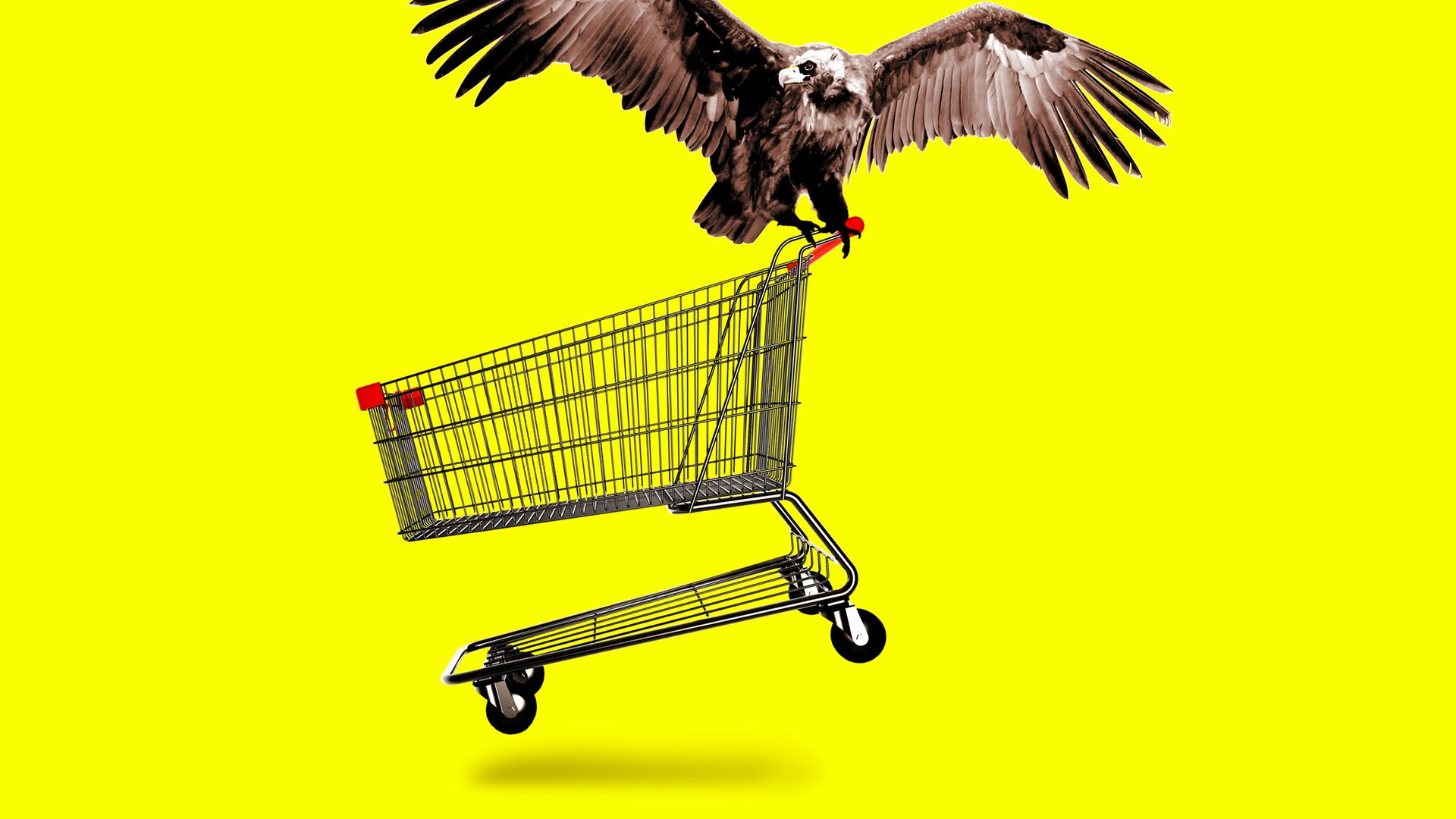 Private equity buyouts account for 61% of the jobs lost and planned for elimination in the 2016 and 2017 retail apocalypse, according to a new study.
Quick take: Private equity snapped up retail chains like Sears and Toys 'r Us in more benign times. Amazon wasn't yet such a potent force, and buyout firms like Bain Capital and KKR — bursting with cash from institutional investors seeking high returns — saw strong profit possibilities in retail.
But when buyers massively turned to on-line shopping, many of these now-private equity-owned chains, laden with interest payments on the buyout debt, lacked free cash to pivot and compete, said Thomas Paulson of Inflection Capital Management.
The debt left them without "the capacity to invest, the capacity to evolve, and the stamina to withstand the headwinds," Paulson said in a report to his clients.
"When you lever it up and put it in a more restrictive structure, you are less able to adapt to those changes," he tells Axios in an interview.
In 2016 and 2017, some 130,000 actual and planned job cuts were announced by private equity-owned firms, Paulson said, about 61% of the total 219,000 jobs lost in retail.
This year looks likely to be troubled, too — perhaps worse:
From the FT's Eric Platt and Anna Nicolaou: "More than half of the largest leveraged retail buyouts completed since 2007 have either defaulted, gone bankrupt or are in distress." They added, "Observers warn that the distress is likely to accelerate in 2018 with nearly $6 billion in high-yield retail debt set to mature."
And this from Bloomberg's Matt Townsend, Jenny Surane, Emma Orr and Christopher Cannon: "The spillover will likely flow far and wide across the U.S. economy. There will be displaced low-income workers, shrinking local tax bases and investor losses on stocks, bonds and real estate. If today is considered a retail apocalypse, then what's coming next could truly be scary."
Go deeper