Trump's Tuesday surprise: 55 minutes on camera at White House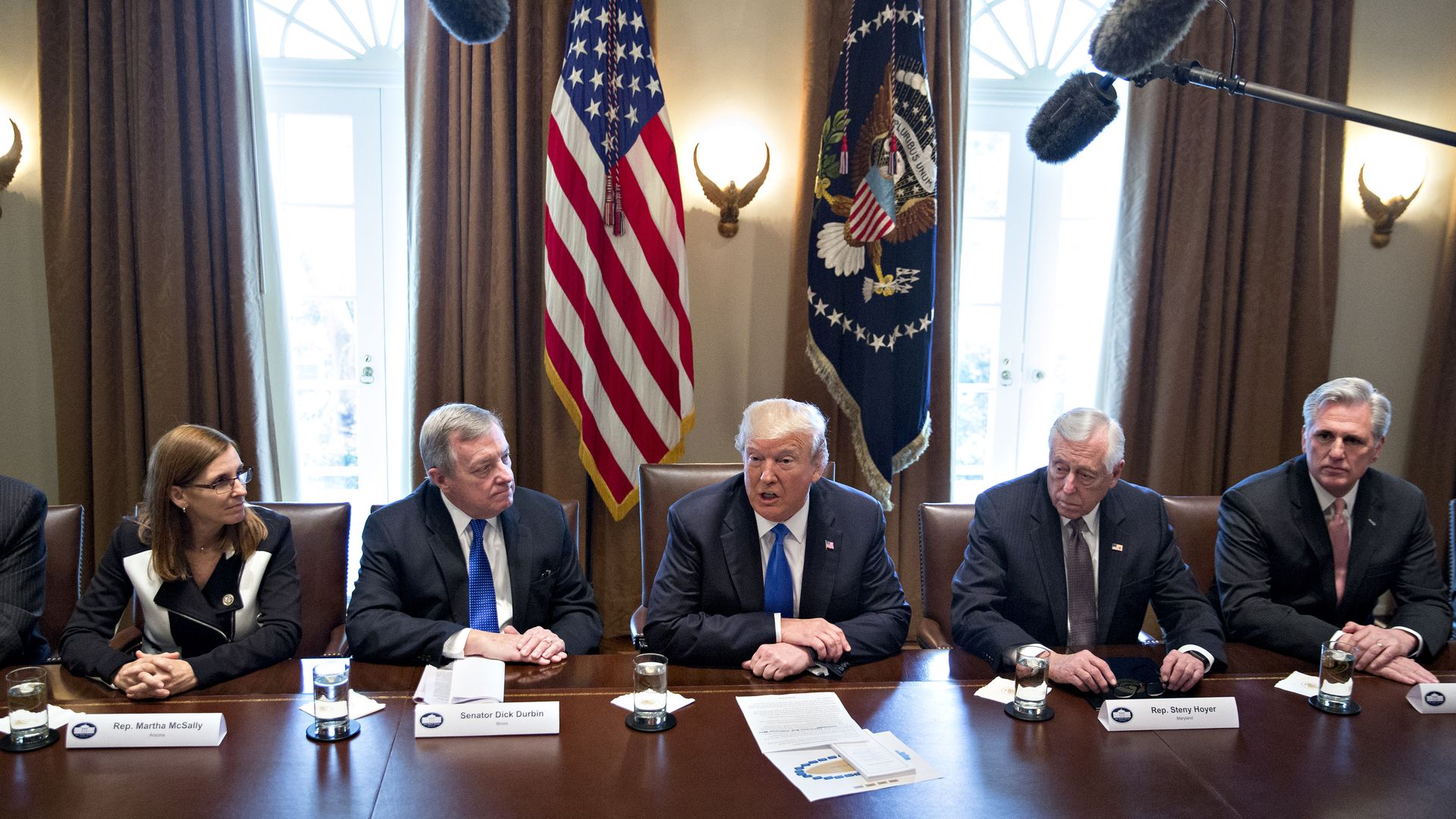 President Trump turned what was supposed to be a closed-press bipartisan immigration meeting to a 55-minute back and forth with reporters on Tuesday. He urged lawmakers to treat a fix for Dreamers as a "bill of love."
Jonathan Swan's thought bubble: Trump holding court for so long on policy could be seen as a way of demonstrating for the cameras that he's engaged in the policy debate and alert to the political challenges. A way of reversing the narrative from the Wolff book. I haven't confirmed whether he vocalized that as his motivation, but a source close to the White House was quick to text me after the meeting and make that point.
Two key takeaways: There's no sign of a bipartisan deal on immigration as the next week's spending bill deadline nears. And Trump thinks he'd beat Oprah if she ran for president in 2020.
What Trump said
On a fix for DACA: ""I feel having the Democrats in with us is absolutely vital because it should be a bipartisan bill. It should be a bill of love."
Trump suggested he'd sign a DACA bill without comprehensive immigration reform, saying, "I think we'll do DACA and we can certainly start comprehensive immigration reform the following afternoon. Okay? We'll take an hour off and then we'll start."
He later clarified that a DACA bill would have to include border security: "To me, a clean bill is a bill of DACA, we take care of them, and we also take care of security. And the Democrats want border security, too ... Then we go to comprehensive later on."
On the immigration measures he wants as part of a potential bill to protect Dreamers: Border security (including a wall), an end to chain migration, and an end to the diversity visa lottery program.
On the wall: "You need it ... I'd love not to build the wall, but you need the wall."
On Oprah 2020: "Oprah will be lots of fun ... I like Oprah." He later added, "I don't think she's going to run," but said he'd beat her if she did.
What lawmakers said
Sen. Lindsey Graham: "Most fascinating meeting I've been involved with in twenty plus years in politics ... Now it is up to all of us in Congress to come up with a proposal that gets the job done."
Sen. Dick Durbin: "Lives are hanging in the balance," referring to DACA. He also told the president that there's Democratic support for some elements of border security.
Go deeper