Tom Steyer is investing $30 million in 2018 House races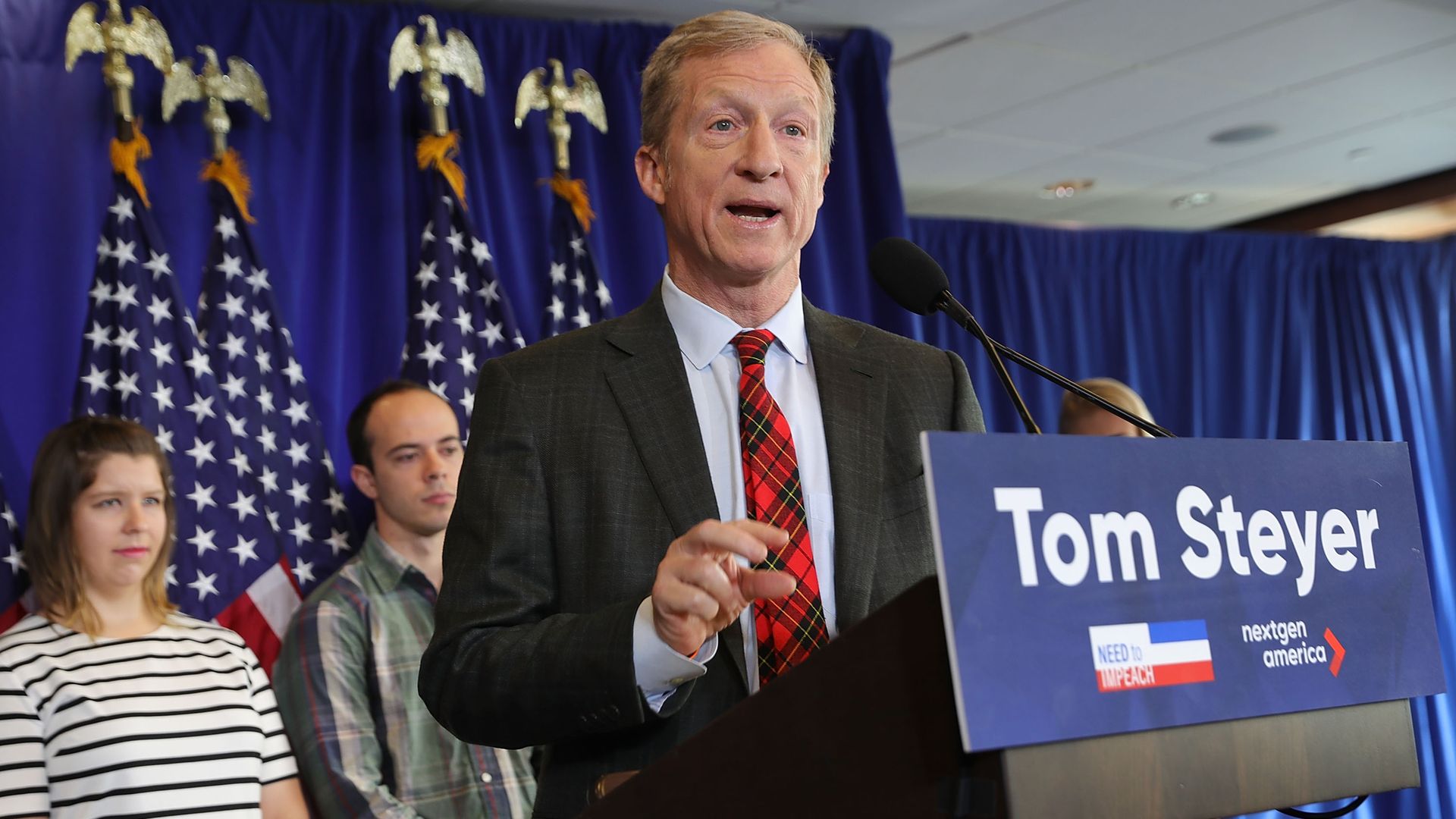 Tom Steyer is spending $30 million on House races to help progressive Democrats get elected. He's not running for office in 2018, despite wide speculation that he'd make a bid for California governor or for the U.S. Senate.
Why it matters: Although Steyer said he won't endorse any specific Democratic candidates, his movement could inevitably elevate certain Democrats over others because he's focusing on promoting progressives and progressive policies. And that matters because as Steyer told me, "We have tried not to engage in Democrat-on-Democrat [races] because we feel like it's enough of a struggle to beat Republicans."
One example of a contentious Dem-on-Dem race is for California's U.S. Senate seat.
Kevin de León has emerged as an outspoken, progressive challenger to Democratic Sen. Dianne Feinstein, who is seeking re-election.
But Steyer was careful not to say he's intervening in any Democratic primaries this year.
"I understand that there are going to be times when there's a fight within the party," Steyer said, adding that it's too early to tell what will happen between de León and Feinstein. "We feel as long as they're good Democrats then we will try to stay out of it."
What he's doing:
Steyer is putting $30 million in his organization's youth voter program, NextGen America, to mobilize millennial voters and encourage them to vote for progressive candidates and policy issues.
His efforts will focus on 10 states (Arizona, California, Florida, Iowa, Michigan, Nevada, New Hampshire, Virginia, Pennsylvania and Wisconsin) and he specifically mentioned "sending the likes of Paul Ryan, Darrell Issa and Barbara Comstock back home."
A GOP strategist involved in House campaigns told Axios of Paul Ryan's re-election: "This is not a competitive race. Paul won re-election by 30+ points last year and has been re-elected comfortably since 1998. "
Steyer's "Need to Impeach" campaign, which has received at least 4.1 million signatures, will continue and expand. He bought 535 copies of Michael Wolff's "Fire and Fury" book for every member of Congress, and he told me he's personally delivering a copy to his congresswoman, Nancy Pelosi.
What to watch: Some Democratic lawmakers (like Pelosi and Feinstein) have already expressed concern about Steyer's impeachment campaign or refused to support it. Now that Steyer is getting involved in House races, look for Democratic candidates who might start openly supporting the idea of impeaching Trump (like de León), as well as how Steyer's push for a progressive platform could end up elevating one Democratic candidate over another.
Go deeper