Congress is still barrelling toward an immigration showdown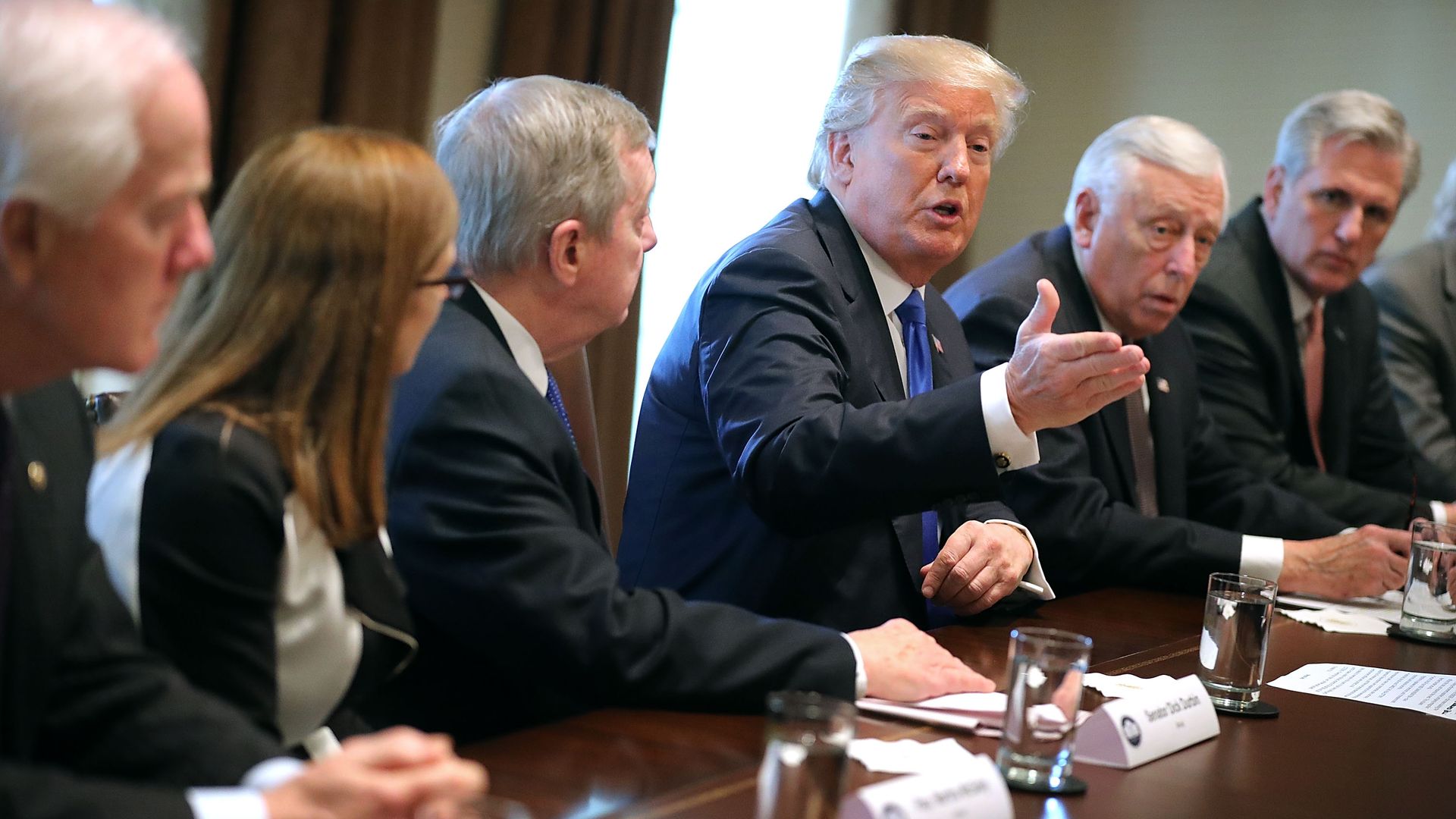 A wild afternoon of immigration news left Congress virtually in the same place as it was before a bipartisan group of lawmakers met with President Trump: headed for a government shutdown next week unless someone caves.
Between the lines: Republicans and Democrats are still miles apart on a deal to protect immigrants brought to the US as children. They're also still negotiating a spending caps deal. Without either of these questions resolved, there's a real possibility members of each party vote against a short-term spending bill next week, shutting down the government.
The problem: Congress is really trying to sort out three different things right now: An immigration deal addressing those protected by the Deferred Action for Childhood Arrivals program, a deal to raise spending caps and a deal to keep the lights on past next Friday.
Democrats want a deal to protect the "Dreamers" by then. Today narrowed the scope of the conversation down to four issues — border security, chain migration, the visa lottery and Dreamers — but it's hard to overstate how far apart the two parties still are on these.
Majority Leader Mitch McConnell reiterated on Tuesday that the spending bill and a DACA bill will be considered separately, which Democrats had not agreed to.
Republicans, especially defense hawks, want a caps deal that raises defense spending. Democrats say they'll agree to this only if the domestic spending cap is raised too.
It's unclear whether Democrats will vote for a short-term spending bill next week without a DACA deal, or whether defense hawks will vote for it without a caps deal. Losing these votes could result in a shutdown.
The bottom line: Both parties are under a lot of pressure from their base not to cave ahead of the Jan. 19 spending bill deadline. But something's gotta give, or next week will end with a shutdown — with the GOP controlling all three branches of government.
Go deeper