Instantly, Oprah 2020 erupts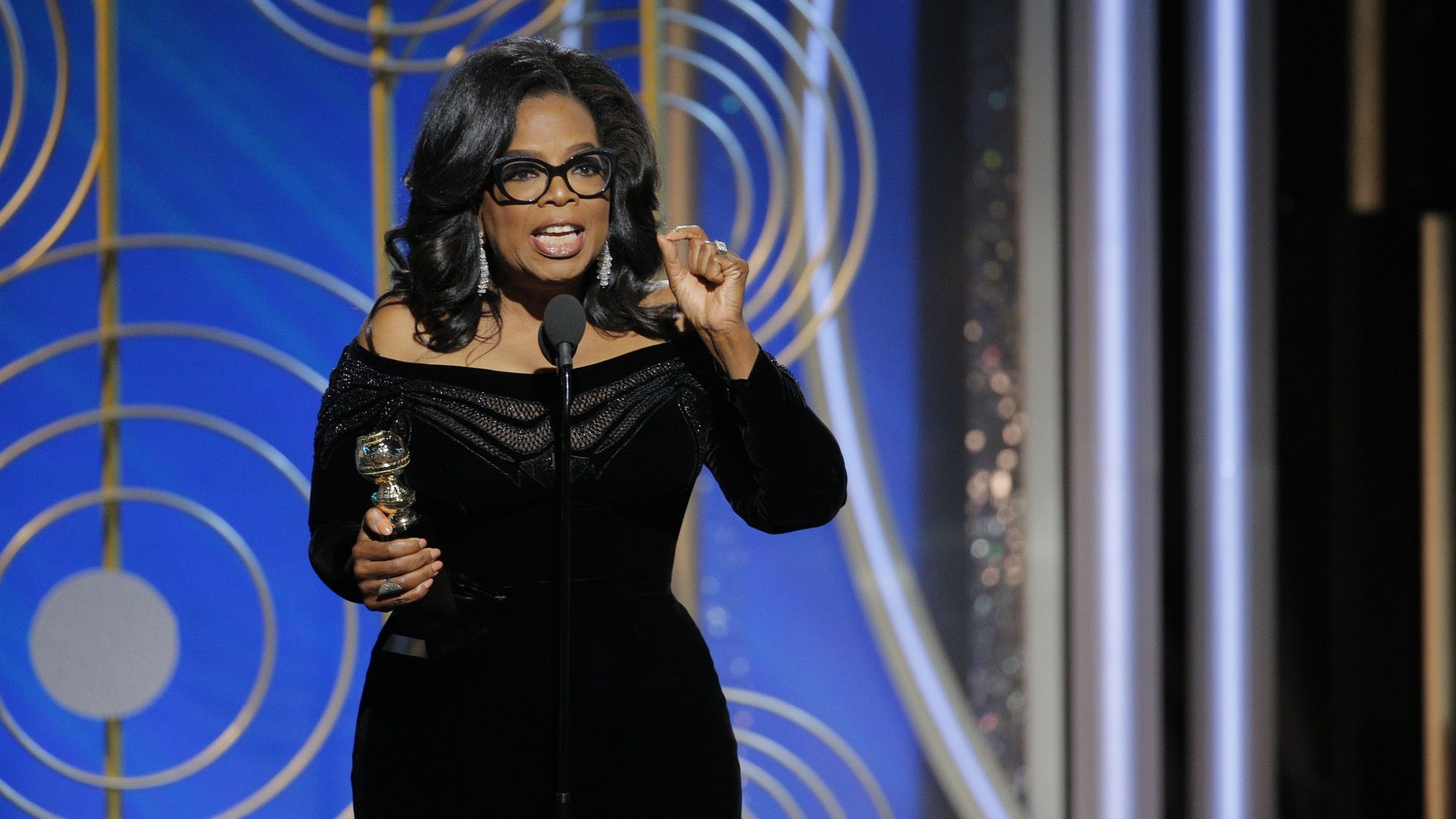 With her heartfelt acceptance speech for the Golden Globes' Cecil B. DeMille award, Oprah Winfrey sparked a blast of fervor that she should run for president in 2020. And a new report from CNN's Brian Stelter today states that she's been "actively thinking" about a bid for the past few months — which comes after her partner, Stedman Graham, told the Los Angeles Times last night that "she would absolutely do it."
Why it matters: Oprah hits all the right notes at just the right time for a media obsession. She's not a white man, she's liberal, she's flirted with the notion of running, she's a voice for women and the abused in a sullied Hollywood industry, she's famous. She's the anti-Trump, which helps explain this morning's over-the-top political speculation about a nine minute speech.
Oprah's key line: "So I want all the girls watching here and now to know that a new day is on the horizon! And when that new day finally dawns, it will be because of a lot of magnificent women, many of whom are right here in this room tonight, and some pretty phenomenal men, fighting hard to make sure that they become the leaders who take us to the time when nobody ever has to say, 'Me too' again."
It's not entirely farfetched:
A Quinnipiac poll from last March had Oprah's national approval rating at +29, though nearly 70% of respondents said then that she shouldn't run for president in 2020.
Yes, but: Another March poll from PPP had Oprah's national approval rating at +16, but gave her a 47-40 win in a hypothetical matchup against Donald Trump in 2020.
A parallel: Golden Globes host Seth Meyers noted that he might have spurred Donald Trump's presidential ambitions with his barbed jokes when he hosted the 2011 White House Correspondent's Dinner:
Video of the full speech, which quickly rocketed to the top of Twitter's top trending section:
Worth reading: The New York Times obituary for Recy Taylor, whose fight for justice after she was raped in Alabama in 1944 was extensively referenced in Oprah's speech.
A fun transcript from a Donald Trump appearance on CNN's Larry King Live in 1999:
KING: We're back with Donald Trump. We're going to be all over the board tonight talking about lots of issues as he announces the formation of exploratory committee to possibly seek the candidacy of the Reform Party.
Do have a vice presidential candidate in mind?
TRUMP: Well, I really haven't gotten quite there yet.
KING: It's just, you know...
TRUMP: Oprah, I love Oprah. Oprah would always be my first choice.
KING: Oprah?
TRUMP: Oprah. Your competitor, right?
KING: No. Oprah is a competitor to no one.
TRUMP: You know what? I tell you, she's really a great woman, though. She is a terrific woman. She is somebody that is very special.
A sampling of the social media reaction around Hollywood supporting her:
Go deeper