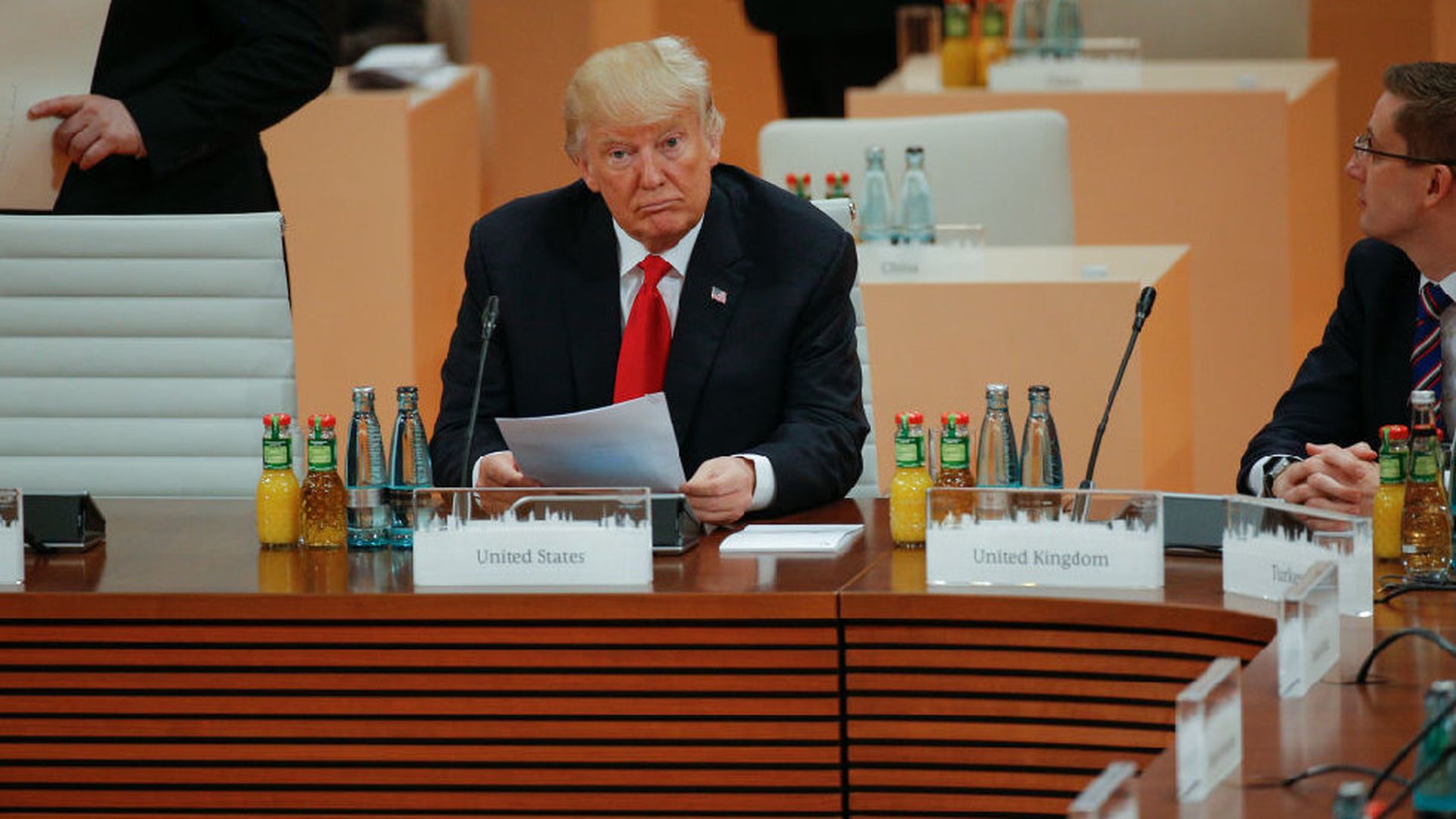 Pause for a moment, and really let this sink in. The President of the United States this morning declared he's not mentally unstable, and in fact is a genius: "Actually, throughout my life, my two greatest assets have been mental stability and being, like, really smart. ... I think that would qualify as not smart, but genius... and a very stable genius at that!"
Nothing like this has ever been uttered in public by a sitting president in the existence of our nation. Nothing. And it puts us in uncharted waters:
Leaders and citizens of other nations are openly debating Trump's sanity.
Democrats, who already called in a psychiatrist to brief them on his mental health, will surely escalate the inquiry.
About two dozen House Dems have backed a bill to remove Trump from office if he is deemed mentally unfit by a commission of physicians and psychiatrists.
Republicans on the Hill privately express concerns about the president's stability; though none have so far been willing to air their concerns publicly.
Most urgent of all, the internal madness Trump stirs makes it more likely top staff leave and less likely good replacements come in to help run the government. This, more than anything, worries the inner circle.
The media — at first delicately, and now less so — is increasingly exploring the president's neurology. As I type this, the banner on CNN is: "Mental Health Issue: IS IT WRONG TO QUESTION TRUMP'S MENTAL FITNESS FOR OFFICE?
Yesterday, Jim and I shared with you the parts of Michael Wolff's book that ring true based in our conservations with many of the same sources. We want to take a crack at painting a composite of what those sources say on this topic in private:
The mental stability topics they talk about are more around narcissism, impulse control, and a lack of empathy — all traits well known to voters before the election. He has very few close and authentic relationships with people outside of Ivanka and Hope Hicks, who sources say he views as another daughter.
What some officials say troubles them is that at best, they have seen no improvement in office. And at worst, there has been a slight worsening.
Trump definitely repeats stories a lot — some friends say more than he did in the past — and might only let aides say two or three words before cutting them off. Again, these are not new characteristics.
Some aides say that if colleagues aggressively push back, sometimes using curse words and a raised voice, he listens and seems to invite more of it. But they remain struck by how quickly he gets roiled and consumed by the smallest of slights or pushbacks outside of meetings.
But, but, but: Trump has more presidential moments of lucidity and normality than Wolff's book suggests.
Officials point to how he handled Syrian airstrikes and his triumph with the tax bill. But these same officials also concede that gets way overshadowed by the not-normal dimension of most days.
Sources tell Axios' Jonathan Swan that in the moments of most acute crisis and when the media is totally piling on him — e.g., after he fired Comey — he is weirdly calm, given the pressure and the stakes.
Trump has told people close to him that if you want to do great things in life, you're going to have people taking shots at you. Remember this is a man who has spent his entire adult life in some form of litigation.
Why it matters: It's not just the Trump haters who fear he will one day drop real bombs, not just Twitter bombs, to prove himself.
Several friends and aides have told us in private they worry about an impulsive or dangerous move against North Korea — or others, too — especially as Trump's bubble tightens and strong-minded internal critics leave the White House.
Go deeper