Trump's legal threats backfire as Wolff book surges
President Trump is so furious about Michael Wolff's book, "Fire and Fury," that some aides are just trying to avoid him. Key aides tried to talk him out of legal threats against the author and Steve Bannon, the key source.
Lawyers laughed: Does Trump really want to give discovery to Michael Wolff?
But Trump was insistent on following a tactic he frequently used in business — rattling cages with lawyers' letters that resulted in no actual legal action.
His demand that the publisher withhold the book (POTUS needs to see "The Post," with its takeaway on prior restraint) was a publisher's impossible dream that had the predictable effect: more publicity and presales.
The publisher issued this statement: "Henry Holt confirms that we received a cease and desist letter from an attorney for President Trump. We see 'Fire and Fury' as an extraordinary contribution to our national discourse, and are proceeding with the publication of the book."
Not only that: "Due to unprecedented demand, we are moving the on-sale date for all formats ... to [today] from the [previous] on-sale date of [next] Tuesday."
In D.C., Kramerbooks started selling copies at midnight.
Below is a screenshot of a letter from Trump's lawyer to Wolff and Steve Rubin, president and publisher of Henry Holt: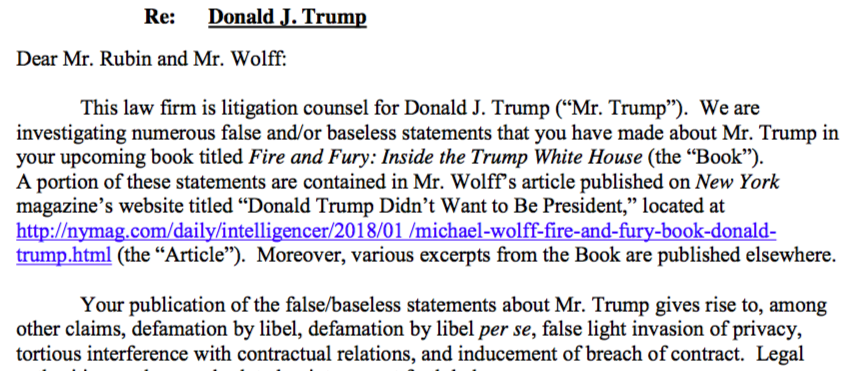 P.S. WashPost Style front, "Breitbart may see a Bannon backlash," by Paul Farhi:
"The website and its chairman found themselves isolated ... after Bannon's comments ... caused a backlash inside the White House, among rival conservative media outlets and among Trump supporters."
"Bannon's comments ... prompted a key backer, the billionaire Mercer family, to withdraw financial support for Bannon's political activities. So far, however, the Mercers have not signaled that they will walk away from Breitbart itself, which would be a crippling blow."
Be smart: Key conservatives tell us Bannon could wind up being ousted from Breitbart.
Go deeper