Trump lawyer threatens to sue Bannon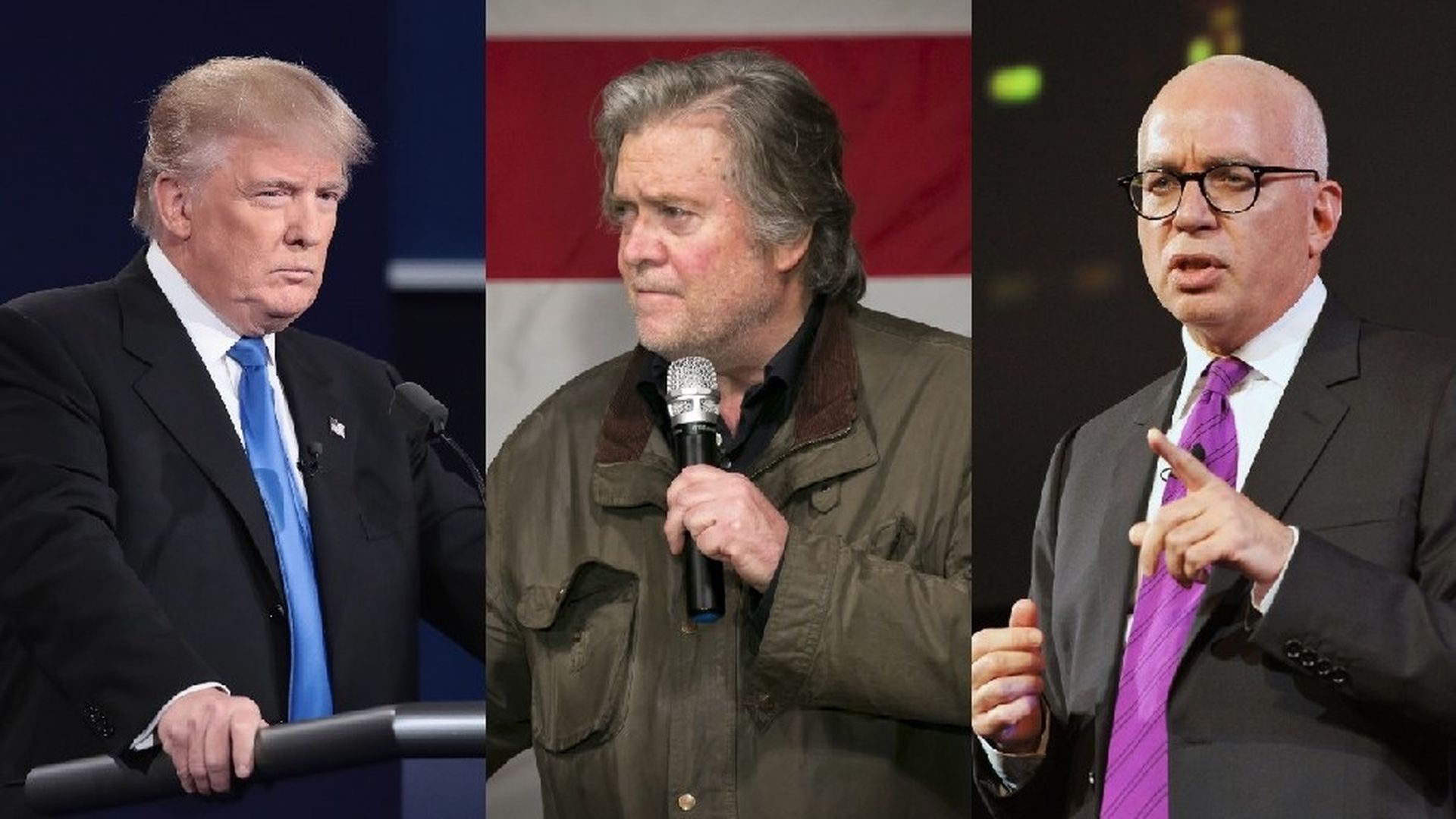 Amid the firestorm over Michael Wolff's forthcoming book "Fire and Fury," a lawyer for President Trump says legal action against Steve Bannon is "imminent," accusing the former White House aide of breaking a confidentiality and non-disparagement agreement he had signed with the Trump campaign.
The five-page cease-and-desist letter, which orders Bannon to retain any relevant texts and emails, says:
"You have breached the Agreement by ... communicating with author Michael Wolff about Mr. Trump, his family members, and the Company, disclosing Confidential Information to Mr. Wolff, and making disparaging statements and in some cases outright defamatory statements to Mr. Wolff about Mr. Trump."
The lawyer, Charles Harder of Beverly Hills (who brought down Gawker), says in a statement: "[L]egal notice was issued today to Stephen K. Bannon ... that his actions of communicating with author Michael Wolff ... give rise to numerous legal claims including defamation by libel and slander, and breach of his written confidentiality and non-disparagement agreement with our clients. Legal action is imminent."
This follows the scorched-earth statement by Trump after excerpts of the book, out next Tuesday, began leaking yesterday: "Steve Bannon has nothing to do with me or my Presidency. When he was fired, he not only lost his job, he lost his mind." (That line is N.Y. Times Quote of the Day, BTW.)
Axios has learned that, at Trump's direction, his lawyers may go after Wolff as soon as today.
Bannon wouldn't comment on the record, but "a source with knowledge of this matter" texted me that "more than a dozen wh staffers or colleagues of potus talked with [wolff] ... because the wh was cooperating with the book."
Reached for comment about the lawyer's letter to Bannon, Wolff told me: "I rest my case."
What has Trump so livid? Here are key excerpts from the 322-page book, obtained by Axios:
On the the July 8 preparation aboard Air Force One of the initial (and false) explanation, made under Trump's personal direction, about the Trump Tower meeting with Russians during the campaign: "Ivanka, according to the later recollection of her team, would shortly leave the meeting, take a pill, and go to sleep. Jared, in the telling of his team, might have been there, but he was 'not taking a pencil to anything.'"
"Nearby, in a small conference room watching the movie Fargo, were Dina Powell, Gary Cohn, Stephen Miller, and H. R. McMaster, all of whom would later insist that they were, however physically close to the unfolding crisis, removed from it."
"Mark Corallo [former spokesman for Trump's personal legal team] ... privately confiding [to Wolff] that he believed the meeting on Air Force One represented a likely obstruction of justice — quit."
Bannon: "The three senior guys in the campaign ... thought it was a good idea to meet with a foreign government inside Trump Tower in the conference room on the twenty-fifth floor — with no lawyers. They didn't have any lawyers. Even if you thought that this was not treasonous, or unpatriotic, or bad shit, and I happen to think it's all of that, you should have called the FBI immediately."
"If [Trump] was not having his six-thirty dinner with Steve Bannon, then, more to his liking, he was in bed by that time with a cheeseburger, watching his three screens and making phone calls — the phone was his true contact point with the world — to a small group of friends, among them most frequently [longtime friend] Tom Barrack, who charted his rising and falling levels of agitation through the evening and then compared notes with one another."
"The unique problem here was partly how to get information to someone who did not (or could not or would not) read ... Kellyanne Conway brought him the latest outrages against him. There were his after-dinner calls — the billionaire chorus. And then cable, itself programmed to reach him — to court him or enrage him."
Bannon referred to Stephen Miller — Trump's powerful senior adviser for policy, and keeper of the nationalist flame after Bannon's departure — as "my typist."
Get more stories like this by signing up for our daily morning newsletter, Axios AM.
Go Deeper: New York magazine has a long excerpt/adaptation.
Go deeper