Timeline: Trump and Romney's tumultuous relationship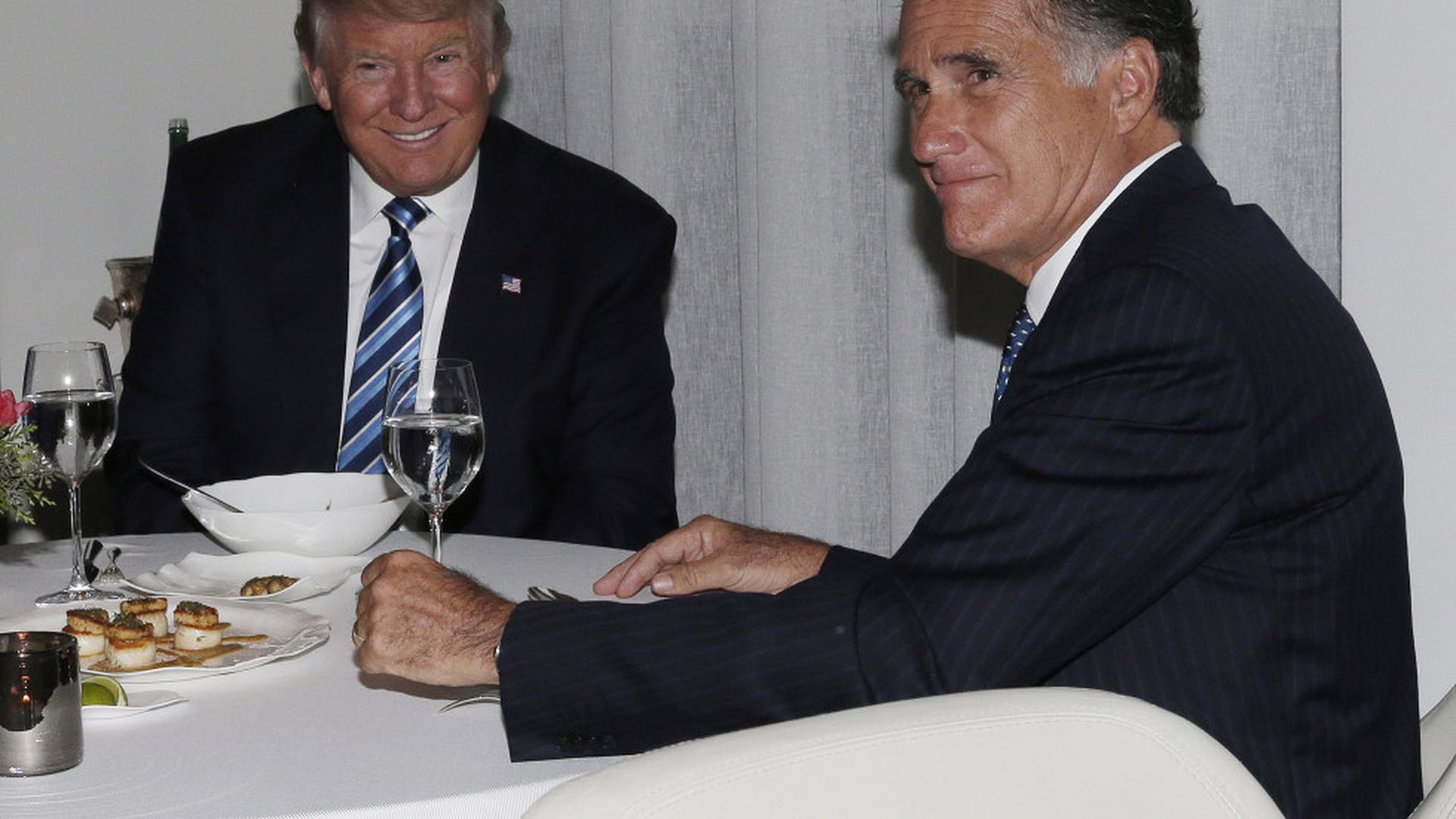 Utah Sen. Orrin Hatch announced his retirement Tuesday, despite President Trump urging him to seek re-election. That clears the way for Mitt Romney to run for the open seat, and he's widely expected to do so.
The big picture: Trump wanted Hatch to keep his seat in part to block Romney, with whom he has exchanged brutal attacks since Romney condemned him during the 2016 primaries. Just 13 months ago, though, the two sat down at dinner to discuss the possibility of Romney becoming Trump's Secretary of State. Here's a look at their complicated history:
2012
February 3: Trump endorses Romney for president after the candidate visits him at Trump Tower in Manhattan. Romney responds by saying Trump has "an extraordinary ability to understand how our economy works and to create jobs" and is "one of the few who has stood up to say China is cheating."
2016
March 3: In a 20-minute speech at the University of Utah, Romney calls on Republican voters to stop Trump from getting the 1,237 delegates required to clinch the presidential nomination by voting for the candidate most likely to defeat him in their respective states. "He has neither the temperament nor the judgment to be president and his personal qualities would mean that America would cease to be a shining city on a hill," Romney said.
March 3: The same day, Trump hits back by telling supporters at a rally that Romney was "begging" for his endorsement in 2012. "I could've said, 'Mitt, drop to your knees,'" Trump says to a cheering crowd.
April 12: Trump again mocks Romney at a campaign rally, saying he "choked like a dog" in the 2012 election.
June 11: Romney says he might vote for Libertarian candidate Gary Johnson in the 2016 election. "If Bill Weld [Johnson's pick for VP] were at the top of the ticket, it would be very easy for me to vote for Bill Weld for president ... So I'll get to know Gary Johnson better and see if he's someone who I could end up voting for. That's something which I'll evaluate over the coming weeks and months," Romney says, per the Telegraph.
July 19: Trump secures the Republican nomination.
November 29: Romney meets Trump for dinner at the upscale Manhattan restaurant Jean Georges, with Romney reportedly making his case to be selected as Secretary of State. Trump ultimately picks Rex Tillerson.
2017
2018
Go deeper