New book: inside the dysfunction of Trumpworld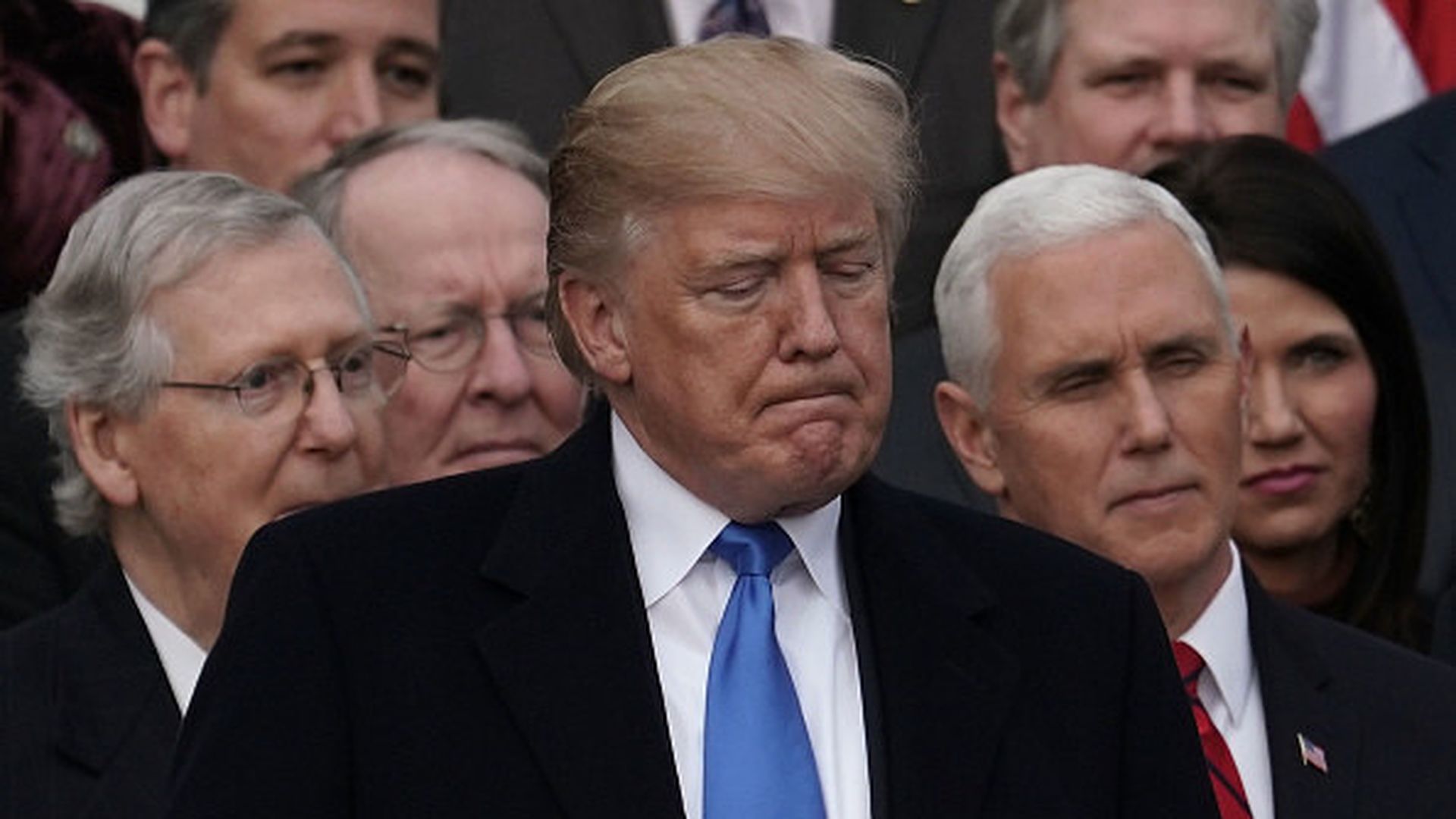 New York Magazine has an explosive excerpt from Michael Wolff's forthcoming book, "Fire and Fury: Inside the Trump White House," in which Wolff reports that Trump's confidants all expected him to lose — and many thought he deserved to.
Why it matters: Wolff spent 18 months with the Trump campaign and then the Trump administration and conducted more than 200 interviews. "Because no one was in a position to either officially approve or formally deny such access, Wolff became "more a constant interloper than an invited guest'," according to a disclaimer accompanying the story. Wolff says he had "something like a semi-permanent seat on a couch in the West Wing."
1 big thing: Everybody thought Trump would lose the election, from Kellyanne Conway, who was interviewing for television gigs with networks in the campaign's last days, to Trump himself, who boasted about starting his own network, had an exit strategy. Trump thought that he would emerge from the campaign with "a far more powerful brand and untold opportunities," such as his own Trump Network. "This is bigger than I ever dreamed of," Trump reportedly told former Fox News head Roger Ailes a week before the election. "I don't think about losing, because it isn't losing. We've totally won."
Some more of the juiciest quotes:
"Shortly after 8 p.m. on Election Night, when the unexpected trend—Trump might actually win—seemed confirmed, Don Jr. told a friend that his father, or DJT, as he calls him, looked as if he had seen a ghost. Melania was in tears—and not of joy."
"[Rupert] Murdoch suggested that taking a liberal approach to H-1B visas, which open America's doors to select immigrants, might be hard to square with his promises to build a wall and close the borders. But Trump seemed unconcerned, assuring Murdoch, 'We'll figure it out.' 'What a fucking idiot,' said Murdoch, shrugging, as he got off the phone."
"Between themselves, [Jared Kushner and Ivanka Trump] had made an earnest deal: If sometime in the future the opportunity arose, she'd be the one to run for president. The first woman president, Ivanka entertained, would not be Hillary Clinton; it would be Ivanka Trump."
"[Trump] retreated to his own bedroom — the first time since the Kennedy White House that a presidential couple had maintained separate rooms. In the first days, he ordered two television screens in addition to the one already there, and a lock on the door, precipitating a brief standoff with the Secret Service, who insisted they have access to the room
He had a longtime fear of being poisoned, one reason why he liked to eat at McDonald's — "nobody knew he was coming and the food was safely premade."
Campaign adviser Michael Flynn defended a $45,000 speech in Russia saying "it would only be a problem if we won."
Trump didn't want White House staff touching his things, "especially not his toothbrush..."
Fired Trump adviser Steve Bannon, in an interview with Wolff published today by The Guardian, attacked Donald Trump Jr. and Jared Kushner.
Attacking Don Junior: Bannon described the meeting in Trump Tower with the Russian lawyer — arranged by the president's eldest son — as "treasonous" and "unpatriotic." Bannon also predicted this of the Russia investigation: "They're going to crack Don Junior like an egg on national TV".'
Hinting there's a "there" there: Per the Guardian: " 'You realise where this is going,' [Bannon] is quoted as saying. 'This is all about money laundering. Mueller chose [senior prosecutor Andrew] Weissmann first and he is a money-laundering guy. Their path to f---ing Trump goes right through Paul Manafort, Don Jr and Jared Kushner … It's as plain as a hair on your face.' "
Taking his war against Jared Kushner to new depths: Per The Guardian: "Last month it was reported that federal prosecutors had subpoenaed records from Deutsche Bank, the German financial institution that has lent hundreds of millions of dollars to the Kushner property empire. Bannon continues: 'It goes through Deutsche Bank and all the Kushner shit. The Kushner shit is greasy. They're going to go right through that. They're going to roll those two guys up and say play me or trade me.'"
The White House slammed Wolff's book as "trashy tabloid fiction" and President Trump personally went after Bannon in a scorched earth statement:
"Steve Bannon has nothing to do with me or my Presidency. When he was fired, he not only lost his job, he lost his mind."
Go deeper