White House lays out plan to recognize Jerusalem as Israel's capital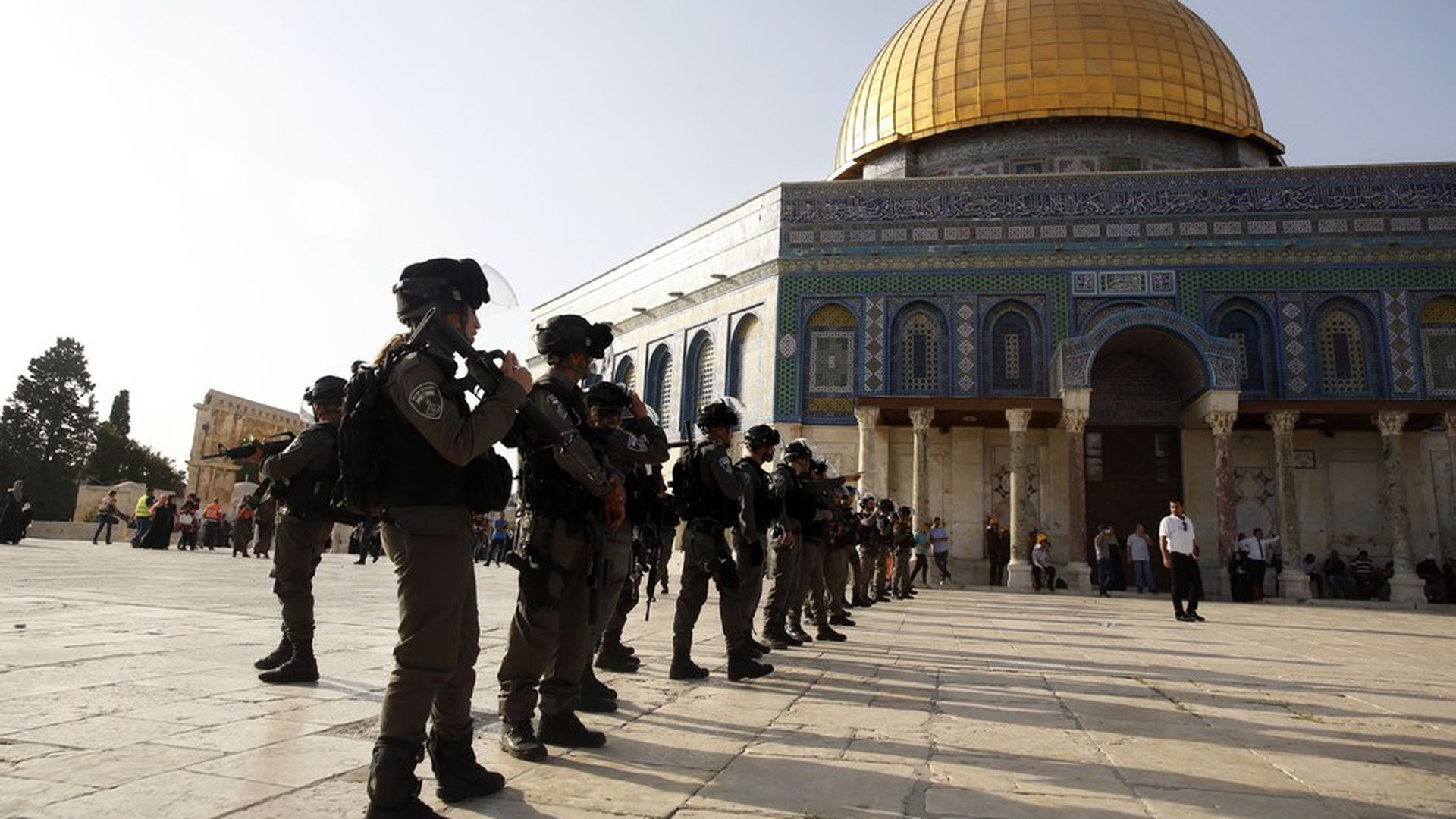 President Trump's decision to recognize Jerusalem as the capital of Israel and move the U.S. embassy from Tel Aviv to the city "affirm[s] a historic and current reality," senior administration officials said in a call with reporters Tuesday night. The president will announce both moves in a speech Wednesday.
The big picture: Axios first reported Trump's intent on Dec. 1. Since then, Middle Eastern and European leaders have voiced concerns that the move would interfere with peace talks in the Middle East. Administration officials said the president "understands the Palestinians' aspirations" and supports a two-state solution to the Israeli-Palestinian conflict if that's what both parties desire.
Go deeper with analysis from Axios contributor Barak Ravid.
The stakes
Jerusalem is home to holy sites for Jews, Muslims and Christians, and the United States has never before taken a position on claims of sovereignty over the city.
Trump made a campaign promise to move the U.S. embassy to Jerusalem. In 1995, Congress passed a law stating that the embassy would move to Jerusalem, but allowing presidents to put off the move for six months at a time by signing a waiver.
Trump will sign such a waiver delaying the move, but will announce intent to relocate the embassy during his speech.
Reports of Trump's announcements have already been met with resistance from the Arab world, with Palestinian factions along the West Bank border with Israel pledging "three days of rage," Israeli news organization Haaretz reports.
The State Department issued a travel warning for U.S. citizens going to Jerusalem's Old City and the West Bank.
A Lebanese newspaper tweeted a picture of its Wednesday front:
What the White House is thinking
Per senior administration officials:
It's "both the right time and the right step" to recognize Jerusalem as Israel's capital.
The announcement doesn't touch "aspects of sovereignty" and boundaries. These issues will be discussed as part of peace negotiations. Yes, but: Recognizing Jerusalem as Israel's capital is a nod to Israel's claim to the city.
Trump is being "honest" by acknowledging reality in his announcement, White House officials said. Per Ravid, "The White House thinks Trump's decision to follow through on his campaign promise, even if only partially, strengthens his credibility around the world as a someone who stands by his word, not intimidated by threats and not caving to international pressure."
Trump supports a two-state solution, and "you'll hear mention of that" in Wednesday's speech.
What world leaders are saying
Trump informed Palestinian President Mahmoud Abbas, King Abdullah of Jordan and Egyptian President Abdel Fattah Al Sisi of his decision Tuesday.
Go deeper