Trump: View each day as TV episode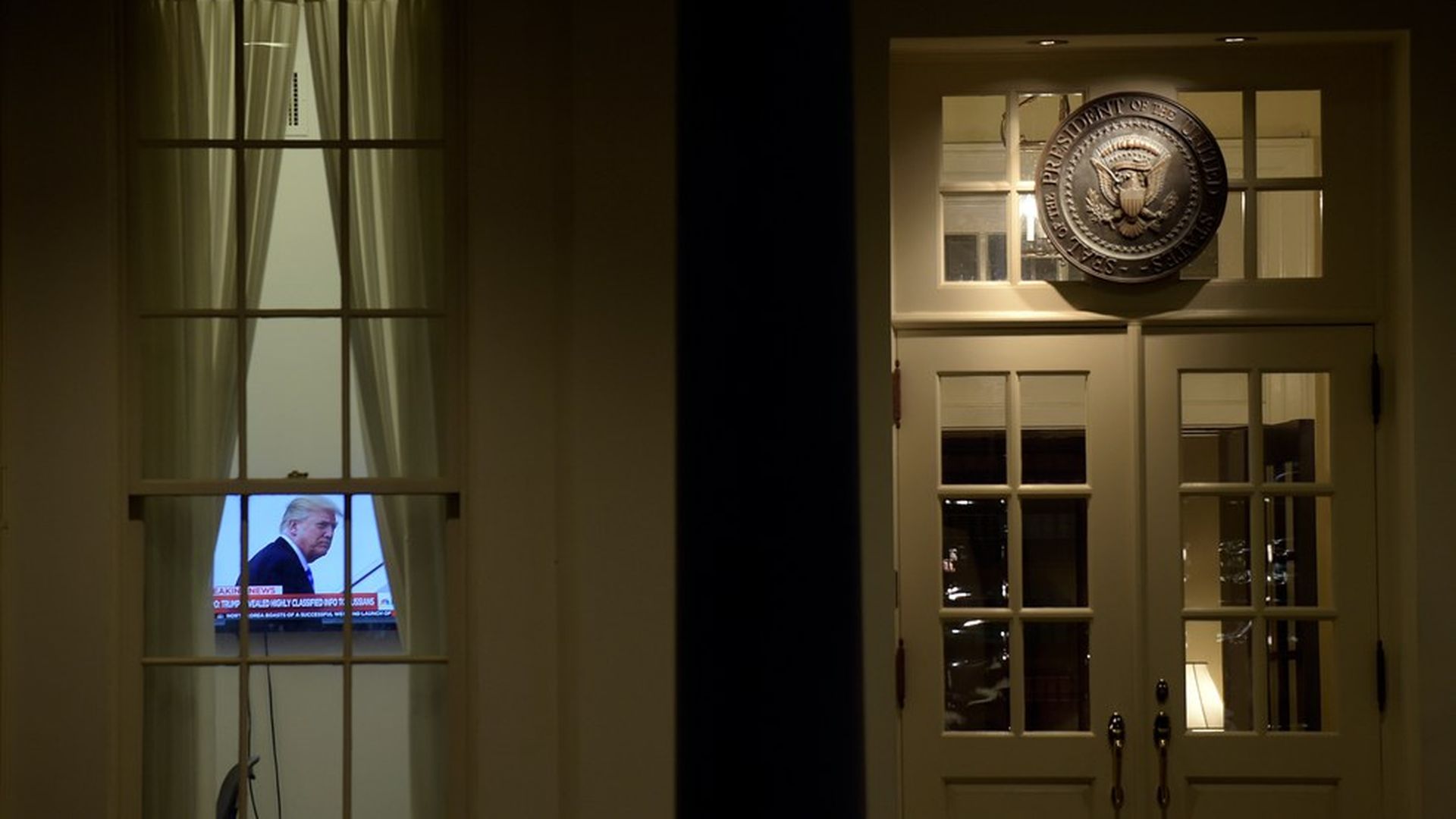 Read this sentence twice to understand this year and Trump: "Before taking office, Mr. Trump told top aides to think of each presidential day as an episode in a television show in which he vanquishes rivals."
That's from a juicy N.Y. Times tour de force on the president's style and habits, "The President vs. the Presidency ... Inside Trump's Hour-by-Hour Battle for Self-Preservation," by Maggie Haberman, Glenn Thrush and Peter Baker.
It's been one helluva season for this Trump show:
"Around 5:30 each morning, President Trump wakes and tunes into ... CNN for news, moves to 'Fox & Friends' for comfort and messaging ideas, and sometimes watches MSNBC's 'Morning Joe' because, friends suspect, it fires him up for the day."
"Trump spends at least four hours a day, and sometimes as much as twice that, in front of a television, sometimes with the volume muted."
"Watching cable, he shares thoughts with anyone in the room, even the household staff he summons via a button for lunch or for one of the dozen Diet Cokes he consumes each day."
"Trump is an avid newspaper reader who still marks up a half-dozen papers with comments in black Sharpie pen ... [Steve] Bannon has told allies that Mr. Trump only 'reads to reinforce.'"
"As he ends his first year in office, Mr. Trump is redefining what it means to be president. He sees the highest office in the land ... as a prize he must fight to protect every waking moment, and Twitter is his Excalibur. Despite all his bluster, he views himself less as a titan dominating the world stage than a maligned outsider engaged in a struggle to be taken seriously."
"Trump still takes shots at Mark Cuban, a fellow rich-guy reality star, and expresses disappointment that Tom Brady ... has distanced himself."
After dinner, he "sometimes 'hate-watches' CNN to get worked up, especially Don Lemon."
"In between, it is time for phone calls ... In recent weeks, Mr. Trump's friends have noticed a different pitch, acknowledging that many aides and even his own relatives could be hurt by Mr. Mueller's investigation. As for himself, he has adopted a surprisingly fatalistic attitude ... 'It's life,' he said of the investigation."
"From there it is off to bed for what usually amounts to five or six hours of sleep."
P.S. The article has this footnote: "Glenn Thrush contributed to this article before he was suspended pending the result of an investigation into allegations of inappropriate behavior. Matt Apuzzo also contributed reporting."
Go deeper