The race to diminish peanut allergies in kids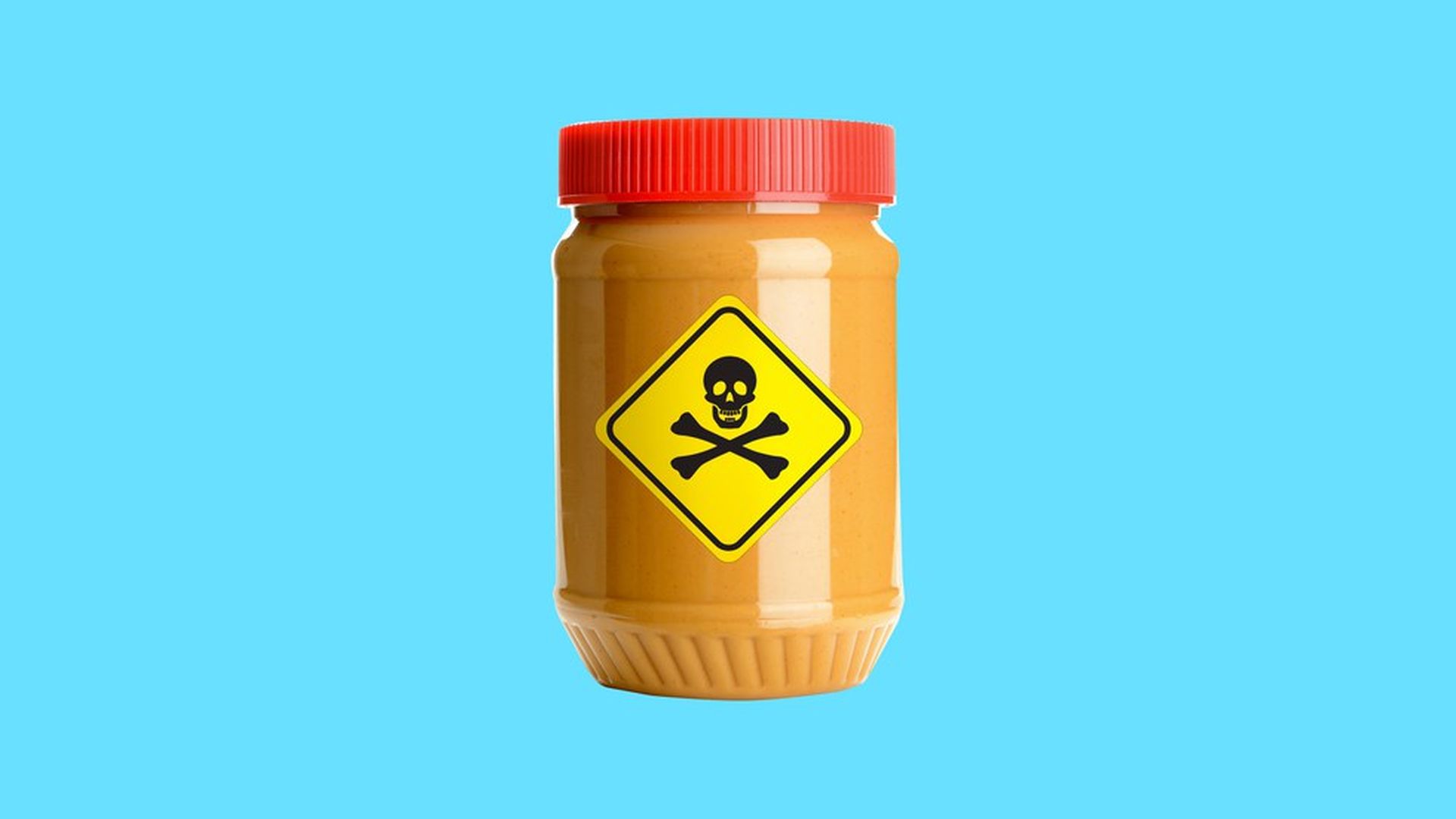 Drug companies are racing to get the FDA's green light for immunotherapies to treat kids with peanut allergies — a breakthrough that might actually reduce their allergies, not just treat an allergic attack when it happens. They're testing everything from oral medicines to skin patches to vaccines and nasal sprays, with some companies hoping their products will reach the market by 2019.
Why it matters: Roughly 2% of all American children have a peanut allergy — which is one of the most dangerous food allergies — and alleviating reactions could save lives. Peanut allergy therapies also have drug companies seeing dollar signs, with a potential global market of up to $8 billion.
"If you had told me 40 years ago that AIDS would be a treatable disease and we would have [no FDA-approved drugs] for food allergies, I would have totally laughed at you. But here we are."
— James Baker Jr., CEO of consumer advocacy group Food Allergy and Research and Education
How it works: Immunotherapies aim to desensitize children's immune systems so their allergic reactions are not as severe.
Where it stands: There are almost 40 peanut allergy studies underway and listed on clinicaltrials.gov, and nearly 40 others completed recently.
"This is clearly an unmet need," says Gerald Nepom, director of Immune Tolerance Network, a mostly NIH-funded entity. The only current available remedy for patients is to avoid peanuts and carry an epinephrine shot at all times.
What to watch: The two therapies likely to seek regulatory approval first are a skin patch called Viaskin Peanut, by the French company DBV Technologies, and a pill called AR101, by California-based Aimmune Therapeutics.
Both are designed to deliver small amounts of peanut protein to "train the immune system to see peanut protein in a harmless sort of way," Nepom says.
DBV's small bandage-like patch would be for 4- to 11-year-old children. Hugh Sampson, DBV's chief scientific officer, tells Axios the patches work by transmitting the peanut protein through the skin to so-called Langerhans cells that then transport it to lymph nodes in order to reach the immune system.
Late-stage trials for the patch recently found it missed one of the benchmarks for the level of efficacy normally needed for FDA approval, although earlier trials had shown promise. Sampson says they'll still submit their application.
Aimmune's pill is currently being tested in patients 4 to 55 years old who take a pill daily for about 20 weeks with increasing dosages of peanut protein. Their application will likely go to the FDA in the first quarter of 2018.
In comparing the two trials so far, Baker says the skin patch showed lower efficacy but few side effects, while the pill had a higher rate of efficacy but wasn't tolerated as well by the patients. He says while it may take time to get either of these to the market, either would be welcomed as "we have nothing out there right now."
Early-stage trials: There are also dozens of other therapies in earlier testing stages.
The market: If approved, the launch prices of the products will be closely watched, given the outcry over egregious drug industry pricing practices. Aimmune believes its market will yield $1 billion in sales in the U.S., but some venture capital firms think the overall market will be even larger, since peanut allergies are often lifelong conditions.
Vamil Divan, a pharmaceutical industry analyst at Credit Suisse, says Aimmune's pill could command a price of more than $5,000 during the six-month ramp-up stage and then $400 per month "for maintenance." He estimates Aimmune could be collecting $1.3 billion of revenue and almost $600 million of profit by 2023.
The big questions:
How health insurers will cover the treatments?
Will parents of kids with peanut allergies pay a lot out of their own pockets when they buy the treatments?
How long kids will stay on the therapies before consuming small quantities of peanuts on their own?
Editor's note: We updated the quote in the third graph to clarify that Baker was talking about FDA-approved drugs.
Go deeper