The portraits watching over Trump's White House events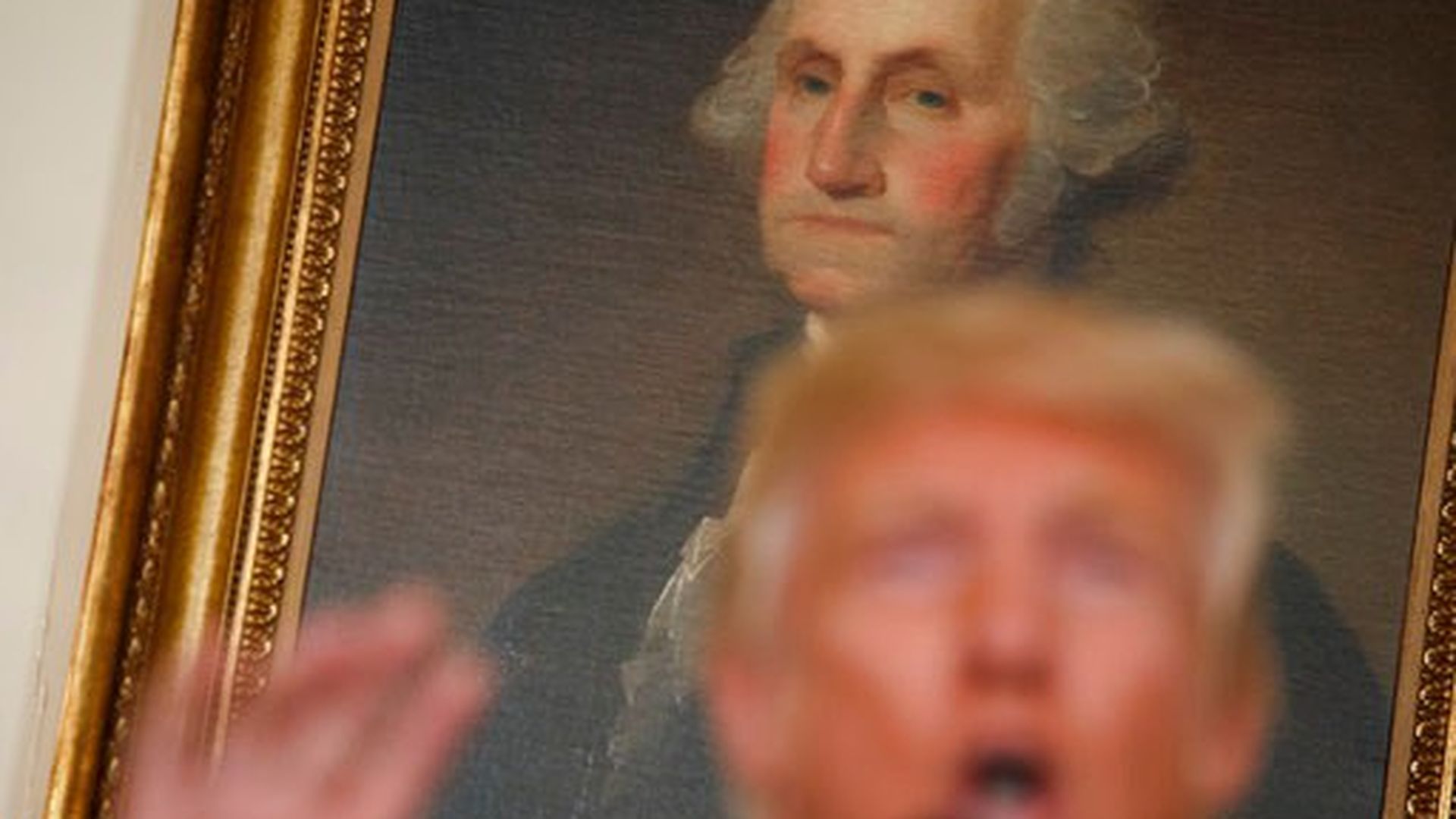 President Trump honored Navajo Code Talkers last month (and called Sen. Elizabeth Warren "Pocahontas") in front of a portrait of President Andrew Jackson, who presided over the "Trail of Tears" forced re-settlement of Native Americans.
Why it matters: The backdrop to some of Trump's events sometimes seem to hold symbolic significance, whether by plan or by coincidence. Here are some other examples:
1. "The Verdict of the People"
Manuel Balce Ceneta / AP
Event: President Donald Trump and First Lady Melania enjoy the traditional inaugural luncheon on Capitol hill on inauguration day.
Backdrop: An American painting traditionally serves as the background at this luncheon, in this case "The Verdict of the People" by George Caleb Bingham was chosen, which depicts citizens rejoicing and grieving election results. Of course, Donald Trump's own election was hotly contested and unexpected by most polls and pundits.
2. Roosevelt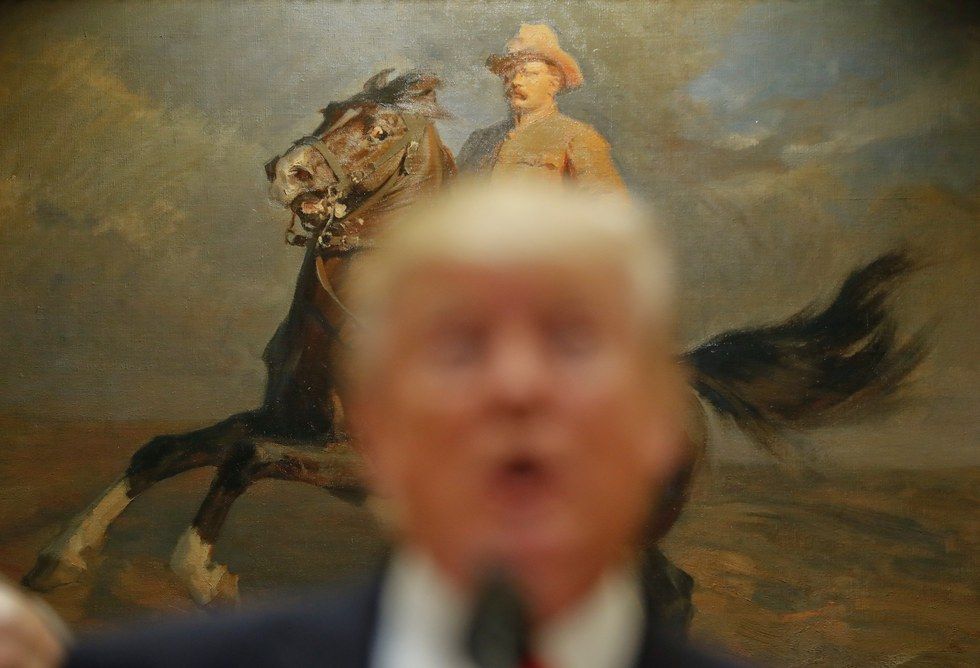 Event: In April, President Trump signed an executive order to expand offshore drilling for oil and gas reserves in areas that President Obama had withdrawn from energy development. Advocates against offshore drilling are concerned of possible negative impacts drilling has on marine life.
Backdrop: Trump spoke in front of a portrait of President Theodore Roosevelt who was a passionate outdoorsmen and conservationist who established 150 national forests, 51 federal bird reserves, four national game preserves, five national parks and 18 national monuments on over 230 million acres of public land, according to the Interior Department.
3. Churchill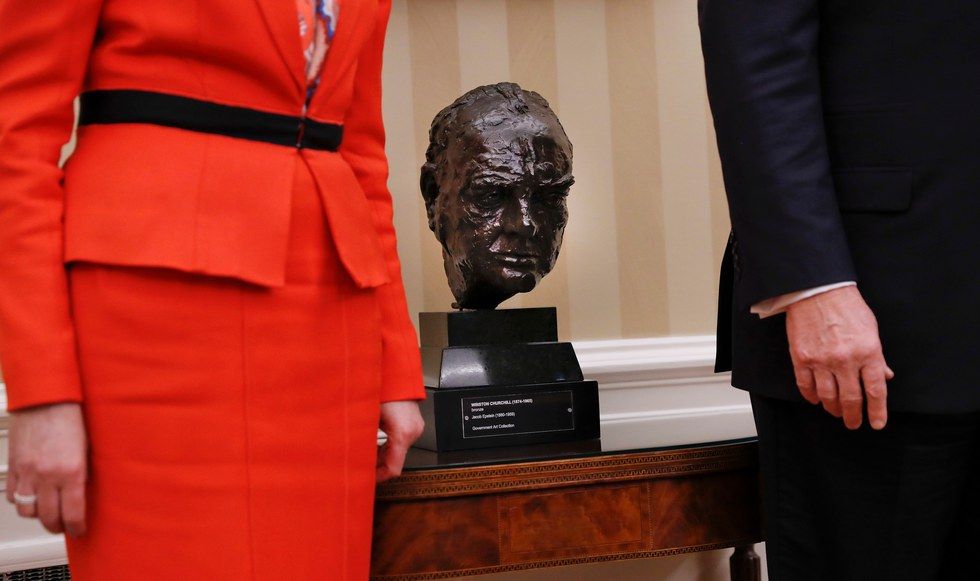 Event: President Trump met with conservative British Prime Minister Theresa May in January.
Backdrop: The two posed for photos in front of a bust of Winston Churchill who also led the British conservative party and was the British Prime Minister during World War II. Churchill first called the relationship between Great Britain and the U.S. a "special relationship." President Obama had removed the Churchill bust in the Oval Office to replace it with one of Martin Luther King Jr. Although Trump kept the MLK bust, he also brought in an identical Churchill bust shortly after assuming office.
4. Jackson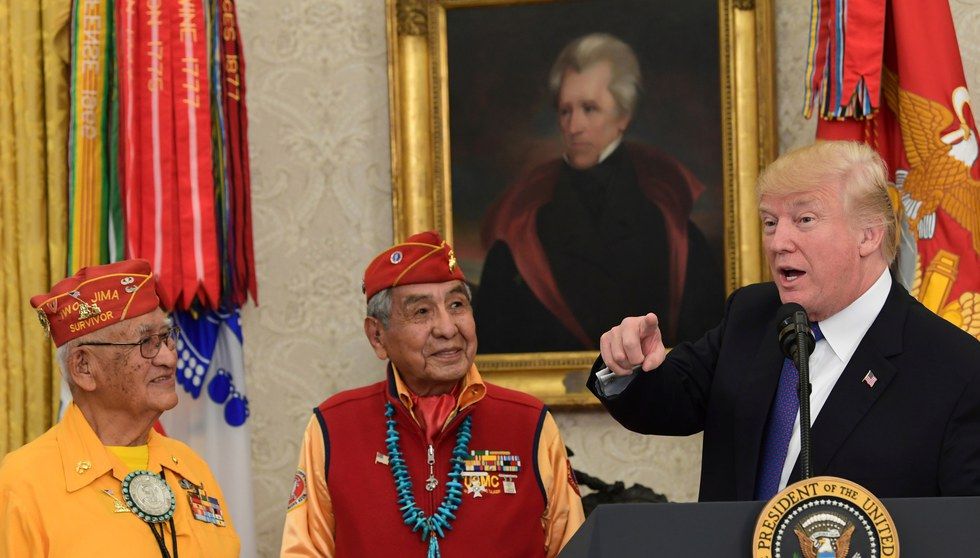 Event: Last week, President Trump honored former Navajo code talkers for their service.
Backdrop: In the background in the Oval Office is a portrait of Andrew Jackson, who signed the Indian Removal Act in 1830, which resulted in the death of thousands of Native Americans as they were forced off their land to march on foot to established Indian territories.
5. Clinton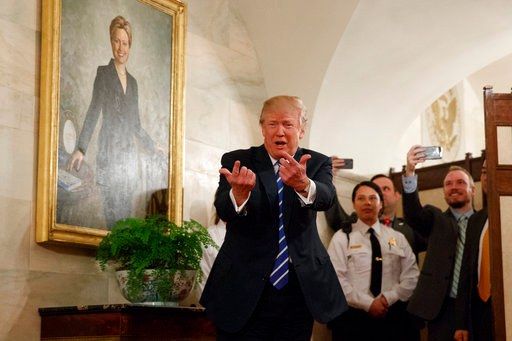 Event: On the first day of public tours in Trump's White House, Trump surprised his guests by welcoming them himself.
Backdrop: Trump emerged in front of the First Lady portrait of his former election opponent, Hillary Clinton.
Go deeper