The next steps toward Brexit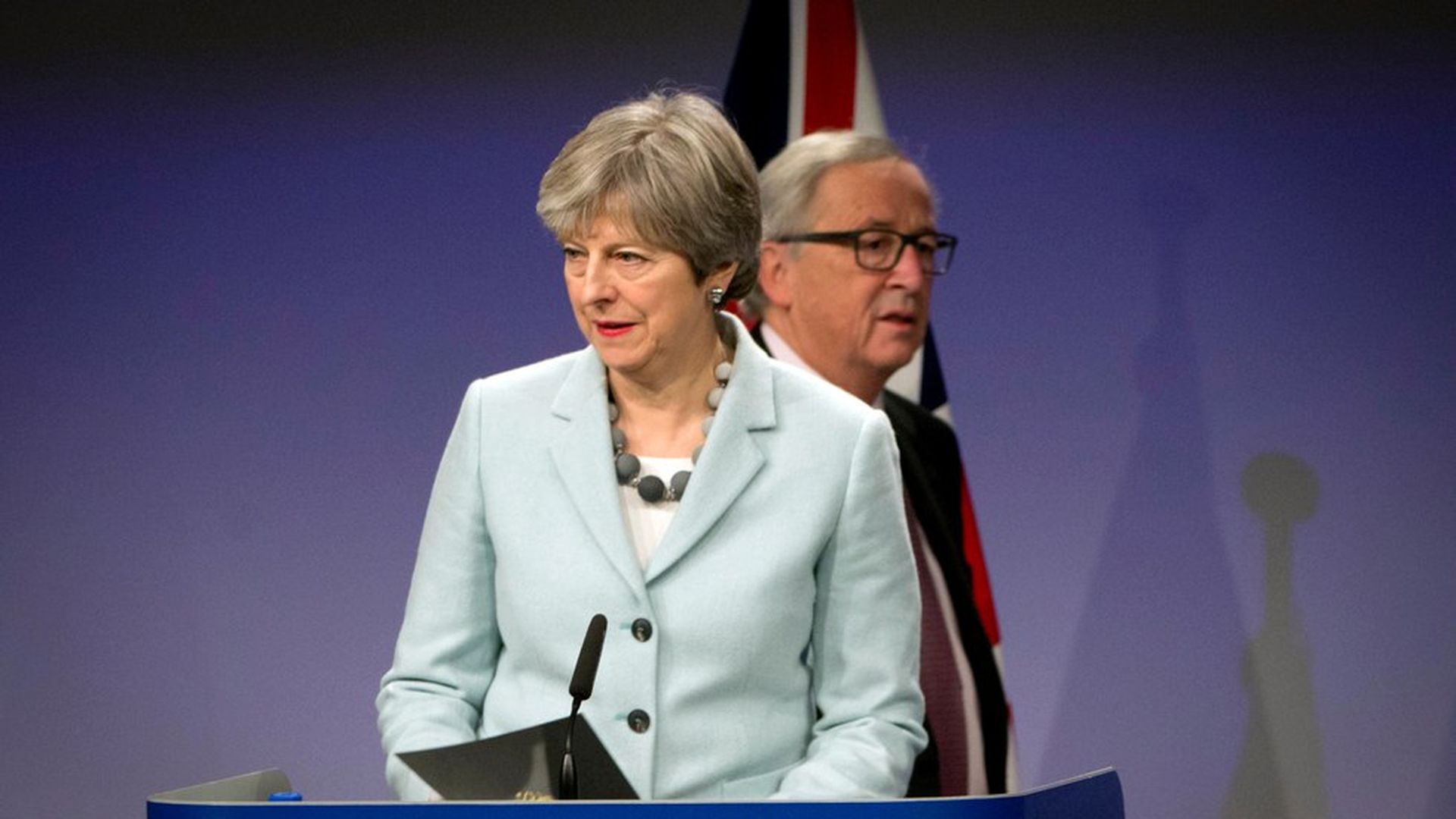 Prime Minister Theresa May secured a last-minute deal with the European Union yesterday on phase one of Brexit negotiations. But while she managed to resolve issues that had seemed potentially insurmountable just days earlier — and get her own Conservative Party, Northern Irish hardliners, Ireland, and the E.U all to sign off — the next steps could be even dicier.
What's next: The negotiations now move onto phase two, centered around the future of the U.K.-E.U. trade relationship. That issue makes up the very core of Brexit, and it's set to tear open fault lines between British politicians — even within May's own Cabinet — who have competing views of how far Brexit should ultimately go.
Strong and stable?
May couldn't have picked a better time to bring home a political win as her position as prime minister remains tenuous. Some of her difficulties over the past few months:
Her phase one deal guaranteed there would be no border in Ireland, or between Ireland and Great Britain. That's important because it kept the DUP on her side — for now. But it could anger hardline Brexiteers in her own party as it will likely keep in place a still to-be-determined number of E.U. rules and regulations that they'd prefer to see jettisoned entirely.
What she's facing: May has a deal done on paper, but should phase two fail to please either Tory Brexiteers or the DUP, she could feel a knife in her back and see either side back away from her phase one concessions.
The big problem
With phase two on its way, May has avoided conflict within her divided Cabinet — comprised of both Brexiteers and Remainers — by entirely avoiding the issue of what the "end state" of Brexit should look like. Per The Telegraph, Brexit Secretary David Davis told MPs about the state of play earlier this week:
"The Cabinet has had general discussions about our Brexit negotiations but we haven't had a specific mandating of an end state position…We are not yet at that stage and it would have been premature to have that discussion until we reach that stage."
And don't think the E.U. hasn't noticed. After yesterday's deal, per The Guardian, E.U. officials declared that phase two talks couldn't begin until February at the earliest because "more clarity" is needed on exactly what it is the U.K. wants. One E.U. official dismissed the U.K.'s prior proposals as "not... particularly specific" and "not... entirely realistic to us."
The options
There are two big contenders for what the U.K.'s future with the E.U. might look like...
The Norway model: This would involve the U.K. rejoining the European Free Trade Association and European Economic Area after exiting the E.U. That would allow the U.K. to rejoin the single market and avoid tariffs and trade restrictions with the E.U. Though Davis has mentioned it as an option, it would likely receive pushback from both Brexiteers, who want full severance from the E.U., and the E.U. itself, which would view it as the U.K. "having its cake and eating it, too."
The Canada model: There's growing support for an E.U.-U.K. trade deal similar to one negotiated between the E.U. and Canada. Indeed, it's considered the likeliest option by the E.U.'s chief Brexit negotiator, Michael Barnier. That would lift the vast majority of tariffs, but would also require the U.K. to argue for some sort of European access for its critical financial services sector — a facet not included in the Canadian deal. Another issue: the E.U.'s trade deal with Canada took seven years to hammer out and covers 1,598 pages. Yesterday's Brexit phase one agreement took nine months and encompasses 15 pages.
Reminder: Brexit Day is set for March 29, 2019. The clock's ticking.
Go deeper