NBC fires Matt Lauer for "inappropriate sexual behavior"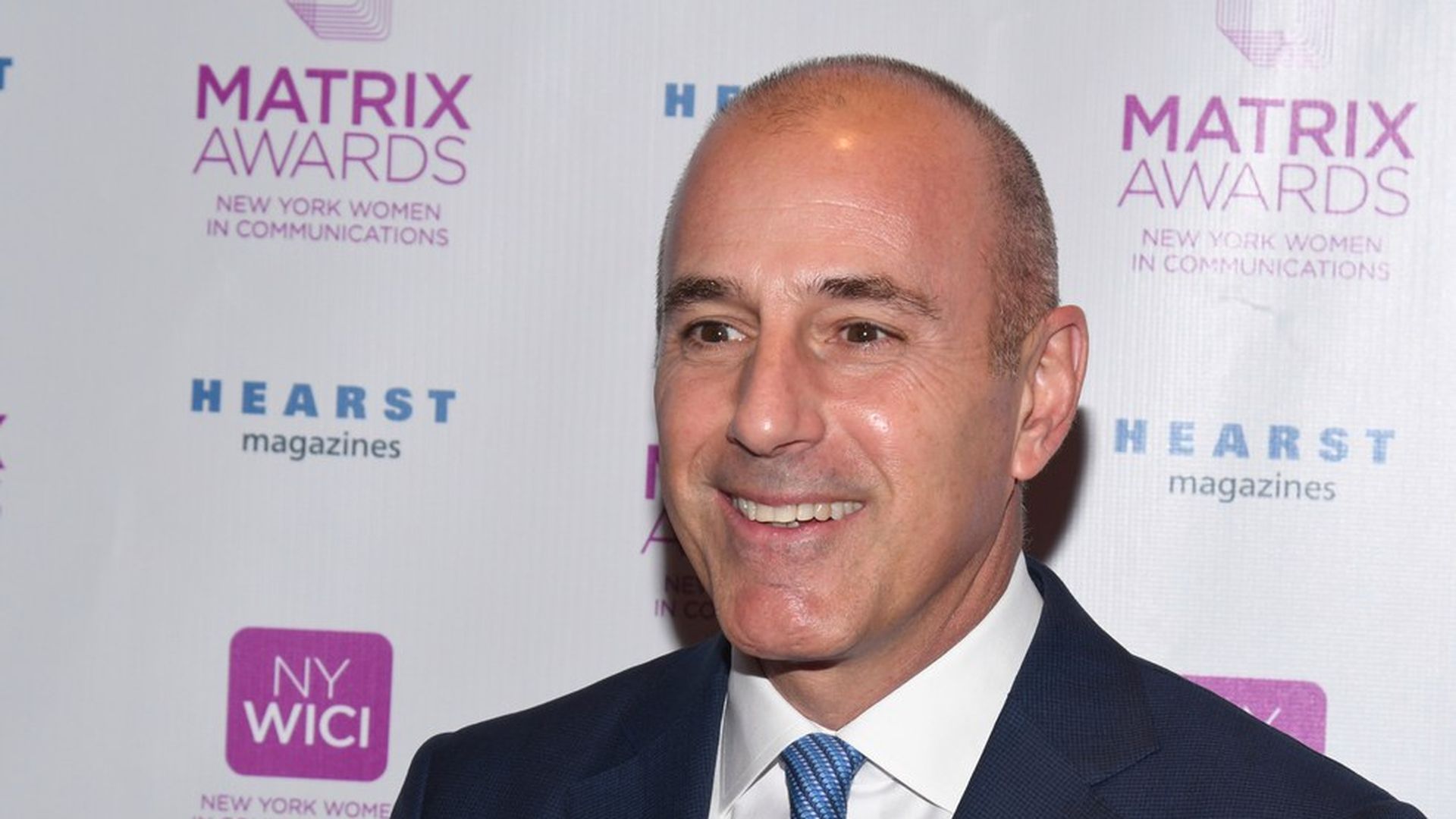 NBC "Today" star Matt Lauer, the highest paid personality in TV news, was fired following "a detailed complaint from a colleague about inappropriate sexual behavior in the workplace," NBC News Chairman Andy Lack said this morning in an email to NBC News staff.
Between the lines: Several news outlets had reportedly been investigating Lauer for weeks, including the New York Times and Variety. Variety's New York Bureau Chief, Ramin Setoodeh, said they discovered multiple victims, and that NBC was aware of Variety's story.
The big picture: Lauer is the latest in a string of media men accused of sexual harassment in recent weeks.
The instant fallout:
Co-anchor Savannah Guthrie said at the top of "Today," reading Lack's statement and saying she had just learned the news: "This is a sad morning. … We are devastated. … We are still processing this."
Choking up, Guthrie said that as painful as the process is, this reckoning in workplaces is "long overdue... We promise to be transparent," she told viewers, promising to continue covering the story.
Trump tweeted within 20 minutes of the story breaking: "Wow, Matt Lauer was just fired from NBC for "inappropriate sexual behavior in the workplace." But when will the top executives at NBC & Comcast be fired for putting out so much Fake News. Check out Andy Lack's past!"
Here is the full text from Andy Lack's email to staff:
On Monday night, we received a detailed complaint from a colleague about inappropriate sexual behavior in the workplace by Matt Lauer. It represented, after serious review, a clear violation of our company's standards. As a result, we've decided to terminate his employment. While it is the first complaint about his behavior in the over twenty years he's been at NBC News, we were also presented with reason to believe this may not have been an isolated incident.
Our highest priority is to create a workplace environment where everyone feels safe and protected, and to ensure that any actions that run counter to our core values are met with consequences, no matter who the offender.We are deeply saddened by this turn of events. But we will face it together as a news organization – and do it in as transparent a manner as we can. To that end, Noah and I will be meeting with as many of you as possible throughout the day today to answer your questions.
Andy
Editor's Note: NBC is an investor in Axios and Andy Lack is on the Axios board.
Get more stories like this by signing up for our daily morning newsletter, Axios AM.
Go deeper